Future Faculty program welcomes 15 participants
Program highlights talented, prospective faculty and post-doctoral candidates from around the country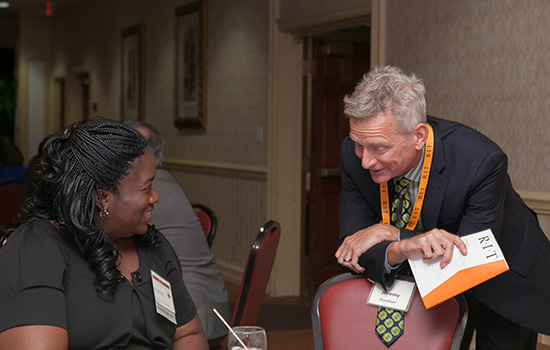 As colleges and universities look to expand faculty ranks, search committees sometimes struggle with including diverse applicants to the candidate pool. Rochester Institute of Technology has developed a strategy to address this issue.
RIT's Future Faculty Career Exploration Program will welcome 15 prospective faculty to campus for its annual program Sept. 28–Oct. 1 to explore teaching or post-doctoral opportunities at the university. Its strategy to recruit prospective candidates from those nearing the completion of doctoral study or post-doctoral assignments has proved successful.
Over the course of the weekend, candidates meet with deans and department faculty as well as present their current scholarly work. Prospective faculty practice interviewing techniques and receive feedback on scholarly work in formal and informal settings. This year's event features presentations and discussions about the university's research and career development initiatives as well as tours of RIT's colleges and laboratory facilities. A full schedule of the weekend activities and speakers is available.
"From time-to-time we still hear that there are no diverse candidates available for faculty positions in universities such as RIT. And for the past decade we have looked to change that perception, and have been successful bringing in anywhere from 20 to 25 scholars to the university. We continue to see amazing, highly qualified candidates," said Renee Baker, executive director of RIT's Office of Faculty Recruitment and host of the career exploration program.
Since 2003, more than 280 prospective faculty have participated in the annual program. Approximately 19 percent of the AALANA (African American, Latino American and Native American) faculty hires at the university—18 total thus far with 12 being tenure-track positions—have come through the Future Faculty program, aligning with RIT's strategic plan and its diversity goals.
This fall, the university received for the third time in as many years a Higher Education Excellence in Diversity Award from INSIGHT into Diversity magazine. The university was recognized for its successful efforts in the area of campus diversity and inclusion, specifically on how historically under-represented faculty, staff and students are recruited and retained, how improvements to campus climate are addressed and on specific commitments to diversity through campus-wide programs, informal dialogues and campus resources.