Graduate Education Week focuses on networking, professional development and research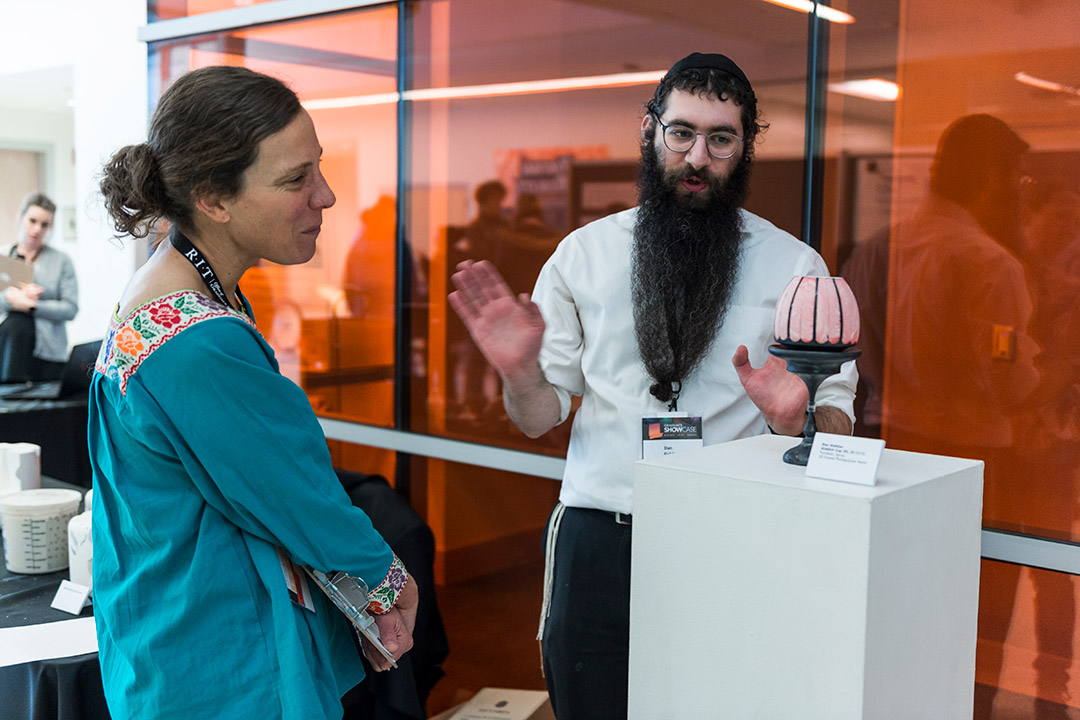 Elizabeth Lamark
A week of events at RIT will recognize its growing community of master's and Ph.D. students and the high-level scholarship conducted on campus.
Graduate Education Week—from Nov. 18 to Nov. 22—will kick off with a networking event and conclude with a research symposium. The Graduate Showcase will highlight scholarship varying from nanomaterials to neutron stars, plus posters, demonstrations and visual exhibitions. This year's theme is "Transformative Research Changing the World."
"Our graduate students are tackling problems, finding solutions and making a difference in their fields," said Twyla Cummings, RIT associate provost and dean of Graduate Education.
Approximately 3,000 graduate students are currently enrolled in more than 100 graduate programs on RIT's Henrietta campus and across its global satellites. The Graduate Showcase shows the growing impact of graduate culture on RIT, Cummings said.
The program of Graduate Education Week events includes:
Graduate Education Week Student Networking Reception and Resource Fair, 4-6 p.m. Nov. 18, in University Gallery, Booth Hall
Coffee and Conversation: Dispelling Myths about Graduate Student Support, 9-11 a.m., Nov. 20 Student Innovation Hall
A panel of RIT graduate students discuss critical thinking, "How Thinking..." 11 a.m.-noon, Nov. 20, Campus Center, Bamboo Room, room 2610
The End Game Thesis/Dissertation Submission Workshop, noon-1 p.m. Nov. 20, Wallace Library, room 3650
Ph.D. Mixer, a networking event for doctoral students and alumni and employers, 5:30 p.m.-7 p.m., Lobozzo Alumni House
Graduate Showcase, "Transformative Research Changing the World," 10 a.m.-5 p.m.., Golisano Institute of Sustainability Hall Atrium, and rooms 3150 and 3160; and Slaughter Hall Atrium and room 2210. The luncheon will include and welcome and greetings from Twyla Cummings, associate provost and dean of Graduate Education, Ryne Raffaellle, vice-president of research, and Ellen Granberg, provost and senior vice president for academic affairs.
Learn more on the RIT Graduate Education Week and Showcase website.