Interactive art exhibit heads to New York City exhibition
River Memoir to be exhibited during World Maker Faire Sept. 25-26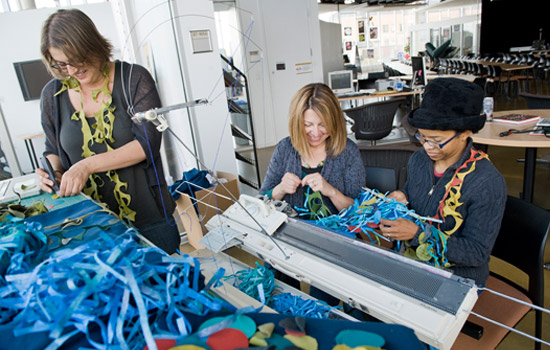 A. Sue Weisler
A collaborative project that has been launched by three RIT faculty members has caught the attention of the organizers of the World Maker Faire, an event designed to showcase the skills of creative, do-it-yourselfers.
Xanthe Matychak, a visiting lecturer in the E. Philip Saunders College of Business, Michelle Harris, an assistant professor in the B. Thomas Golisano College of Computing and Information Sciences, and Andrea Handy, a First-Year Enrichment instructor, have created a River Memoir that will be showcased at the event.
River Memoir is an interactive art exhibit that allows visitors to incorporate their own six-word memoirs into tactile and virtual rivers. The tactile river, which is reminiscent of a long blue and green scarf, will be knitted at the event on a knitting machine. The virtual river will be created from Twitter input.
"It's a natural extension of all of our interests," Matychak says. "Andrea is a sweater designer. Michelle teaches computing and is an artist and my background is in graphic and industrial design. We want visitors to walk away from our exhibit feeling that they helped make something bigger—a big, beautiful river—that's larger than their own story."
A portion of the River Memoir was created in RIT's Center for Student Innovation, where Handy is in the process of setting up a textiles studio that will be open to all RIT students that are interested in sewing, knitting, felting, weaving and other techniques.
World Maker Faire takes place Sept. 25-26 at the New York Hall of Science in New York City. Participation is not limited to those who will be in attendance. Those interested can tweet their six-word memoir and the hashtag #rememoir to have their story flow into the virtual river.