An interview and podcast with RIT Dubai President Yousef Al Assaf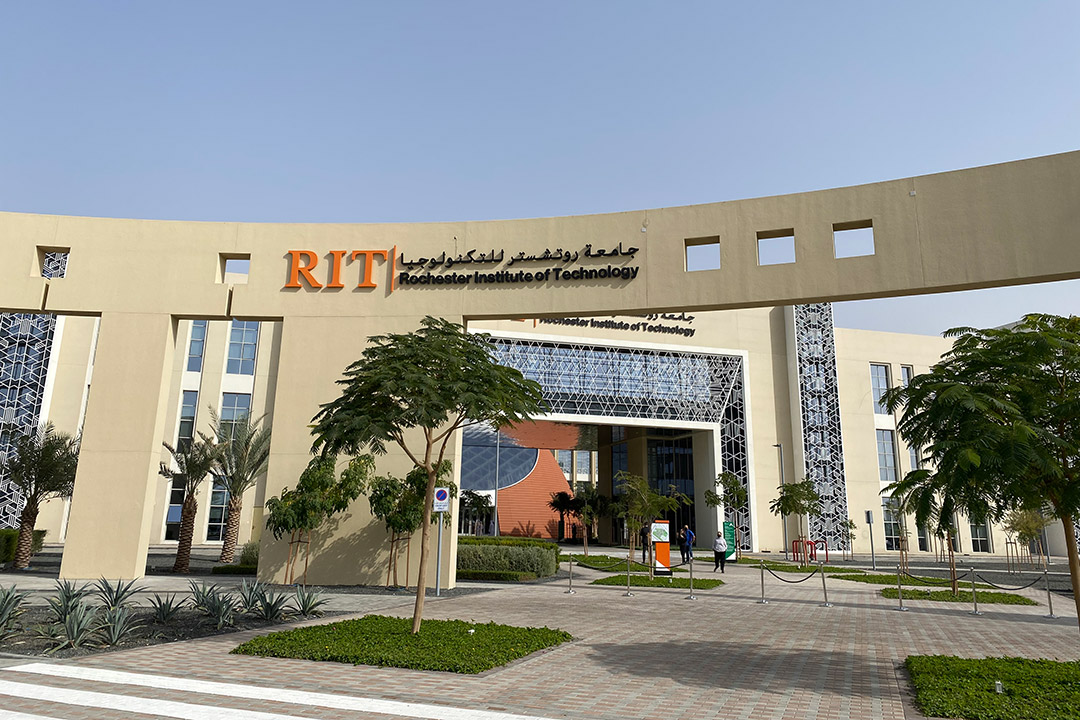 DUBAI, United Arab Emirates — RIT Dubai, first established in 2009, has a new campus. The new complex, located in the Dubai Silicon Oasis, spans 129,000 square meters — approximately 1.3 million square feet in nearly a dozen buildings — in what is considered phase one of a larger plan. Phase two—which will add more classrooms, research, and collaboration spaces as well as student housing—is expected to begin within the next five years. Once complete, the campus will be able to accommodate up to 4,000 students. To date, the United Arab Emirates government has funded the approximately $136 million project. RIT Dubai President Yousef Al Assaf recently sat down for an interview with Bob Finnerty, RIT's associate vice president of communications, to discuss the new campus and his vision for RIT Dubai. Editor's note: The interview was edited for brevity.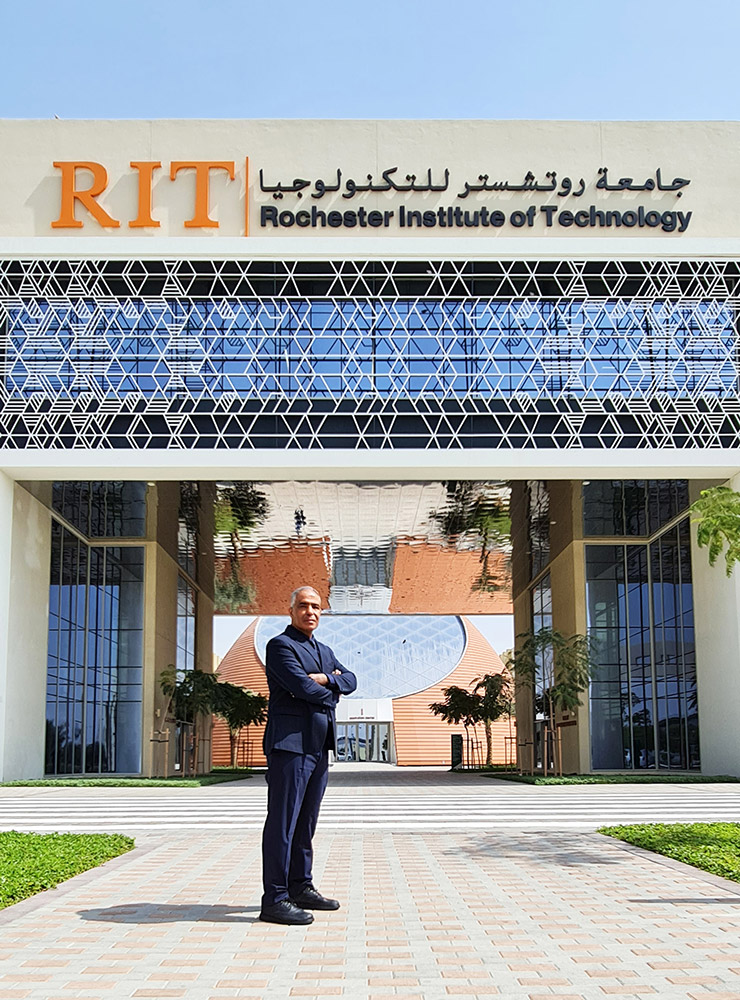 For the RIT family back in the United States and Rochester, N.Y., if you could set the scene of Dubai as an international destination in the context of the United Arab Emirates and the Gulf region. What makes this area of the world so special at this moment in time?
I think being a cosmopolitan city that is strategically located on the global map, Dubai is attractive for many people. It's a place that offers limitless opportunities. The Dubai government has a forward-thinking strategy on the best methods to attract creative and innovative people. Dubai is futuristic, advanced, safe, and diverse, which are all elements that serve the goal of living in harmony and advancing the future.
Please tell us more about your background. You are an engineer by training, having received your doctoral degree in engineering from Oxford University. And you previously served as the dean of engineering at the American University of Sharjah, United Arab Emirates, before taking over as president of RIT Dubai in 2013.
After graduation, I joined the Industrial Engineering Department at University of Jordan before joining the American University of Sharjah to become the Dean of the Engineering College. I always had a feeling that the role of a university is to serve the community and cannot be isolated. Ecosystems have to be created in which students, during their studies, are exposed to the industry and the community. I then moved to RIT and found it as the best fit because innovation and creativity are parts of its identity. It gives students chances to interact with the industry through the unique co-operative education programs and other sound experiential learning experiences. At RIT Dubai, we are working to attract talent from all over the world who would be able to advance the economy in the (Gulf) region.
RIT Dubai was established in 2009 to provide world-class university programs and for students in the United Arab Emirates. This also includes students from the Middle East, Africa, Southeast Asia, and North America. You started with programs in fields such as electrical engineering, mechanical engineering, finance, and service management. What has changed since those early days in 2008?
Many things have changed. The people, the aspirations of the country, and more, the region we are operating in, have changed. When we first started, we introduced vital programs, but we discovered that we need to align our offerings with the vision of the city and the country we are operating in. Dubai is now heavily reliant on the knowledge economy and technology and is becoming a "smarter city." Thus, we introduced a master's degree in smart cities. The government wanted to diversify the economy using data, and so we introduced the master's degree in data analytics. The United Arab Emirates 2071 vision has been drafted and shared and the task now is to achieve its goals. To design the future and create it, we started the master's degree in future foresight and planning to support not only the public sector, but also the private sector and integrate them together. How will people interact with multiple technology points in the future? We predicted the importance of introducing a Bachelor degree in Psychology. So, all in all, we align with the vision of the country and the future trends we are expecting to see.
In a program like psychology, are you actually partnering with our College of Liberal Arts back in Rochester?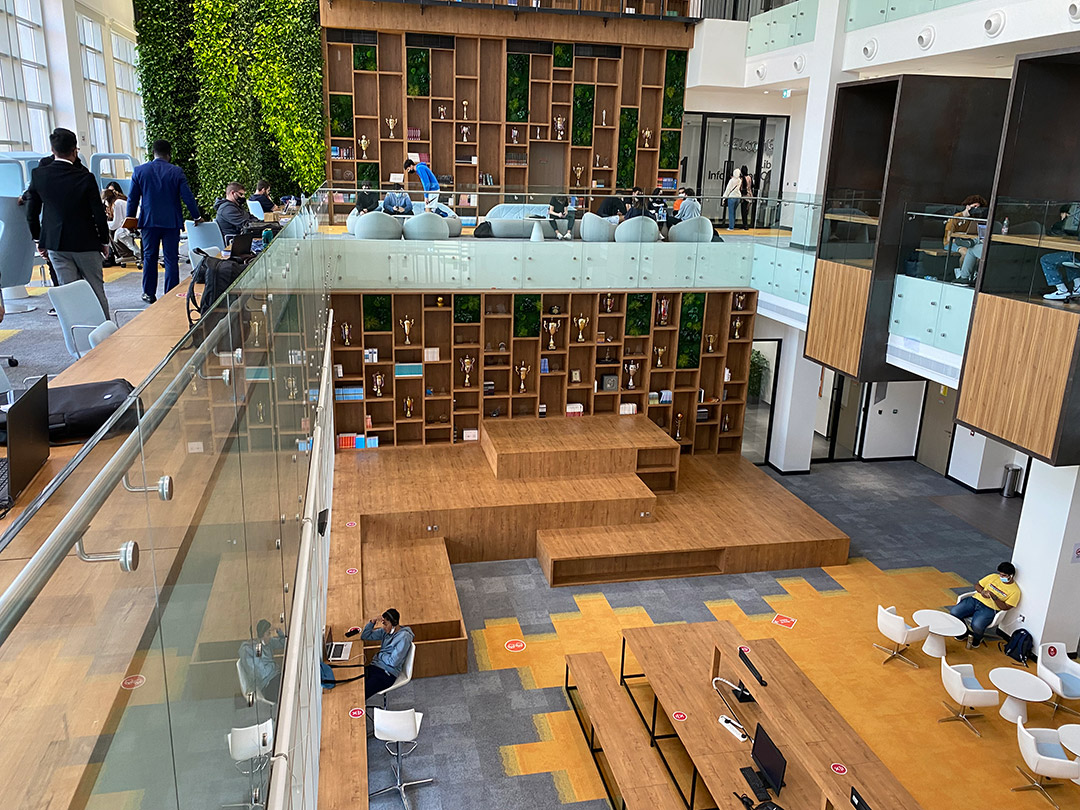 Yes. Before the creation of any program, we conduct a feasibility study here and then submit it to our colleagues at the main campus. Discussions then take place and they help us in designing the program. After that, we apply to the UAE Ministry of Education for accreditation. Like all programs we run here, we work closely with our colleagues to maintain the quality and take advantage of the global delivery to benefit students from all RIT campuses.
Let's talk about the new campus. The new campus was built with an overarching theme of interactive learning and spans 129,000 square meters with collaborative teaching and research spaces, designed to eventually accommodate 4,000 students. You recently dedicated phase one of the project this past fall. Explain the first phase and what that looks like now and your excitement to be on this campus that's in the middle of the Dubai Silicon Oasis.
With the support of Dubai Silicon Oasis, RIT, and many public and private strategic partners, we designed the new campus for the future with four themes. One: A smart campus which will be introducing smart solutions to the challenges we are facing in the region in all fields such as health, environment, education etc. The second theme is sustainability in its three domains: technological, social, and environmental. We are working on delivering alternative smart energies. For example, desalination and cooling are major challenges, we are experimenting sustainable solutions for these challenges. The third theme is innovation. This is resembled by the Innovation Center strategically located at the center of the campus. It is a place where companies, students, and faculty all huddle to address the challenges, ideas, opportunities, and so on. The last theme is a connected campus, where an ecosystem is being created. A student will work in a campus that resembles their future work place and have countless opportunities during their interaction with industries on campus.
In the next five years, we are going to focus on three research and business development centers: sustainability and energy, smart cities, and innovation and entrepreneurship.
This will lead to phase two of construction?
The centers will be expanded into phase two. I am sure other academic and research programs will be developed as we sail into the future. Phase one can cater up to 2,200 students. We currently have about 1,100 students. The moment we enroll 2,200 students, we are going to start phase two (with a goal of reaching 4,000 students).
Please describe the unique relationship that you have with the Dubai Silicon Oasis, which is described as an integrated technology park and free trade zone that allows people to live, work, and play. What partnerships have you developed? And where do you see this all going?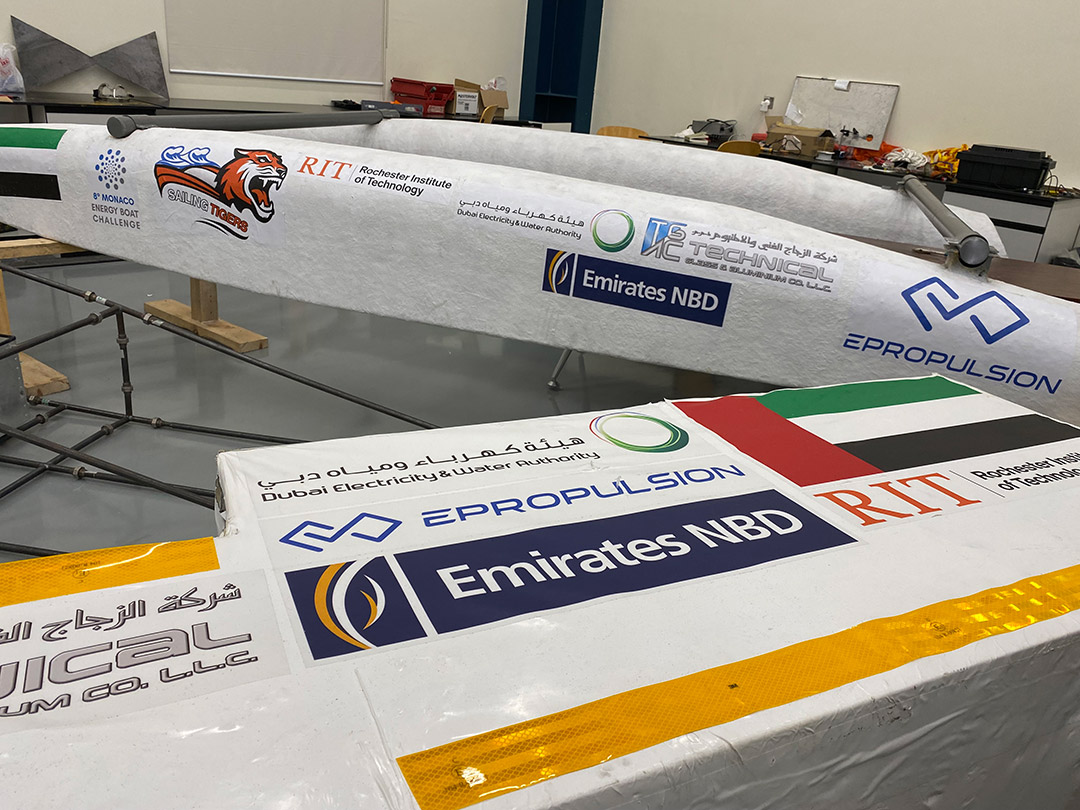 We say to people we are the university of Dubai Silicon Oasis not a university in Dubai Silicon Oasis. We are sponsored by the government of Dubai through Dubai Silicon Oasis, which funded the new campus. Part of our mission is to integrate with companies in and beyond the Silicon Oasis to help students find internships and full-time opportunities. We are also looking to start research with these companies, where we work together to overcome challenges. Dubai Silicon Oasis is becoming an ecosystem with 90,000 people living in it surrounded by multinational organizations, and RIT is interwoven in that ecosystem.
You are starting to create a new strategic plan. Tell about your latest vision to take RIT Dubai forward.
For the past five years, we had a vision and a plan called "Leaping to the Future."
That plan is finishing this year, so we are now designing the upcoming 5-year plan "Inspiring New Realities." The question is five years from now, what are the big goals, that we will be achieving as we move in to the future? One of the key areas is the creation of talents. Another crucial area is research and business development that would serve the needs of the region. We are creating solutions in Dubai, but disseminating them to the whole world. Areas of research could be in energy or smart cities, which are not only needed in this region, but in the world.
We've been walking around the campus and we've seen and met some tremendous students from all over the globe. If you can just talk about what is your typical — and there's probably not a typical — RIT Dubai student.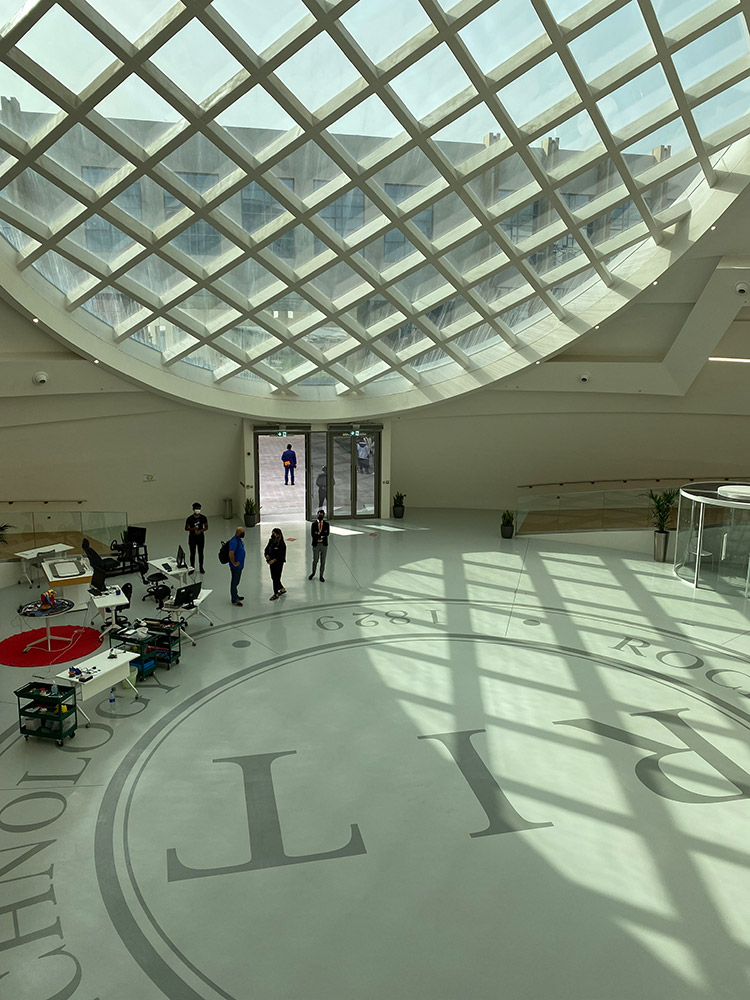 We have more than 70 nationalities on campus and I am sure we will have students from other nationalities in the future. We are proud and fortunate to have such diverse population of students and cater for the needs of organizations who look for diverse talents from Middle East, South East Asia, Africa, Europe, Americas, and the whole world.
I think RIT diversity and being global is critical and very instrumental. The question to all of us at RIT is how do we take advantage of this globalization? And act global and feel global.
What opportunities do you see for RIT students and faculty members back in the United States at RIT Dubai?
I think faculty in Dubai and Rochester will have so many opportunities to learn and support each other in education and conducting research that would solve challenges we face in both, Dubai and Rochester and even beyond. Studying abroad will surely enrich students' experiences within and beyond the campus by learning new things, meeting new people, and seeing how different are the processes of running business in the United States compared to the UAE. The idea of comparing two strong universities in two different cities will enrich and trigger thinking and the creativity of so many people (students and faculty).
Final thoughts on our university in Dubai?
Hearing or reading about something hugely differs when visiting.
Visiting opens plenty of ideas for collaboration (for RIT faculty and students). And the moment you collaborate, it will be a win-win situation for everyone. So, this is an invitation to all colleagues and Tigers on the main campus to come and visit us and to see what we are doing and together, we'll write a beautiful story, as we move into the future.
Topics