Junior high school students learn about 'kaizen' and career possibilities
Faculty demonstrate manufacturing assembly techniques at Toyota Production Lab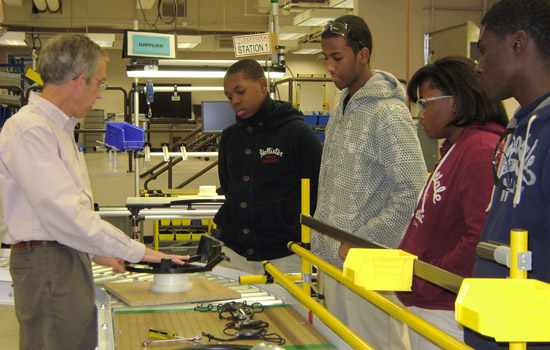 Michelle Cometa
When students from local junior high schools visited the Toyota Production Systems Lab in the Kate Gleason College of Engineering recently, they received a crash course in kaizen and learned how this continual improvement process in manufacturing assembly improves products and a company's bottom line.
Yet a bigger draw according to their mentor, R.D. Long, was the chance to learn about preparing for college and possible careers in science, technology, engineering and mathematics while on a college campus.
The students are part of Mind, Body and Soul, a local academic enrichment program that matches students with mentors and leaders, says Long, its co-founder. The organization also partners with the Hillside Work-Scholarship Connection to provide services to students from the Rochester City School District.
"My philosophy behind pushing kids to be on campus during the day, not on the weekends, not in the summer, but during the school-year day, is to see other high-level kids going about their business on a college campus, and on a high-level college campus, at that," says Long.
As part of the 10-week academic program, the students tour an area college campus and participate in science, engineering and technology projects led by faculty members, such as RIT engineering professors Tim Landschoot, Vince Amuso, John Kaemmerlen and Andres Carrano.
The latter two faculty gave an overview of the Toyota Lab's capabilities, explaining the assembly process for putting together part of an automotive engine fan and shroud assembly. Each student was then assigned to a station along the line for a friendly competition, to assemble and complete his or her step before passing the equipment on to the next station. The students were asked to analyze their work, determine where there was a backlog and give recommendations for improvements.
"Can we do it again," asked Ahmed Hareed, a ninth-grader from Northwest Preparatory School. He rallied his peers, Chahmeir Hagins, Tyler Drake and Kiasia Singletary, and the group bested their first-round numbers after determining where along the line they could improve the process and help one another, one of the elements of kaizen, the Japanese business philosophy of continual improvement.
The Toyota Production Systems Lab recently underwent expansion over the summer. The newest area is a warehouse, similar to one that might be found at Amazon, Zappos or L.L. Bean, with multiple product bins, sophisticated order software and bar code recognition equipment. Carrano demonstrated the use of this equipment by calling up the page at Amazon.com that a student would use to place an order.
The equipment for the new area was funded in part by the Toyota Foundation through a grant the ISE department received in 2010. It was for Relevant Education in Mathematics and Science, a K-12 initiative to provide multiple learning modules for middle and high school students. The industrial and systems engineering department is currently building the curriculum that eventually will include 27 separate modules. They are in the process of completing one third of the modules, says Kaemmerlen, and they expect to test the material with local educators and students, like the Mind, Body and Soul students, local Girl Scout troops, WE@RIT outreach program participants and others.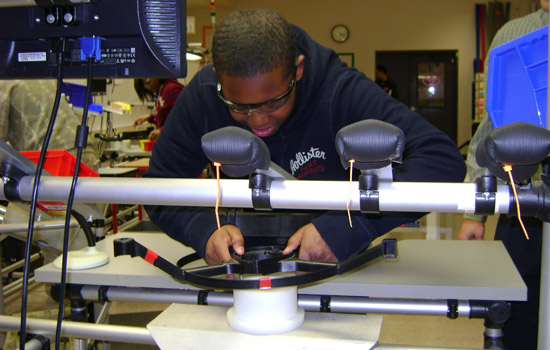 Michelle Cometa