Is the Kinetic Beacon the Next-Generation GPS?
Winning team of RIT's Shark Tank earns $2,000 for its innovative concept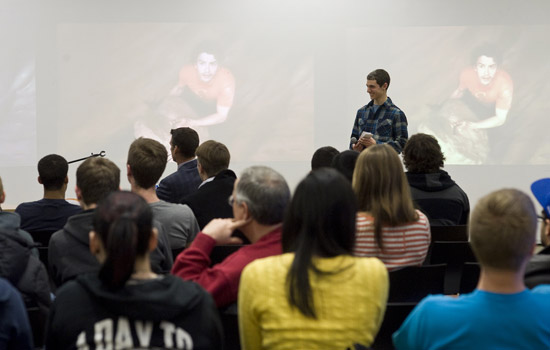 Adventurers who become lost and stranded in remote areas need more help than MapQuest printouts or a battery-depleted cell phone.
Two student entrepreneurs from Rochester Institute of Technology developed a prototype for the Kinetic Beacon, a non-battery-powered GPS signal that transmits both location data and a unique ID when activated.
Christopher Burton, a junior majoring in management information systems in the E. Philip Saunders College of Business, and Alexander Bennett, a sophomore in industrial design in the College of Imaging Arts and Sciences, are now sharing $2,000 after winning first place in RIT's Shark Tank Exhibition, sponsored by the Saunders College.
"Besides the seed money, they have the opportunity to further develop their investment at the RIT Student Business Incubator," says Richard DeMartino, director of the Albert J. Simone Center for Entrepreneurship, which hosted the competition.
Bennett, a native of Manchester, N.H., says the beacon is an innovative product and a great GPS tool for outdoor adventurers who enjoy mountain climbing, skiing, biking, rafting, hiking or trail running. "The beacon is a lifeline to the outside world. We think it would be an invaluable tool in the national parks—and it could fit right into your backpack."
Plus the hand-held device is durable, waterproof, lightweight and requires no batteries. "It's kinetic and the motion starts by waving or shaking it around," says Burton, who hails from Apalachin, outside of Binghamton. "You could leave this in your car for a couple of years and forget about it—but it would still work when you needed it. You can't do that with battery-operated devices."
The students say their next step involves a marketing approach—to get in touch with outdoor leadership groups and national parks.
"Imagine every state or national park, ski resort and base camp throughout the country gave out these beacons to their visitors when they arrived and had them returned at the end of the visitor's stay. How about across the world? How many lives could be saved?"