MAGIC Spell Studios celebrates official launch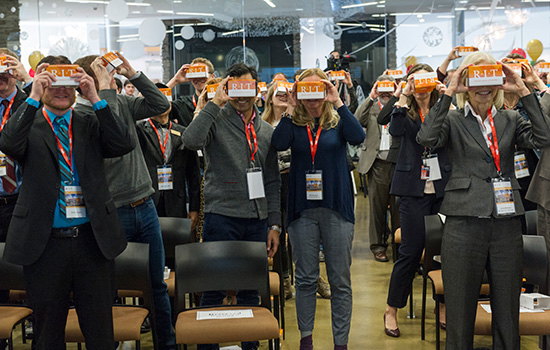 Elizabeth Lamark
RIT recently celebrated the highly anticipated launch for the building that will house MAGIC Spell Studios, the university's creative approach to the convergence of digital media disciplines, including film and animation and game design and development, and a first-of-its-kind effort in higher education.
But what the community may not know is that MAGIC Spell Studios has been developing and publishing digital media, such as games, apps, films, art installations and interactives, since 2013, creating a collaborative, university-wide endeavor that ties together entrepreneurship, academics, content creation, production and distribution.
"MAGIC Spell Studios is about being fluid and truly multidisciplinary, and it is revolutionary," said Andrew Phelps, director. "Through the use of academic programs as a springboard to launch into very different experiences, MAGIC Spell Studios helps students grow their ideas into products and companies and engages students and faculty across disciplines to build these things together from proof-of-concept to refined prototypes that demonstrate commercial viability, and uses the studio at MAGIC to ship them on major channels and storefronts. This is something that the university has never done before."
To help accomplish these objectives, the new building, which was made possible through the support of commitments from New York State Empire State Development, Dell, Cisco Systems Inc., and the Wegman Family Charitable Foundation, will feature a state-of-the-art sound stage, tiered theater with a projection booth and a cinema-quality audiovisual system, sound mixing and color correction rooms, numerous labs and production facilities that will help support RIT's recent designation as a digital gaming hub, and an innovation zone that mixes faculty, staff, students, technology and infrastructure across programs from the School of Film and Animation, the School of Interactive Games and Media, and the RIT Center for Media, Arts, Games, Interaction and Creativity.
There are also plans to dedicate space on a project-by-project basis to both internal start-ups and external partners. According to Phelps, the facility will transform the region and will serve as a showcase and best-in-class example of its kind throughout the Northeast.
The facility is slated to open in 2018.
Malcolm Spaull, chair of RIT's School of Film and Animation, added "This new facility is about exploring new horizons. Consider a new medium like virtual reality. Our faculty are excited by it—it blurs the line between games and film, and everyone is talking about it. But no one is quite sure how this will ultimately inform how we reach audiences and tell stories. That's what the cutting edge looks like, and this effort is about exploring those frontiers together."
The first and only commercialization studio of its kind in the Northeast, MAGIC Spell Studios helps put RIT on par with other world-class universities in this arena, according to Phelps, and is quickly being recognized as an economic driver in the region by helping its students start up and stand out in the digital media space.
"The ways people engage with games and interactive content are changing more rapidly than ever before and the industry is more multi-faceted than ever as it continues to redefine itself," said David Schwartz, director of RIT's School of Interactive Games and Media. "We have to challenge what our students build for these new horizons, which stretches beyond their own early experiences. The research and collaboration focus of MAGIC Spell Studios is invaluable to their education."
RIT already produces talent that helps drive the game design and development industry. The emergence of MAGIC Spell Studios will help create local job opportunities that will give students and new graduates a reason to stay in the upstate New York region, helping reverse what has been called "the brain drain" of local college graduates. In addition, MAGIC Spell Studios will be formally linked to other universities; other local game design and development studios, such as Darkwind Media, Second Avenue Learning and Workinman; and partners like The Strong National Museum of Play to create a professional network, designed to provide resources and mentoring to encourage students and entrepreneurs to enter the growing digital media industry. The effort is focused not just on placing graduates in existing game design studios, but on growing smaller studios and founding new ones.
"It's always important to incorporate learning into our class projects," Phelps said. "We're going to build something and it's important for students to understand why it's important to build it, how to do it, and what the process is. And we do that at MAGIC Spell. But the minute you tack on, 'and we're going to ship it,' it really matters how good it is. What the public expects from your product changes the whole view of what this experience should be. We don't just take our students to the edge when it comes to developing digital media products, we push them over the edge and allow them to put their products in a storefront. That's what makes MAGIC Spell Studios different."
Video extra
To learn more about MAGIC Spell Studios, go to bit.ly/MAGICSpell.