Making co-ops count: Work experiences continue during pandemic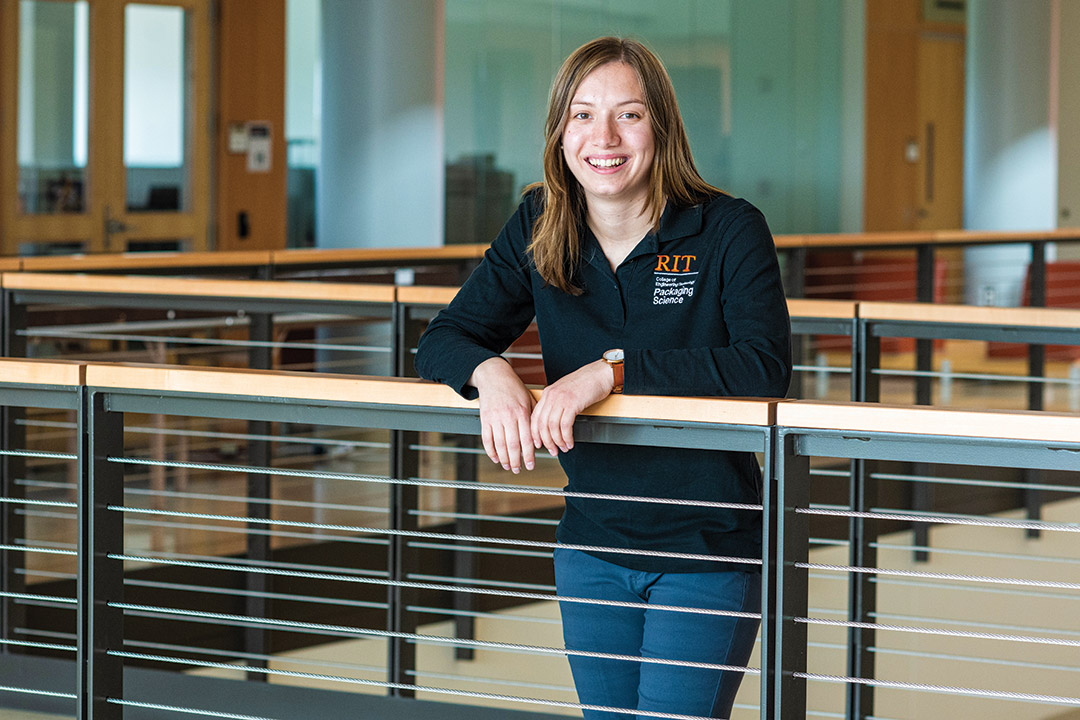 Gabrielle Plucknette-DeVito
Students on co-op are picking up more than occupational and professional skills. As the pandemic unfolded last spring and summer, they saw firsthand how companies manage even in the midst of a crisis.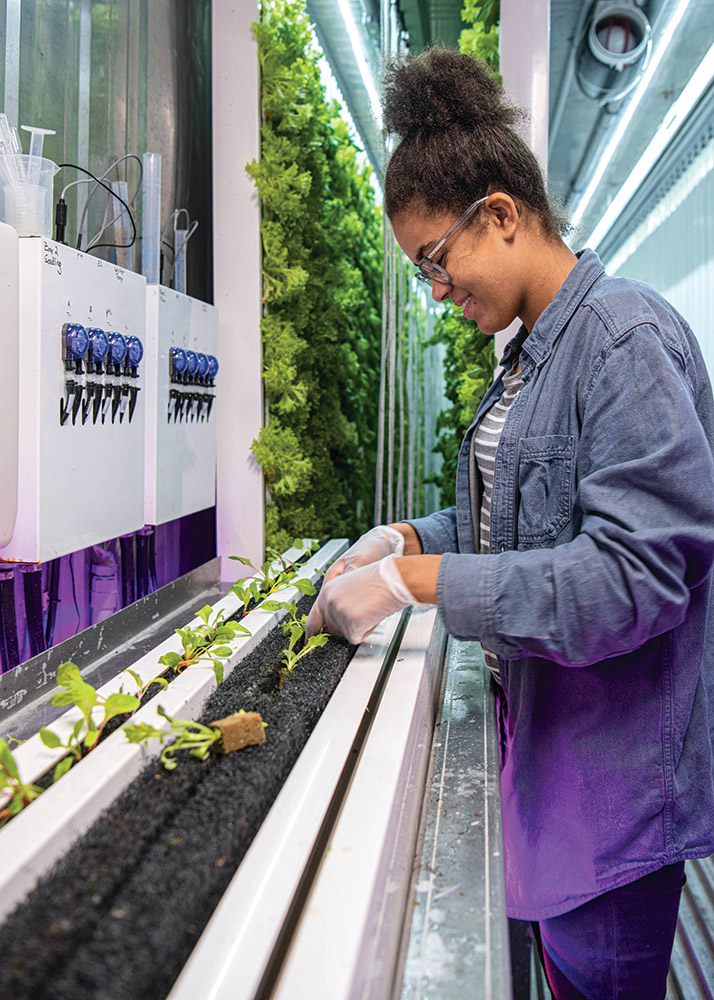 Gabrielle Plucknette-DeVito
Isabel Stoeckley and Emma Junga were only two of the hundreds of RIT students who adjusted to limits to co-op activities because of the pandemic.
Stoeckley worked at PepsiCo's facility outside New York City. Junga began work this summer at New York State Pollution Prevention Institute (P2I). Both work experiences were part of required co-ops for their respective programs, packaging science and mechanical engineering. What they may have lost in travel or direct interaction with co-workers, they gained in alternatives that allowed them to apply classroom work to real-world experiences.
After completing a fall 2019 co-op with Johnson and Johnson, Stoeckley started her second co-op with PepsiCo research and development from January to June of 2020. She was assigned to the company's New York Beverage Packaging site in Valhalla, N.Y.
"Day to day, I was able to do package testing, with some of PepsiCo's newer products, materials testing, and also several transportation tests," said Stoeckley, a fourth-year student from Bethlehem, Pa.
PepsiCo was flexible and adaptive, said Stoeckley, who returned to RIT for fall classes and started work in the Packaging Dynamics Lab.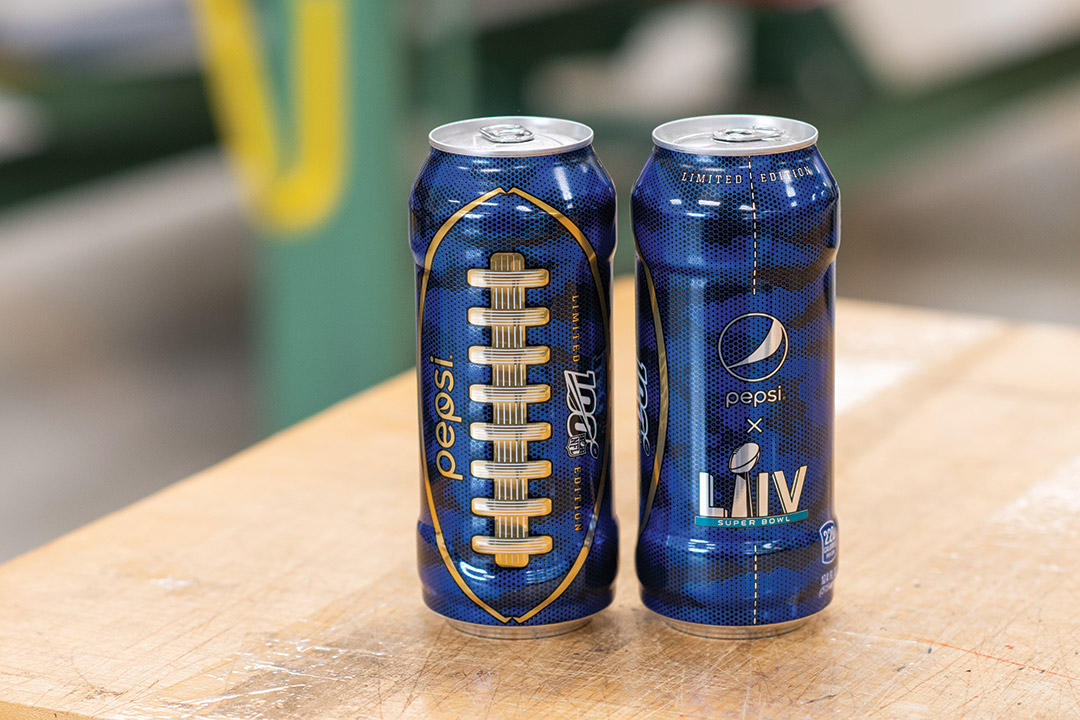 Gabrielle Plucknette-DeVito
"PepsiCo was very willing to let me explore different areas in the company further, and do training while I was there. I was able to get my Institute of Packaging Professionals Certification. They are willing to support professional development and had the virus not hit, I don't know if I would have had the time to do that. I took advantage of the opportunity."
The 2019-2020 academic year opened with a strong employment market, which made for many opportunities for RIT's students.
When the pandemic hit, it raised challenges, but RIT's Office of Career Services and Cooperative Education was able to complete its spring career fairs, allowing employers the opportunity to proceed with many summer co-op and full-time hires, said Maria Richart, director of the office.
Richart and the Career Services team hosted for the first time Virtual Career Fairs during September and October to connect students with co-op and full-time positions.
By the Numbers
Fall 2020
1,130 students on co-op
651 employers hired co-op students
Summer 2020
2,000 students on co-op
1,098 employers hired co-op students
Spring 2020
1,300 students on co-op
675 employers hired co-op students
Five tracks featuring prospective employers were available in the areas of business processes, computing, creative, engineering and manufacturing, and science and research. More than 2,600 students participated in 67 sessions during the first week's Virtual Career Fair and more than 1,600 took part in 90 sessions the second week.
RIT departments such as Simone Center for Innovation and Entrepreneurship and MAGIC Spell Studios quickly created more than 150 on-campus/virtual opportunities for students who had lost summer co-ops, Richart said. Academic departments became flexible in what they would accept to fulfill co-op requirements.
In August, Junga began work at P2I, a significant contributor to environmental impact assessment, resources, and practices.
"I'm working in P2I's green technology accelerator program. We are working with a start-up that is trying to commercialize a new solar panel technology. By doing greenhouse gas and energy impact assessments, we figure out how environmentally friendly their product could be compared to products already on the market," said Junga, a fourth-year student from Madison, Wis.
"Just having my foot in the door to something I can definitely see as a long-term career, where I feel like I am really making a difference, is beyond valuable for me."
Topics