March 19, 2018
by Marcia Morphy
Marvel-ous comic artist has luck of the draw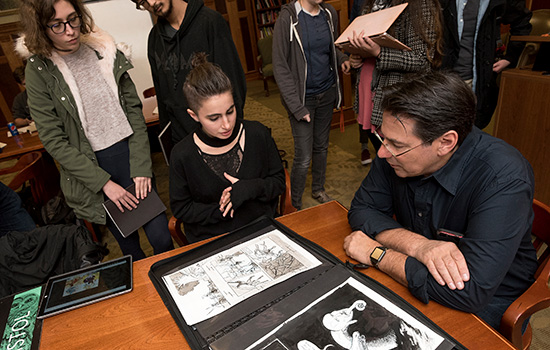 He may not have superhero powers, but he certainly has a talent for drawing them.
Pencil, pen, paper, ink and "a brain that never stops" are the tools of his trade—and during his career as a comic artist, Adam Kubert '81 (medical illustration) has illustrated for DC Comics and now exclusively at Marvel Comics.
And probably the most salient fact about Kubert's style is how anatomically correct his subjects are with their detailed faces and sculpted bodies in revealing spandex couture—easily the envy of even your most avid body builders.
"Wolverine can get his chest slashed open, and I can illustrate it accurately in 3D," said Kubert with a laugh. "That comes from studying medical illustration at RIT, but my comic career started at age 12 when I started lettering for DC Comics."
Since Kubert enjoyed science and art and wanted to be a pediatrician when he grew up, medical illustration seemed like a good fit. Yet he couldn't escape a career following "a huge shadow" in the comic industry. His father, Joe, was an iconic cartoonist and founder of The Kubert School—which offers a three-year concentrated program in cartooning and graphic art and is located in Dover, N.J.
"My dad was a genius, a living legend for his DC Comics characters Sgt. Rock and Hawkman," said Kubert. "My brother, Andy, is also a cartoonist for DC Comics, so throughout my life I've faced some heavy, yet friendly, family competition. We both continue to teach at the school."
Kubert has indeed found his niche and is best known for drawing villains and heroes of the ever-popular X-Men, Fantastic Four, The Incredible Hulk, Spider-Man, Superman, Ghost Rider and most notably, Wolverine. In 1992, he received the Eisner Award for best inker of Batman Versus Predator (Dark Horse and DC Comics).
"I didn't grow up as a comic book fan, but I love telling stories with pictures," said Kubert. "Comics are a fertile ground for movies; we are the idea people that producers are always looking for when considering their next blockbuster. You have to be living under a rock if you don't believe superheroes are big at the box office—even on Netflix."
Kubert's skill is unmistakably captivating to look at—and he agrees comic art is an industry where you can design some pretty "cool" characters. He said it generally takes him eight to 10 hours to complete a Marvel Comics cover, but if the storyline includes eight villains versus a single superhero, it can take up to four days. His latest endeavor is illustrating Marvel's flagship title, Peter Parker: The Spectacular Spider-Man.
"I tell up-and-coming artists that you have to really enjoy what you do," said Kubert, who recently relocated to Brooklyn with his wife, Tracy; children; three dogs; and a couple of motorcycles.
"Illustrating for a living isn't a corporate job, but it's enough to pay the bills—and for my next motorcycle."
Topics