May 19, 2021
by Shelly Meyer
Matthias Hausman honored with Fulbright English Teaching Assistantship
Double major will work in a German classroom assisting a local English teacher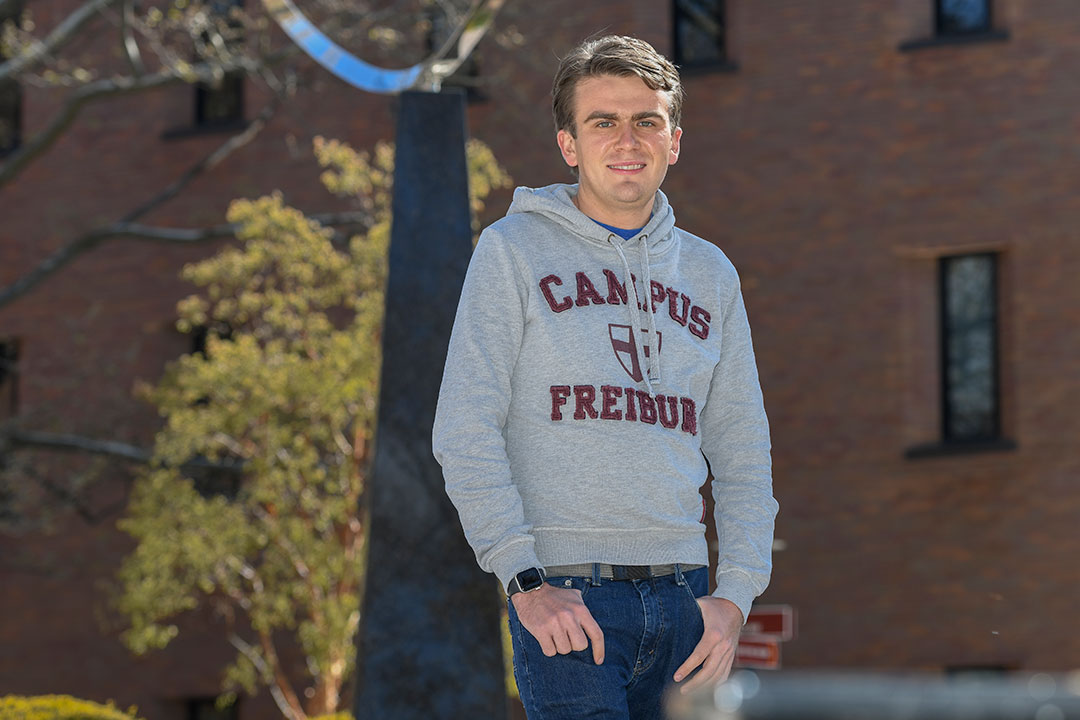 After graduating this year, Matthias Hausman, a mechanical engineering and international and global studies double major from Abington Township, Pa., will travel to Saxony, Germany, to teach English this September. As a Fulbright English Teaching Assistant, he will be placed in a German classroom to provide assistance to a local English teacher.
Hausman has deep roots in German culture and the German language. His family emigrated to the U.S. from Germany several generations ago, and his father, a retired high school German teacher, made sure his son was familiar with the language from an early age. Hausman continued his language studies through high school, eventually cementing his knowledge through classes at RIT.  
This isn't the first time Hausman will travel to Germany. He's taken several short trips with his family, and even studied abroad there in 2019. This trip will be different though, he says.
"I'm excited for the ability to have a more in-depth experience and to grow my cultural knowledge of the country by being there for a full year. I was considering whether I should do the Study/Research program or the English Teaching Assistantship. Ultimately I decided that if my goal was to get an in-depth cultural experience it would likely be better achieved through the English Teaching Assistantship because I'll be directly interacting with many people on a regular basis."
Hausman had his eye on the Fulbright scholarship since his first year at RIT, and has been working hard to prepare for the experience since.
Each semester since spring 2018, he has taught a lab course within the mechanical engineering department to familiarize himself with classroom leadership. He is also the German language tutor in the department of modern languages and cultures and co-founder of RIT's German Language and Culture Club.
Once he returns from his journey abroad, Hausman plans to attend Penn State University to pursue a master's degree in International Affairs.
About the Fulbright program
RIT students have had a banner year in securing awards from the prestigious Fulbright U.S. Student Program. RIT has a record four Fulbright finalists plus three alternates for the 2021-2022 academic year. Students from the Kate Gleason College of Engineering, College of Science, College of Health Sciences and Technology, College of Liberal Arts, and School of Individualized Study will travel to Germany, Nigeria, and Turkey for immersive global learning experiences in the coming months. Read more about the finalists.
The Fulbright program provides students funding to study for a master's degree, complete an independent research project, or teach English for up to a year outside the U.S. During their grant period, Fulbright students meet, work, live with, and learn from the people of their host country.