Message From President Destler Concerning Change in RIT's Academic Calendar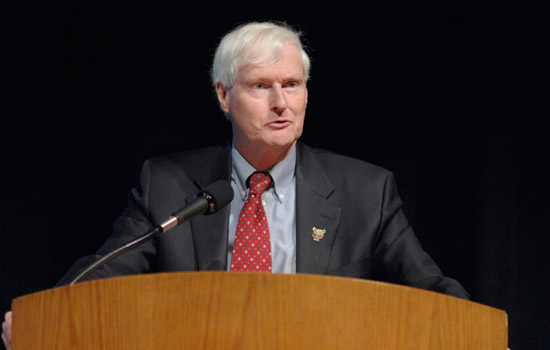 Note: If you have questions not answered below, please call 1-866-624-8330 (TTY: 1-866-758-1958) or e-mail RIT President Bill Destler at destler@rit.edu (please be patient for a response).
To: RIT faculty, staff, students, parents and alumni
From: President Bill Destler
Date: Feb. 10, 2010
Subject: Change in RIT's Academic Calendar from Quarters to Semesters
I am writing to convey my decision on the proposal to change RIT's current academic calendar from the current quarter system to a semester system. With the benefit of input from all RIT stakeholders in an open and public discussion of this topic, and with the support of RIT's Board of Trustees, I have decided the following:
1. RIT will move from the current quarter system to a semester-based academic calendar starting fall 2013. This starting date will allow more than three years to prepare for the change, and we will implement a new student information system as part of the transition process. The reasons for this decision are outlined below.
2. The semester system to be employed will be based on a flexible 5x3 model, meaning a typical student would take 5, 3 credit courses per semester. Adoption of the 5x3 model does allow for some courses to be offered with differing credit values (and some will have to be), but the 3 credit course would be the norm. The reasons for this decision are outlined below.
3. In order to begin planning for the transition to semesters without further delay, we will plan toward a semester-based academic calendar for 2013-2014 on the following schedule:
Aug. 26, 2013 – Fall semester first day of classes
Nov. 27–Dec. 1, 2013 - Thanksgiving break
Dec. 20, 2013 - End of Fall Semester
Jan. 27, 2014 – Spring Semester first day of classes
March 24–28, 2014 – Spring break
May 23, 2014 – End of Spring semester
This calendar ensures that there will be no loss of rigor in RIT's academic programs, as it provides for 30 weeks of instruction during the academic year, the same as is currently offered under the quarter system.
This is a very aggressive target date for the transition but one I believe we can achieve if we commit ourselves to the task and do not encounter unforeseen problems.
There are many reasons for the decision to move to a semester-based academic calendar at RIT, all of which have been discussed within the RIT community over the past year. Of these, the most important by far are those that have the potential to positively impact the quality of the educational experience that our students receive. These include:
• The rapidly diminishing number of colleges and universities operating under a quarter-based academic calendar has put RIT in an increasingly isolated position that clearly complicates our interactions with other institutions in such areas as credit transfer, student exchange and study abroad opportunities.
• There is a potential for improved student retention and graduation rates because of a) a somewhat slower academic pace in each course, b) enhanced opportunities for students to recover from illnesses and other interruptions in their studies since semesters are 5 weeks longer than quarters, c) fewer courses taken each year (albeit of longer duration) and fewer final exams each year and d) the elimination of a winter quarter disrupted by the holiday break.
• A semester calendar would allow for the possibility of a true Rochester area academic common market as all other institutions in the area are on semester calendars.
• The proposed calendar would allow for the offering of an optional January mini-mester for students who fall behind in their programs, want to shorten their time to degree, want to earn some extra money to help pay for their education, or want to work intensively on student projects. This optional mini-mester will allow students to take one course in an intensive manner over a period of about four weeks.
• A semester calendar would better align our calendar to that of most other colleges and universities and allow the scheduling of winter and spring breaks at times similar to those adopted by other institutions. Our students would then have a better chance to see old friends during the academic year and to participate in cross-institutional education and public service programs that are increasingly offered during these break periods.
• The recent move of several other universities (e.g. Cincinnati, Northeastern) with strong co-op programs from quarters to semesters provides persuasive evidence that the move can be accomplished without damaging this critical element in most of RIT's educational programs.
• A semester calendar would afford the opportunity for students enrolling from warmer states and nations and who do not participate in the January mini-mester to escape the Rochester winter for the month.
The decision to base RIT's semester academic calendar on the 5x3 model instead of the 4x4 model was made for the following reasons:
• The total number of courses a typical student would take in a four year period is 40 for the 5x3 model and 32 for the 4x4 model. The 5x3 model therefore allows for considerably more course variety and diversity and allows for more special topic courses of the kind that RIT students have come to expect. This increased course variety and diversity will be reflected on the transcripts of our graduates and will better communicate to prospective employers and graduate schools the breadth and depth of our students' academic experiences.
• A substantial majority of semester-calendar colleges and universities operate under the 5x3 model, and adoption of this model will make easier a number of interactions with other institutions including student and credit transfers.
• The transition from a quarter system to a 5x3 model semester system is much more easily managed than a transition to a 4x4 system, as in the 5x3 model many of our existing courses can be easily mapped to the new calendar. The transition to a 4x4 model would require a complete redesign of almost every course in our curriculum, a task that would be very difficult to achieve without compromising our forward movement in other areas.
Although the 5x3 semester model will be the norm for course and program conversion, it is clear that certain course offerings (e.g. introductory physics and math sequences) will have to be offered on a 4 credit basis in order to assure a timely completion of these core programs. In addition, there may be reasons for on-line programs and other programs aimed at special audiences to offer programs under different schedules. Requests for exceptions of this kind may be made to the Provost.
In the next few months, I will work with the Vice Presidents, Deans, faculty, staff, and students to chart out a transition timetable including specific milestones to be achieved each year as we plan for this change. We have budgeted additional funds to support the transition, and the allocation of those funds will be associated with the tasks identified in the transition timetable. This transition will involve every faculty, staff and student on our campus in some way or another, and each of you will have a chance to take this opportunity to improve the quality of instruction, student life and service that our students experience. In addition, input from alumni from around the world will be encouraged to help ensure that our revised curricula remains rigorous and relevant in today's rapidly changing business environment.
Principle Number One in the transition will be to protect all students from any harm during the change from quarters to semesters. Specifically, we must ensure that no student suffers any loss of progress toward a degree during the transition; that no student's graduation will be delayed as we make the change from quarters to semesters; and that no student will see any increase in tuition or fees related to the transition. As part of the transition process, every student on campus will be personally advised to ensure that this principle is upheld in every case.
As we move through the planning process, it will be essential that we reaffirm our commitment to RIT's core values including our strong belief in career-focused experiential learning through the co-op program, a rigorous, hands-on educational experience for all of our students, encouragement of innovative and creative work, an understanding and appreciation of global issues, and our commitment to educating a diverse student body with particular emphasis on those with unique learning needs. These core values are what distinguish RIT from other colleges and universities, and they are our true "unfair advantages" over the competition.
The planning process for the transition will also allow us to re-vitalize our various curricula, update our general education programs and infuse innovation, creativity, and cross-disciplinary team project work into the educational experience of all RIT students. I will ask Provost Haefner to work with our faculty to take advantage of this opportunity to improve our numerous academic degree programs to the benefit of students present and future. Provost Haefner will soon distribute additional information to the faculty including specific parameters associated with program conversion.
In conclusion, I continue to be amazed at the vitality of the RIT community and your willingness to take on new challenges for the betterment of our students. Whatever your personal opinions of this change may be, I hope that you will join with the entire RIT family in making this transition a step forward for the University.
It has been my great privilege to be asked to lead RIT at this critical time in the institution's history, and I have been humbled by your support of our efforts to move this wonderful university to the next level of educational excellence. This change is an important step in that direction, and I ask for your support in implementing it.