Midnight Waves takes top honors in Ovation
Fourteen acts of dance, singing, and instrumental music competed for cash prizes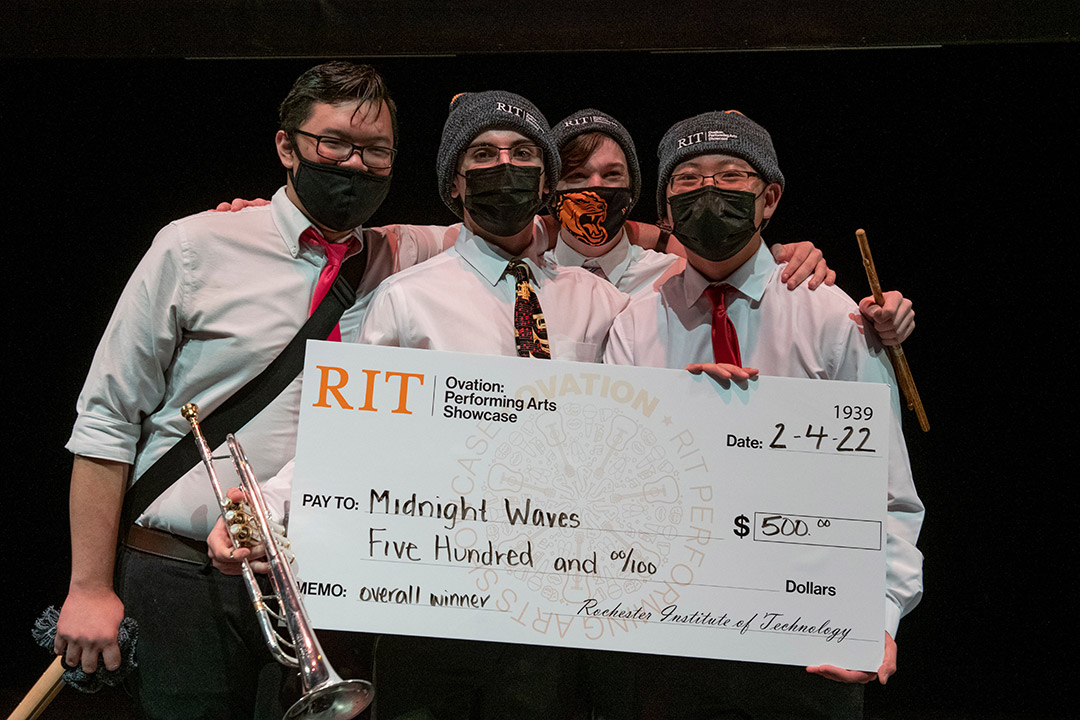 Midnight Waves, a band formed by RIT students last semester, has appeared at a few open mic nights, but its Latin/jazz combo performance of "The Tiger of San Pedro" during Friday's Ovation: RIT Performing Arts Showcase was their biggest gig to date. And their most rewarding.
The four students were named overall winners in the competition, and will split the $500 top prize.
Band members Ryan Keller (drums), a second-year game design and development major from Avon Lake, Ohio; Mike DiGiulio (bass guitar), a fourth-year electrical mechanical engineering technology major from Troy, N.Y.; Troy Wolf (trumpet), first-year software engineering major from Pepperell, Mass.; and Brian Phung (keyboard), a second-year diagnostic medical sonography major from Hilton, N.Y., weren't sure what they were going to do with their prize.
"We didn't think we'd get this far," DiGiulio said.
"Maybe we'll go eat out without feeling guilty," Keller suggested.
RIT President David Munson, who emceed the event with his wife, Nancy, said he was impressed by the performances, which included jazz, classical piano, colorful Chinese dance, step dancing, group a cappella singing, and a trumpet quintet that played the overture to Back to the Future.
"It was just an astonishing variety and a lot of real standouts," he said. "And it was also amazing to see what all these students are studying. Almost all are STEM disciplines, and I noticed a lot of computing and computer science students. For them to be undertaking activities on the side at this level is really impressive."
The performers represented majors from nearly every college at RIT.
While the votes were calculated, the audience in the Robert F. Panara Theatre in Lyndon Baines Johnson Hall were treated to a performance by 15 members of RIT Brick City Singers, last year's performing arts competition winners.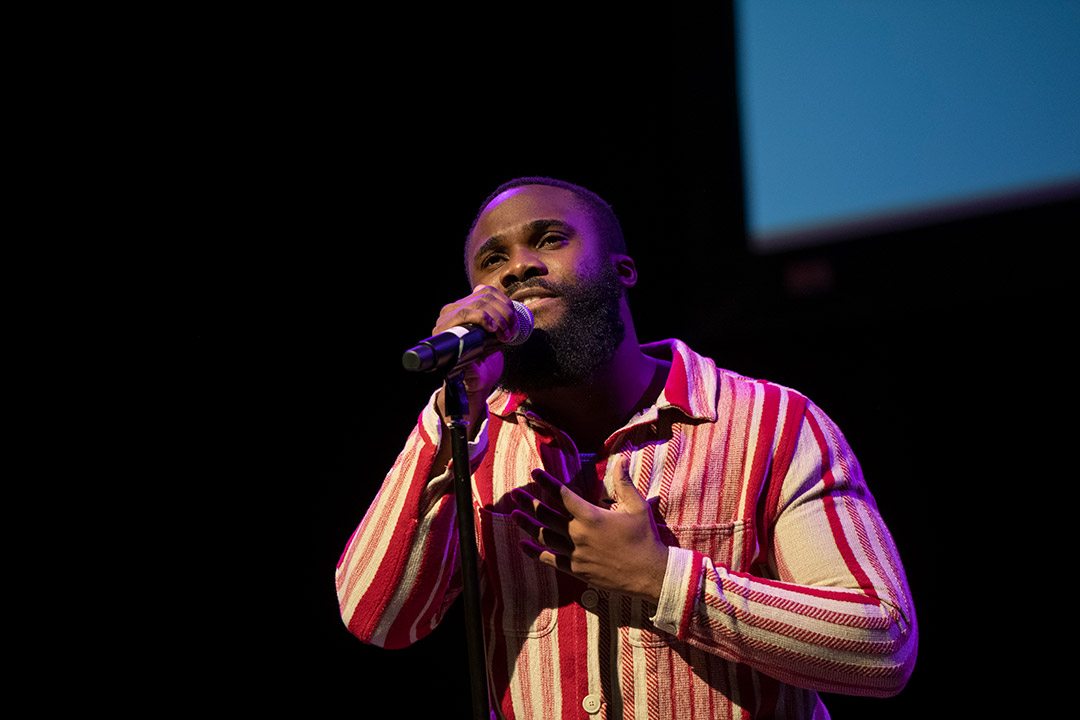 Elizabeth Lamark
Then all of this year's competitors were asked to stand on stage as this year's winners were announced.
"I would say everyone on this stage is a winner," Nancy Munson said.
The top winners in each of four categories also were awarded $300 each, including Phung in the instrumental category, for his piano performance of "A Short Hike for Piano," which he arranged.
Elizabeth Lamark
The other top winners were Adesola "Dewé" Adedewe, a fifth-year electrical engineering major from Brooklyn, in the accompanied vocal category for his rendition of "Jealous"; Riley Kranick, a first-year biomedical engineering student from Schenectady, N.Y., in the dance category, for her tap dancing to "Vienna"; and Anna Volpova, a master's student in computing security from Rochester, N.Y., who performs with the name Ana Richi, for her original pop ballad, "Every Time We Say Goodbye," in the acoustic vocal with band category.
The contest is one way to enable RIT students to continue their passion for performing arts. Munson has said the best students are students who are also involved in performing arts, which allow them to think creatively. It not only helps the students, but that experience gives them a leg up from prospective employers who seek the best, well-rounded candidates who can think creatively in a variety of situations.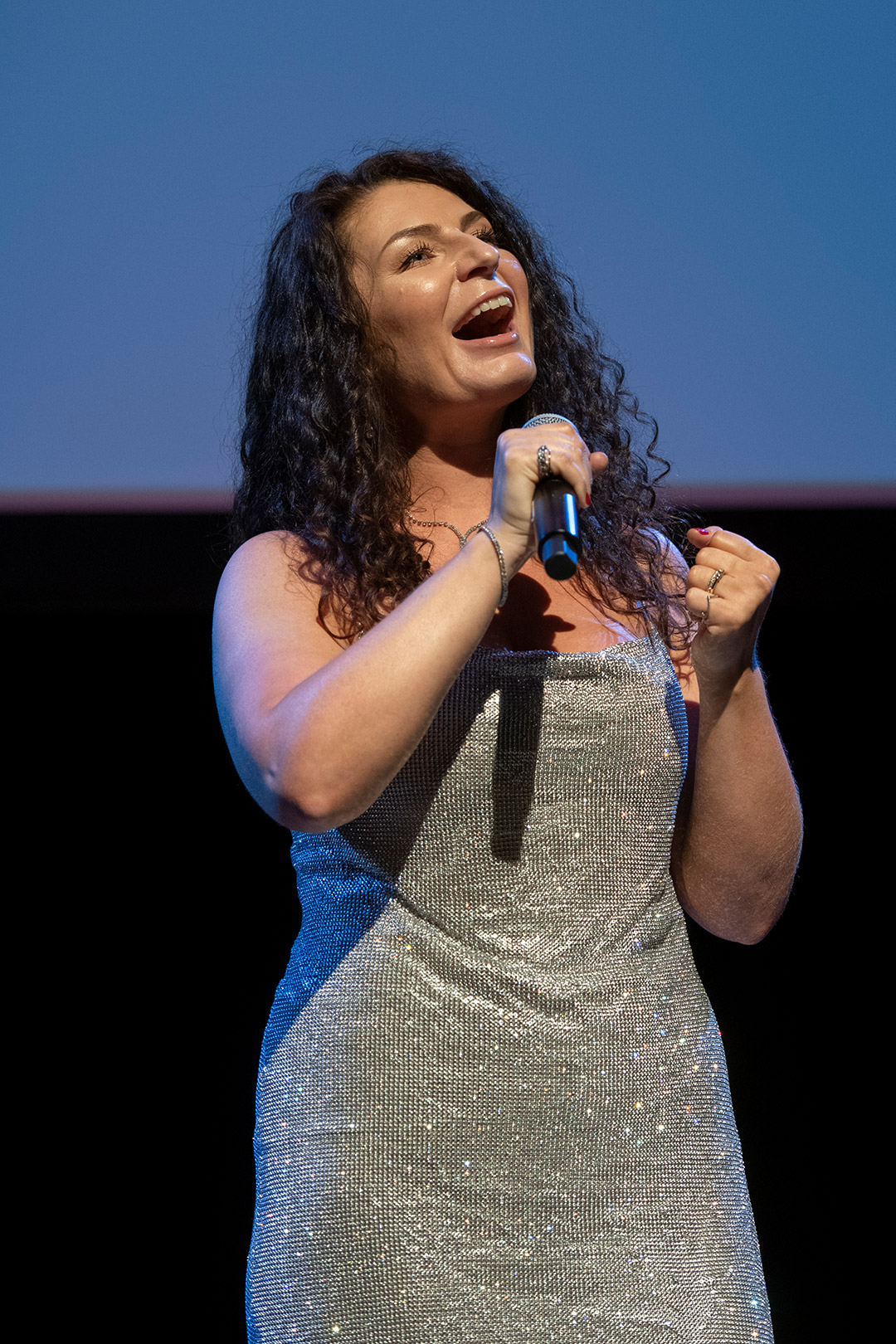 Elizabeth Lamark
Nearly 950 RIT students were awarded performing arts scholarships in the past three years, and the opportunities for performing artists on campus will continue to grow with the addition of two new buildings.
The Student Hall for Exploration and Development (the SHED) is currently under construction and set to open in the fall of 2023. The building will house a performing arts component that includes individual rehearsal spaces, a large dance instruction studio, and a music rehearsal studio. A black-box/glass-box theater seating 180 will be able to be reconfigured to allow for, or block, light into the space.
And the first phase of a new performing arts complex is planned to open in 2024. Its first phase is an 800-seat theater for musical productions and will include a historic pipe organ. The second phase will include a 1,500-seat orchestra hall for larger audiences
"We continue to build performing arts at RIT," Munson said. "This is just the beginning. What a great start."