More than 500 Performing Arts Scholars added to RIT's cast of talented students
Students excel in music, dance, theater, technical production, and more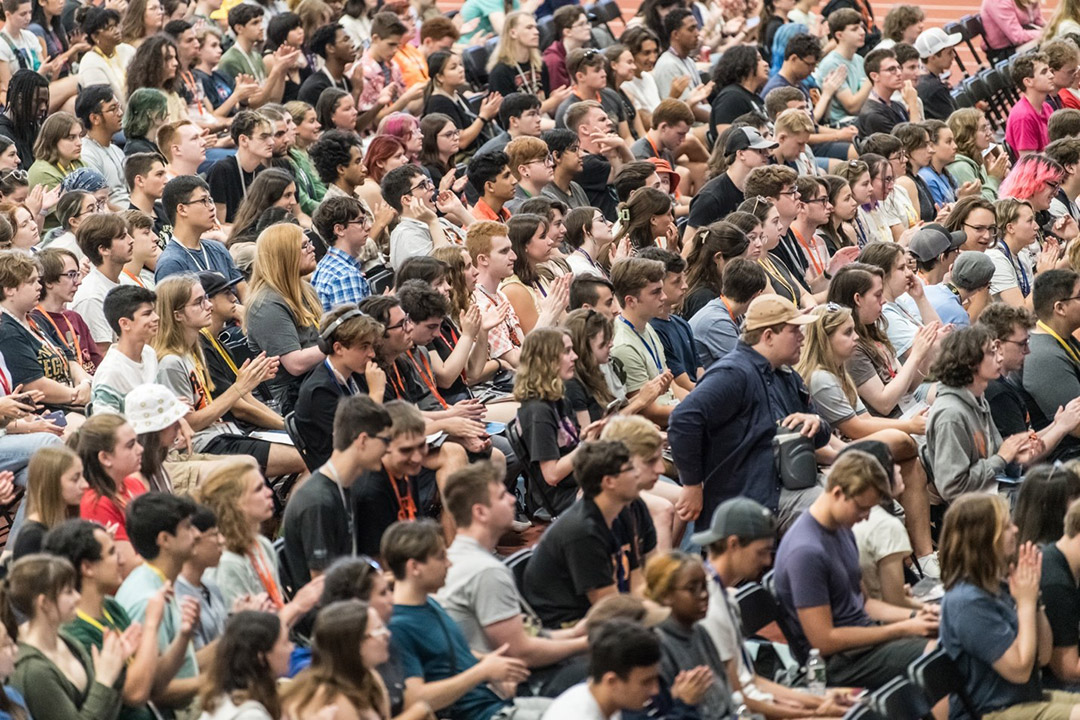 Nearly one in six of the more than 3,300 first-year and transfer undergraduates this year received a Performing Arts Scholarship from Rochester Institute of Technology.
The students, who submitted audition videos, were selected for the scholarships because they excel in instrumental or vocal music, musical theater, acting, dancing, set design, and even aerial arts.
That brings the total number of Performing Arts Scholars to more than 1,800 in the five years since the program began. The program encourages high school students involved in performing arts to continue their passions at RIT. Such students typically are very creative and can think "out of the box."
The students gathered during their orientation Tuesday in the Gordon Field House to learn more about the performing arts opportunities they can take advantage of on campus and in Rochester, including an array of performance courses, field trips to see free concerts and musicals, and professional workshops on a diverse range of topics.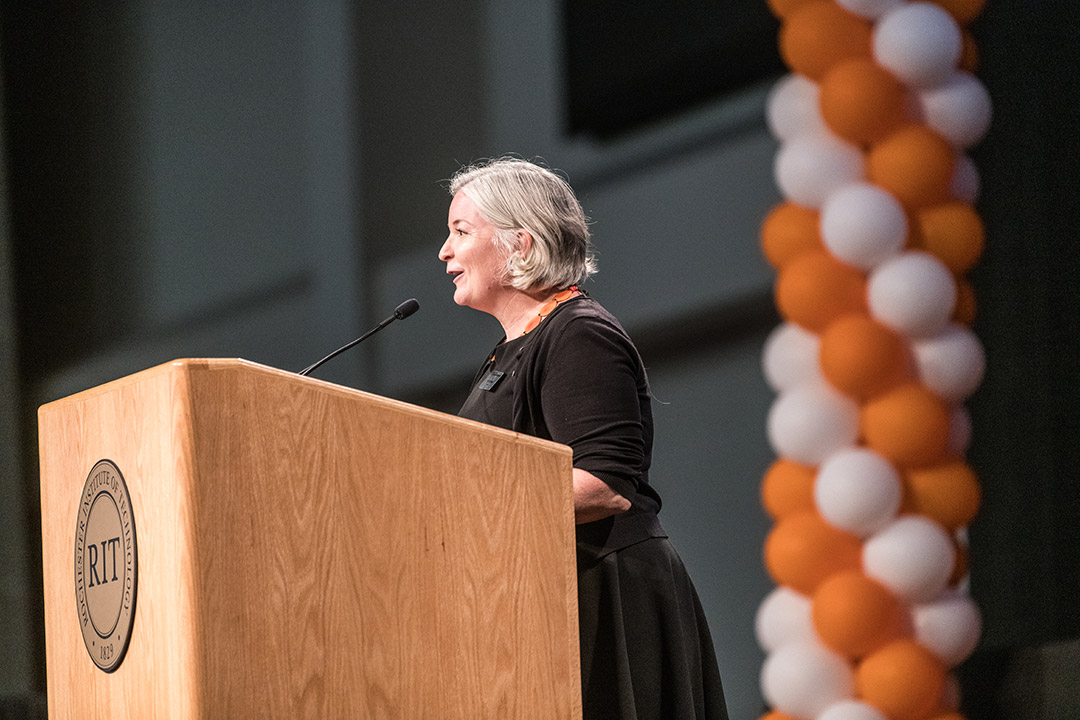 Traci Westcott/RIT
"Welcome and congratulations on becoming RIT Performing Arts Scholars," said Laura Conyers, associate director of RIT's Performing Arts Scholarship program. "I look forward to seeing all of your performances and getting to know you more throughout the next four or five years. There's a huge community to network with, to perform with, and just to hang out with, so definitely take advantage of opportunities available to you."
Erica Haskell, director of RIT's School of Performing Arts, also welcomed the students to RIT's "performing arts ecosystem. We are building something completely unprecedented at RIT. We're building opportunities for all of you majoring in other subjects than performing arts. It is such an honor to have you here. You are actors, composers, and dancers, some of you are lyricists, some of you are interested in the circus arts, some of you are jugglers. Some of you even have skills in many different performing arts at the same time; others of you have been studying for many, many years in one discipline."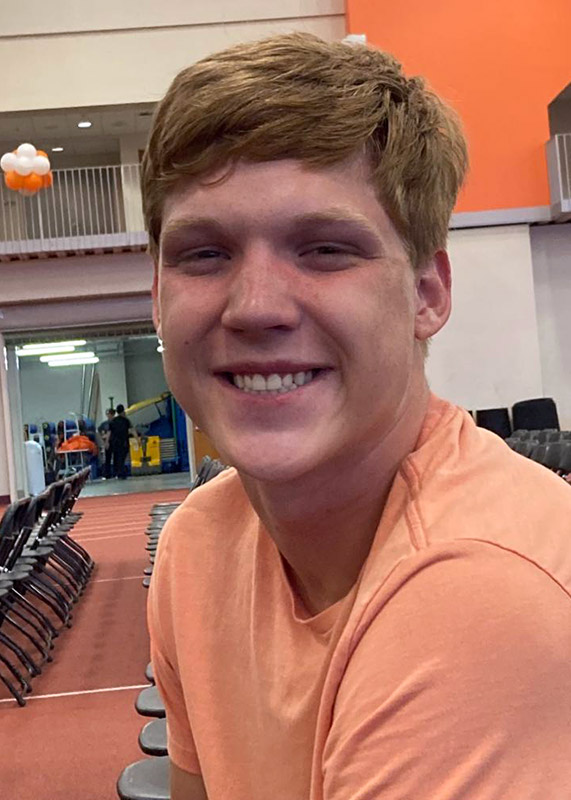 Greg Lynch, a game design and development major from Lutherville, Md., was first to arrive at the meeting. He played bass in his high school orchestra and hoped to learn about clubs or orchestras he could join at RIT.
"This scholarship really helped," he said. "I don't know if I would have been able to afford college otherwise."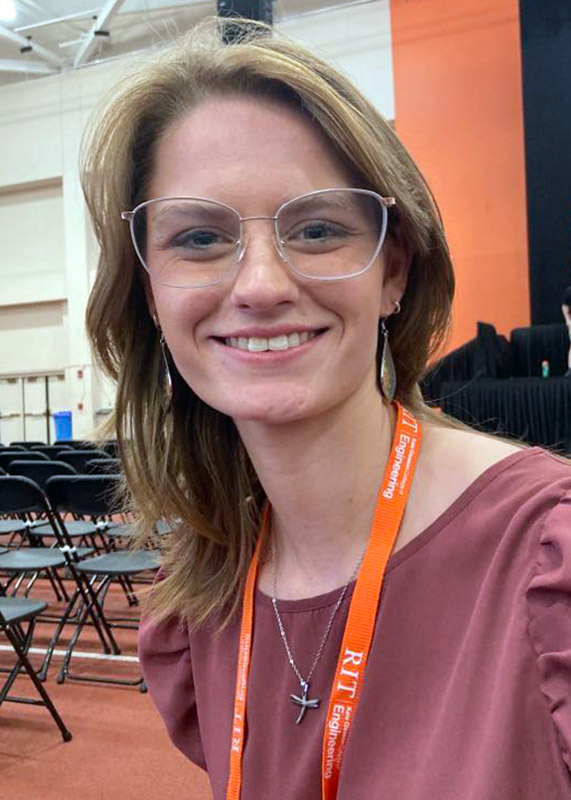 Hailey McCall, an electrical engineering major from McGraw, N.Y., received her Performing Arts Scholarship for musical theater but said she did "literally everything possible" with performing arts in high school.
"This scholarship was one of the things that put RIT over the top for me," McCall said. "When I got this, I knew I was definitely going to RIT. I was also looking at another school, but their performing arts program wasn't very welcoming."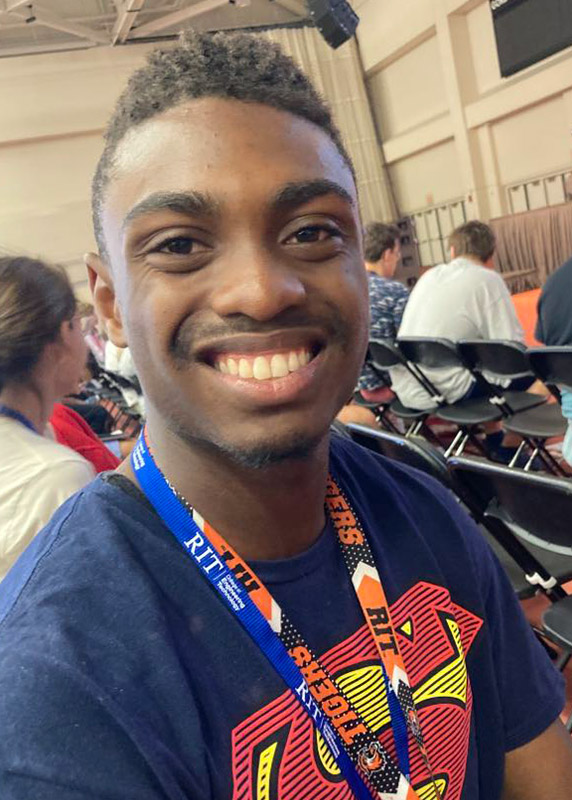 Xavier Wiggins, a mechanical engineering technology major from Rochester, has played jazz on the saxophone for more than five years. He is pleased he can continue to play at RIT.
"Who knows, since I already have the skills, maybe I can consider making a career from it," he said, although he knows he'll have a bright future as an engineer.
Their partial scholarships are automatically renewed each semester as long as the student remains involved in a performance; an RIT production or ensemble; a performing arts club, group, or course; or takes private lessons on campus.
The students are also encouraged to become engaged in arts in the community.
"There are a lot of opportunities to engage, whether it be here on campus or in the greater Rochester community," Conyers said. "You now live in a city that has a very vibrant performing arts culture. There are lots of organizations that we are engaging and partnering with, so this will give you opportunities to see shows, plays, concerts at these various arts organizations."
Conyers also talked about the 44 student clubs on campus specifically involving performing arts.
"I highly encourage you to go to the RIT Activities Fair on Aug. 29 and you can really explore what is open to you, because there are a lot of clubs, and there are opportunities for you to start a club to help you get acclimated here if there's not something already here you're looking for," she said.
The students also heard from faculty members specializing in dance, theater, technical production, and more. They talked about the various options to become involved and the variety of workshops offered to them, including learning stage combat; ways to work behind the scenes in lighting, sound, set design, and costuming; and ways to have a minor or immersion in performing arts.
A majority of the classes offered in performing arts are offered through RIT's College of Liberal Arts and National Technical Institute for the Deaf.
"Take in what you can right now," said Visiting Lecturer Alexa Scott-Flaherty. "At least for me, my four years of undergraduate experience were in ways the most interesting, artistic period in my life because it was a time of great innovation, exploration, friendship building. I have lifelong friends from that time. Take a look around you, because this group is the group you will be with for the next four or five years, and that's where you'll do a huge amount of your learning."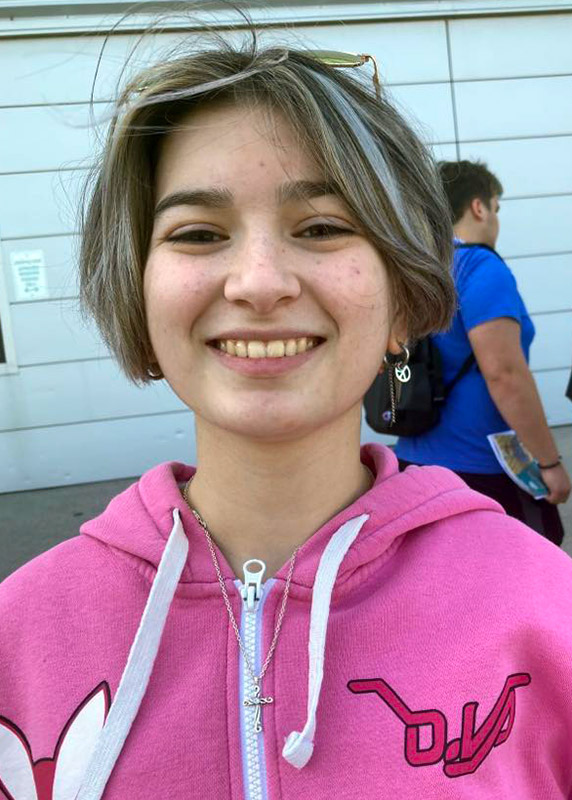 After the formal meeting, students were invited to speak one-on-one with faculty members.
Avery Sauers, a film and animation major from Williamsport, Pa., played bass drum in her high school band and looks forward to joining RIT's Pep Band.
But recently, she's also been interested in working behind the scenes in costuming, possibly as a career.
"I don't have too much experience as a costume designer, but I'd love to be an Imagineer, designing costumes at theme parks," she said.
Topics