Multidisciplinary team exhibits MObile KItchen at NYC Design Week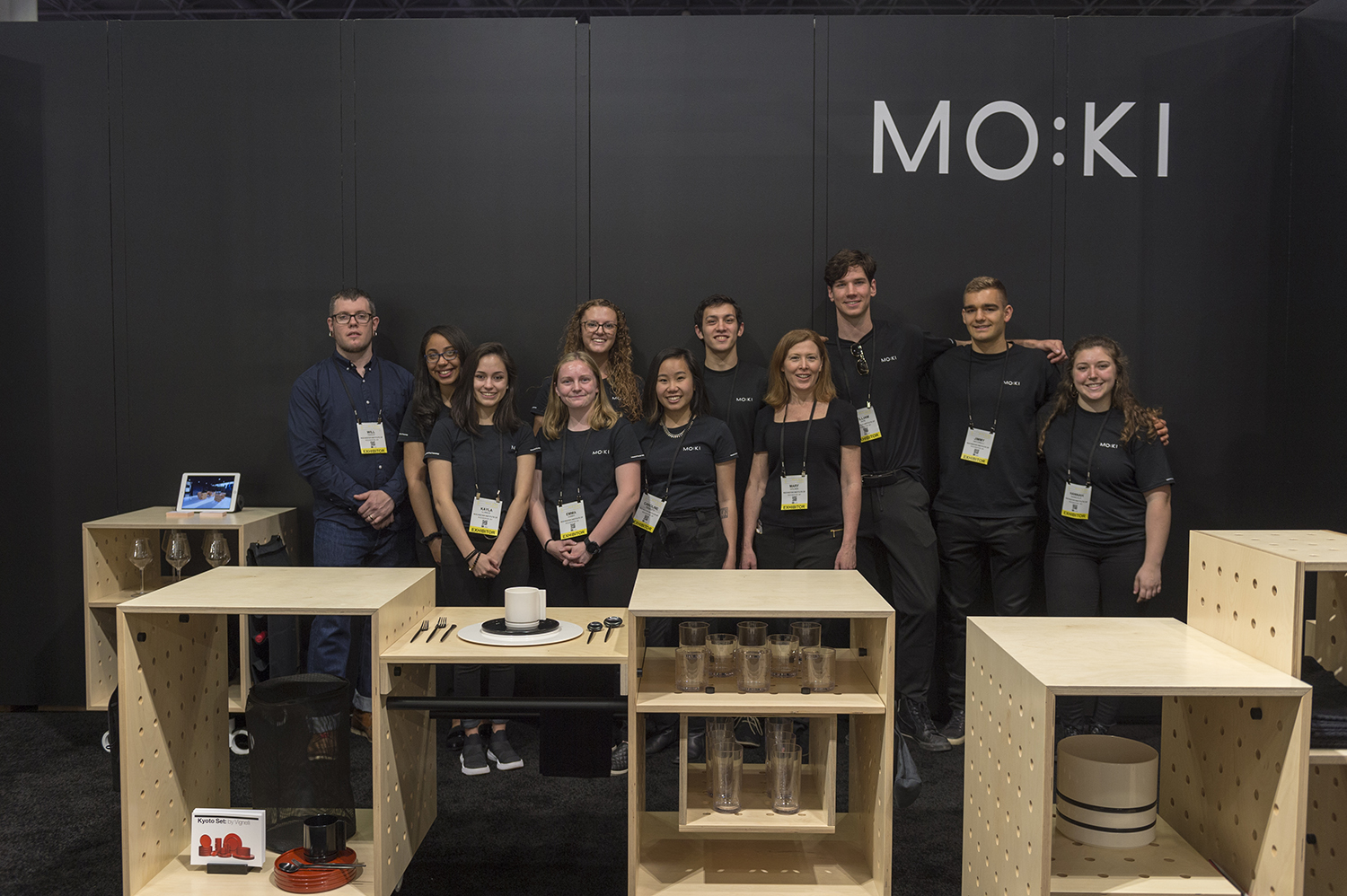 As visitors interacted with RIT's booth at the International Contemporary Furniture Fair (ICFF), there was a common inquiry: how can this innovative kitchen design that pushes the boundary of the cooking experience be acquired?  
The overwhelmingly positive response confirmed the potential impact of RIT's MObile KItchen prototype, designed by a multidisciplinary team of interior and industrial design students led by faculty Mary Golden and Will Tracey. 
The faculty-student team exhibited its multifunctional, modular system at ICFF from May 19-22 at the Jacob K. Javits Convention Center in New York City during NYCxDESIGN, the largest, global celebration of design in the city. 
The MObile KItchen is a bespoke collection of modular units that highlight work zones for cooking, cleaning and preparation, affording users the ability to organize an environment that best fits their needs.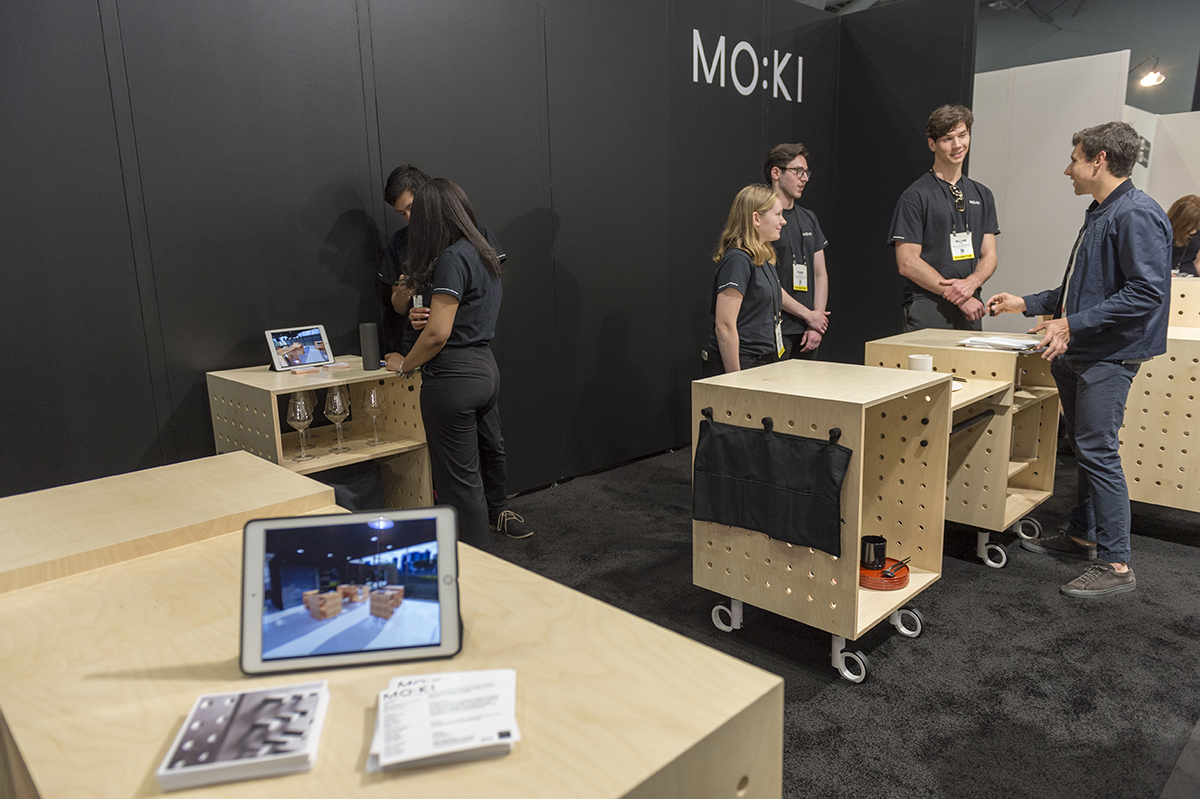 To showcase the design's flexibility and interchangeable nature, the modular units were reconfigured each day of the exhibit, underlining how easily the collection can be maneuvered to accommodate any users' needs. In addition to being on casters, the system features a series of pegs that are quickly fastened at any level to hold shelving and hard or soft good storage systems at the chef's preferred height. 
The entire design was completed with optimal user experience and accessibility in mind. The concept was developed and refined during a collaboration between assistant professor and interior design undergraduate program director Mary Golden's students and industrial design students in instructor and College of Art and Design operations manager Will Tracey's Fabrication Techniques course.
The project sponsors and consultants include Autodesk, BACE Build, Herman Miller, Mastro Graphics, Nexis3 and the Waldron-Rise Foundation.
The prototype units will now move over to RIT's LiveAbility Lab for experiential study, data collection and advancement in anticipation for future production. The LiveAbility Lab is a community-based research and development facility established as a result of a partnership between the Al Sigl Community of Agencies and RIT. It is located on the Al Sigl Wolk Campus in Rochester, N.Y.
"The idea behind this collection is a prototype and it's our first round," Golden said. "We're excited to continue the partnerships and look at ways we can continue to develop this product.
"We see this collection as the start," she added. "Right now, the design is focused around the tactile experience of the chef. But this can also translate into the bathing area, the office environment and very easily into retail. So we're seeing this as a fully expansive collection that will continue at RIT as a legacy project."
Here are more reactions from the ICFF experience:
Raquel Rojas, interior design student from Union City, N.J.
"Accessibility was very important when we started thinking about this project. I had an uncle who was visually impaired, so from the beginning I started thinking about the people who we don't always think about who are using the kitchen traditionally. So we pursued the idea of accessibility for absolutely everyone. To the level we've gotten to now and seeing people using and playing around with our product goes to show that we achieved the goal we were trying to reach."
Emma Canny, interior design student from Rochester, N.Y.
"Overall, this whole year has been a great experience. Being able to collaborate with industrial designers has taught me a lot about fabrication. And being involved with sponsors makes us become more professional. We learn more terminology. It's a great way to get more involved in the major. Just being here at New York City Design Week, we get to talk to all of these great companies. It's another way to build confidence and become more professional. I'm so grateful for the opportunity and I've definitely grown as a student and interior designer being a part of this."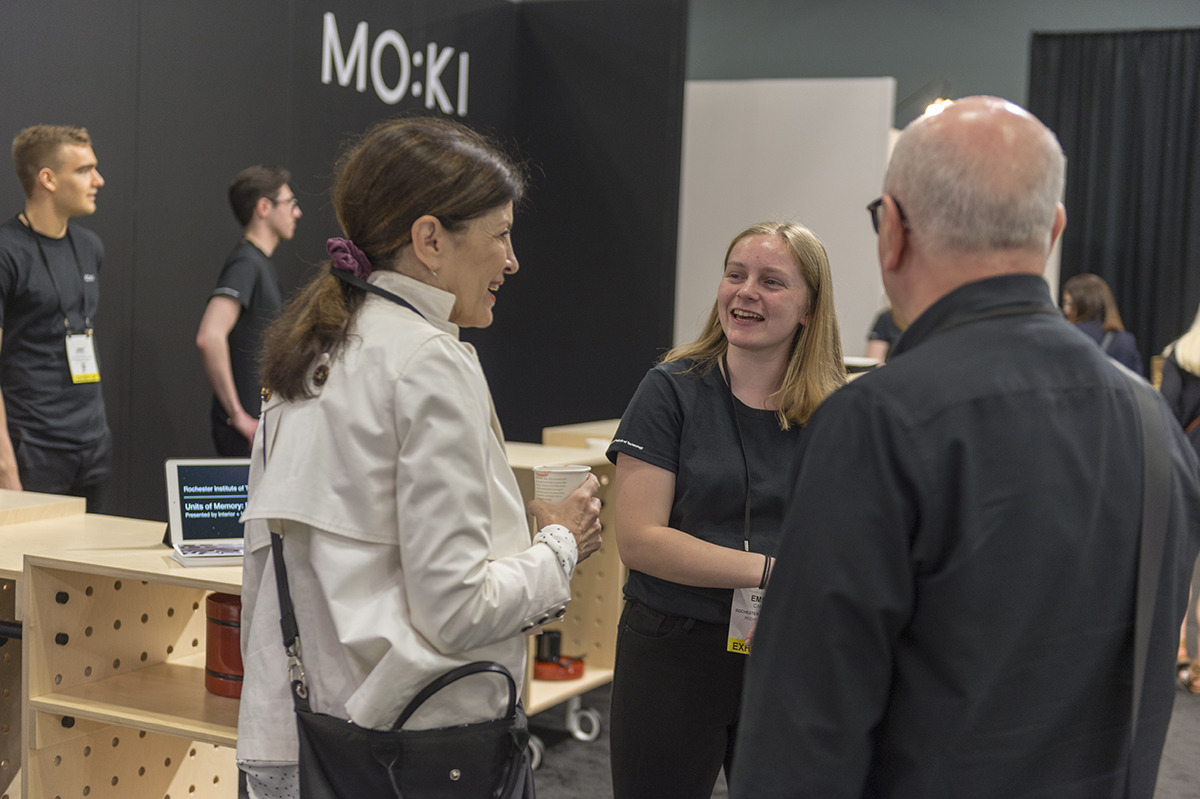 Jimmy Antonelli, industrial design student from Clarendon Hills, Ill., on the benefit of working with industry partners
"Going into (local manufacturing company) Nexis3 and seeing how they do things on the production line and how small things like the peg holes, the size and shape, affects manufacturing and cost has been super valuable. A good product has nuances that make it easier to manufacture and that plays into how it's designed. That was valuable for me — instead of making it look cool, it also needs to be functional and manufacturable."
Thomas Richter, interior design student from Tokyo, Japan
He used Autodesk software to create a walkthrough animation with 3D renderings of the modular units to simulate the MObile KItchen in a home environment. The video was displayed as part of the ICFF exhibit. 
"We don't have the sink and stove unit on display, so it's very important for that rendering to showcase how these units would look like within a kitchen environment at home, in a loft, etc. The walkthrough is in two different heights. One I put the viewing range at 5-foot-8 and the other one is a little lower, at 5-foot-2, so it gives perspective of people with different heights."