A New Age of Enlightenment at the Intersection of Technology, the Arts, and Design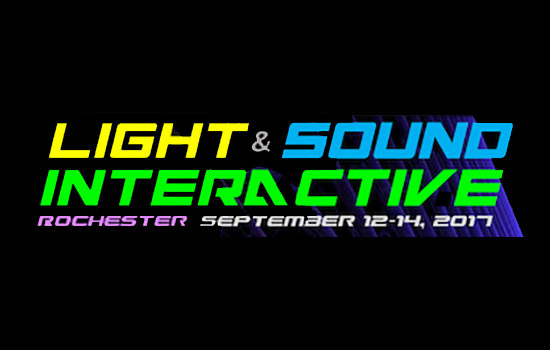 President David Munson delivered an address at the Light and Sound Interactive conference on Tuesday, Sept. 12, at the Floreano Riverside Convention Center. Below is the full text of his remarks.
Thank you for the kind introduction Chris. And thank you to my colleague Joel Seligman, Empire State Development President Howard Zemsky, and Bill Strassburg of Wegmans, for your opening remarks. And certainly kudos to Paul Ballentine and Mark Bocko for pulling this interactive conference together as lead producers of LSI, as well as all of the members of the Steering Committee including several of my RIT colleagues. It certainly appears that you went well past your target of 1,000 attendees for this inaugural conference. And to all of you in the room this morning — thank you for the warm welcome to Rochester and the State of New York that I have received since joining RIT in July.
So, good morning everyone! It is good to be here to kick off this important conference on subjects that are near and dear to me ­— light and sound. Indeed, I believe that we are in the midst of a new age of enlightenment at the intersection of technology, the arts, and design —and what better community in which to celebrate and accelerate the advancement of knowledge at this intersection than Rochester and the Finger Lakes region.
The increasing convergence of disciplines — such as imaging science, interactive gaming, virtual and augmented reality, and film and animation — uniquely positions RIT, and by extension the greater Rochester community, to become a global leader in accelerating the advancement of these technologies. We can and will achieve this goal by harnessing the creativity and innovation of a new generation of entrepreneurs who can bring their ideas, products, and services to the marketplace, and through collaboration with partners, including the University of Rochester, industry, government and other community organizations. As a newcomer to the region, I am energized by the spirit of collaboration and commitment to the community's success that makes events such as this possible. And I am particularly excited by the fact that both RIT and the University of Rochester are developing advanced technologies in light and sound that are changing the ways people learn, work, play, interact with the real world and communicate with each other.
Let me tell you about one of my first experiences at RIT before I officially started as president. It has been my experience that students thrive in a culture of intellectual curiosity, especially when it is possible to turn that curiosity into action. So, when I attended my first Imagine RIT: Innovation and Creativity Festival in May, it left me with a distinct impression of a university whose students can indeed change the world. I observed a sea of students with a strong sense of passion and purpose. RIT students are creators and they know how to put their creativity to use. They demonstrated the art and science of movie making. They simulated NASA rockets and engineered hybrid formula race cars. And they solved problems in the health care arena with the potential to improve lives. Creating something fundamentally new ignites all sorts of possibilities for learning. Every student can be involved in creating things that never before existed, and then putting the results into play, in an effort to improve the world as we know it. The participation in the planning and execution of this conference by so many of RIT faculty and the turnout of so many more members of the RIT campus community is further testament to our university's commitment to this new age of enlightenment and the opportunity that it presents for the region.
On the RIT campus today, we have advanced light- and sound-based technologies and their applications in virtual and augmented reality, in addition to games, cinema and music. Earlier this year, thanks to very significant investments by the State of New York, global industry partners Cisco and Dell, as well as The Wegman Family Charitable Foundation, we broke ground on MAGIC Spell Studios. The program is a first-of-its-kind effort in higher education that will link RIT's internationally ranked academic programs with high-tech facilities needed to commercialize computer gaming, film and animation, and digital media projects. In concert with our New York State-funded Digital Gaming Hub, we expect that MAGIC Spell Studios will not only fuel the growth of this industry right here in the Finger Lakes region, but it will also encourage more of our graduates to remain here in the region after graduation to nurture and grow their technological and entrepreneurial endeavors — in the spirit of companies like Darkwind Media, founded by three enterprising RIT alumni while they were students! We want to encourage more companies like Darkwind Media. And let's not forget about the opportunity to bring some additional portion of our more than 120,000 alumni back to Rochester, following the lead of RIT alumnus Austin McChord, founder of Datto, whose company continues to grow by leaps and bounds right here in downtown Rochester.
Commercialization of student output at RIT is happening in other creative ways as well: This past year, RIT students became the first from a university to publish a video game on the Xbox One platform … MAGIC Spell Studios is expected to open next fall. We invite you to attend tomorrow night's Frameless Labs Festival at our current MAGIC Center, which will feature digital performances from around the world.
Let's talk about harnessing light. Are we alone in the universe? How does the human brain develop? Can we extend the lives of breast cancer survivors? Can we "see in the dark" and through obstructions to ensure national security? RIT and U of R researchers are developing new photonic devices to pursue the answers to these questions. We are key research partners in AIM Photonics, the Rochester-based national headquarters for the United States Manufacturing USA Institute in Integrated Photonics. Joining the nation's leading companies, universities and federal research institutions, we have already made several significant contributions to AIM Photonics, using light to realize the scalable manufacturing of integrated photonic circuits. The Institute is leveraging the history of optics and imaging in Rochester and its skilled workforce to lead to a future in which photonic technologies are as ubiquitous as electronics are today.
We didn't get here today by chance. RIT developed the nation's first doctoral program in imaging science in 1990. We are one of the world leaders in the study and advancement of the discipline of imaging science: the generation, analysis and visualization of images. A longtime research and education partner of some of the world's foremost imaging companies, RIT also created one of the first research centers dedicated to the field: The Chester F. Carlson Center for Imaging Science. And for you younger folks in the audience, Mr. Carlson invented the process of electrophotography and his process known as xerography, hence the birth of Xerox. But what about the future? How much potential do we have? Let me tell you about some success stories that are happening right now.
Motion Savvy: This start-up, founded by alumni from RIT's National Technical Institute for the Deaf, is based in our Venture Creations incubator. Motion Savvy develops two-way communication tools for the deaf and hearing using recent advancements in gesture recognition technology. Breaking down barriers, a key element of Motion Savvy's technology is its ability to process and interpret American Sign Language into voice or text. We are thrilled that Motion Savvy's software — called Uni — is being incorporated into the major renovation of the Greater Rochester International Airport, positioning our airport at the forefront of accessibility in providing instantaneous onsite communications with deaf and hard-of-hearing customers.
But why stop there in leveraging what I believe is one of our region's most unique and important assets, and that is NTID. Can Rochester become a hub for the development of assistive and accessibility technologies for people with disabilities? Absolutely, yes. RIT thinks so, and I know our friends at U of R think so. NTID researchers and others at RIT are already collaborating with their colleagues at the University of Rochester and we can and should do more to make Rochester the most accessible community in the world. NTID is a gem, and we at RIT are privileged to host this national institution. I encourage you all to learn more about these opportunities at the panel later today that is devoted to access and corrective technologies for the Deaf and Hard of Hearing.
Token: Token is another start-up based at Venture Creations. RIT alumni Melanie and Steve Shapiro hope to shake up the wearable industry with a ring that promises to complete a mobile payment, unlock doors, and protect passwords. The token ring uses a combination of fingerprinting — there's a sensor built into the ring — and an optical proximity sensor to ensure a user's credentials can't be accessed by a third party. Steve Shapiro, a former RIT Student Government President by the way, has already sold off a social networking app in Silicon Valley. But he moved back to New York to take advantage of his alma mater's assets. And the Shapiro's tapped another RIT graduate to join their team as chief technology officer — Steve Schultz, who founded another great Rochester company, Pictometry. Isn't it amazing how these connections come together? That's another reason why we are here today.
As we look forward, the focus for this conference is to put the spotlight on this region's expertise. And let me just give a quick side note on that: Today, we learned that RIT is now among the top 100 research universities in the nation, according to U.S. News & World Report rankings. This is a milestone for our university as it was just last year that we moved into the top "National Universities" category due to our rapid increase in research and Ph.D. graduates. So we now join U of R in this prestigious category. Not many cities can claim two universities in the top 100, certainly another important point of pride for Rochester and the Finger Lakes region.
Working together with my colleague, President Seligman, RIT and the University of Rochester can develop a virtual reality-augmented reality hub here in Rochester. As you heard earlier, the groundwork is established for being an international leader in the sophisticated light and sound technologies absolutely essential to virtual experience technology. Today, the Rochester region has more optics manufacturers than any other area in the U.S., providing optical components to a wide range of light-based technologies, including to all of the major VR/AR makers in the U.S. All told, between start-ups and small, medium and large companies, Rochester has more than 120 firms operating in the optics, photonics and imaging industries. And the greatest asset Rochester has for the optics and VR/AR industry is its highly educated and experienced workforce. These companies that choose to locate in Rochester want to be close to world-class universities, suppliers and a labor force to support them. We plan to stay at the forefront of developing some of the most exciting technologies and startups in one the world's fastest-growing industries, as well as educating the future world-class leaders who will continue to shape creativity and innovation for years to come. When our collective institutions collaborate, Rochester wins. But more than that, when communities come together and pull together resources and help support an industry, our country wins.
And finally, I noted there are nine major tracks at the conference, ranging from cinema, to interactive media and gaming, to imaging. They all have one common theme — making lives better! Isn't this what it is all about?
Thank you. Enjoy the rest of the conference. And take time to immerse yourself in all of the events, presentations and hands-on activities.