New Air Force ROTC commander assumes post leading RIT cadre
Lt. Col. Christopher Denzer brings operational, training, and technology implementation experience to Detachment 538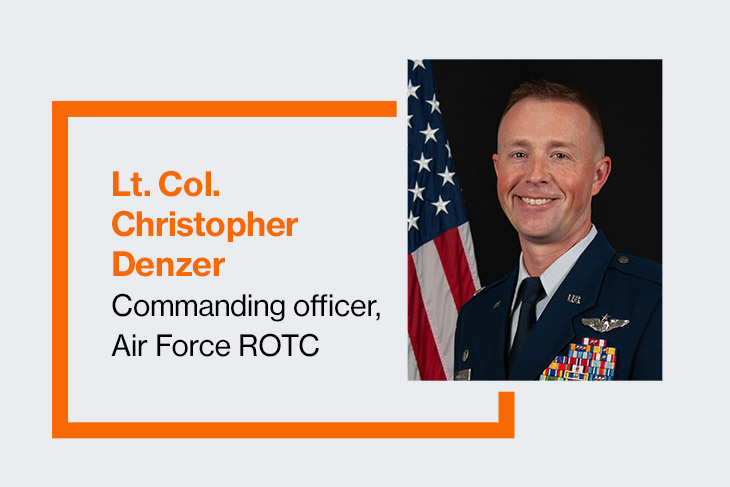 Over his 18-year career, Lt. Col. Christopher Denzer mastered the weather as well as some of the most formidable aircraft in the U.S. Air Force. He has flown tactical airlift planes over the deserts and mountains of Iraq and Afghanistan and directed fighter jets in Alaska, defending U.S. and Canadian airspace.
As a highly decorated pilot and operations leader, Denzer brings experience in flight, technology development, and training to RIT's Air Force ROTC detachment as its new commanding officer, a position he began on July 1.
"Experiences working with a variety of teams will help me with the cadets. I can help them understand what is available to them in the Air Force," said Denzer.
Commissioned in 2004 through the University of Maryland's ROTC program, Denzer earned an undergraduate engineering degree from Maryland and a graduate engineering degree from North Carolina State University. After flight training, he joined the 2nd Airlift Squadron at Pope Air Force Base (AFB) in North Carolina.
"I was a junior in college when 9/11 occurred. You just don't know what the next conflict will be, but you need to be prepared," said Denzer. He would see multiple tours in Iraq starting in 2007 and later in Afghanistan.
Selected to join the Air Mobility Command's Test and Evaluation Squadron in 2013, Denzer began testing equipment for mobility operations. Duties extended to various joint operations including the 879th Expeditionary Security Forces Squadron in Riyadh, Saudi Arabia, as Diplomatic Clearance Officer and Squadron Deputy Commander, then later an assignment to the 611th Air Operations Center at Joint Base Elmendorf Richardson, Alaskan NORAD Command. Denzer has more than 2,000 hours and 400 combat sorties as a pilot.
In 2013, Denzer's responsibilities shifted from direct operations to more oversight of new Air Force systems and technology. In addition to serving with the Test and Evaluation Squadron, he was executive officer to the Secretary of the Air Force's Science Advisory Board on Adapting Test and Evaluation to Emerging Systems.
His most recent assignment, a return to combat operations, was as deputy commander of the 36th Contingency Response Group, a role that would entail validating technology in the field while providing a 911 response force in the Pacific region.
He served in this capacity until his assignment with RIT's ROTC detachment.
"There are many talented people in this detachment; the more I learned about the university and what they've done, the technologies that are getting into, it is mind-blowing," said Denzer.
He relieved Lt. Col. Jason Turner, who was appointed in 2019. "I hope to contribute some perspective from the field, I have seen many of the advancements in technology, many coming out of university environments. This is an amazing university."
And it is one that shares some similarities to different climates he's served in prior to arrival.
"To be candid, I miss my Alaska winters, which if had to translate anything to Rochester—which was my first choice for assignments—most people warn you off about the winters. I came here because of the winters."
Denzer and his wife, Lt. Col. Jessica Denzer, commander of the 914th Aircraft Maintenance Squadron in Niagara Falls, N.Y., have seven children, ages 2 to 14. The family lives in Webster, N.Y.
Topics