New department head brings dual passions for sustainability and collaboration to RIT
Guiping Hu comes to Golisano Institute for Sustainability from Iowa State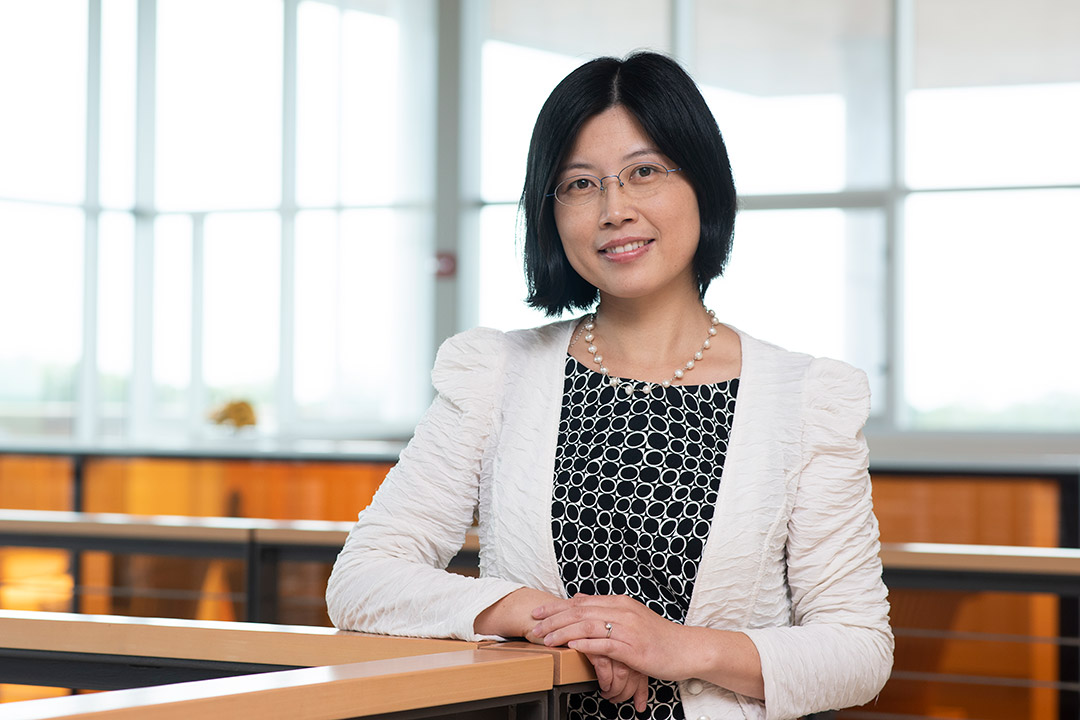 Guiping Hu recently began her new role as the sustainability department head at Golisano Institute for Sustainability (GIS). Hu arrived on campus from Iowa State University (ISU), where she served on the faculty of the Industrial and Manufacturing Systems Engineering department. She also was affiliated with ISU's sustainable agriculture graduate program, Bioeconomy Institute, and the Bioinformatics and Computational Biology program.
Hu's work focuses on operations research and data analytics, two areas that have a wide range of applications in sustainable manufacturing, renewable energy systems, sustainable supply chain design, and sustainable agriculture.
In addition to publishing more than 75 journal papers and participating in over 40 conference proceedings, she has been the principal investigator or co-PI on 35 funded research projects garnering more than $10 million. She also has held multiple key roles within the industrial engineering profession, including as an associate editor, elected division president, and board of directors member.
Open communication and a growth mindset are major tenets of Hu's educational philosophy. "I love to connect, communicate, and collaborate," she said. "Our goal is to provide students with the best academic experience in both classroom and research settings."
"Life is a journey and I would like to provide the most memorable experiences for our students during their time at RIT," Hu added. "I would also like to provide the best support for our faculty and staff when it comes to their career aspirations."
Welcome to RIT. How did it feel to be named the new department head for sustainability?
I feel honored. I am joining a vibrant university with a rich history and great trajectory for future success. RIT offers tremendous support and the infrastructure necessary to conduct important research and provide enriching educational experiences for our talented sustainability students.
What did you know about RIT and its initiatives around sustainability before accepting your new position?
RIT offers an extremely unique educational and research program on sustainability. Residing within a standalone college in GIS, the department has very high visibility across the university, New York state, and around the world. The college's six research centers offer tremendous collaborative opportunities for our department. Externally, we have important connections and relationships with the REMADE Institute and other worthy industry collaborators.
Can you explain the focus areas of your sustainability research?
My sustainability research dates back to my Ph.D. studies, which focused on sustainable manufacturing and the close-looped supply chain. Over the years, I have broadened my research portfolio to include renewable energy systems and sustainable agriculture. I am an industrial engineer by training, so my area of expertise is operations research, data analytics and machine learning, mathematical modeling, and decision support systems. I would love to adapt these tools to a wide range of sustainability research activities to benefit our environment and society at large.
How would you describe your teaching style?
I believe in open communication and a growth mindset. I think teaching and learning go both ways between the instructor and students, especially at the graduate level. Our sustainability students typically possess outstanding backgrounds and motivation. We, as faculty, need to focus on nourishing their interests and providing the knowledge and skillsets necessary to help them succeed while here at RIT and beyond.
How has your success translated into encouraging young women to consider STEM careers?
I am very passionate about encouraging young women to consider opportunities in STEM fields. I was regularly part of outreach to local schools back in Iowa. I am also involved in a number of professional organizations mentoring and supporting underrepresented students and junior women faculty.
What do you like to do when not teaching? Any hobbies?
I enjoy traveling with my family around the world. I also love to do yoga and walk when I am not conducting research and teaching. I am looking forward to exploring upstate New York.
Topics