New dimension in interactive entertainment: RIT students create 'Odyssey'
Imagine RIT exhibit will let visitors 'step inside' video games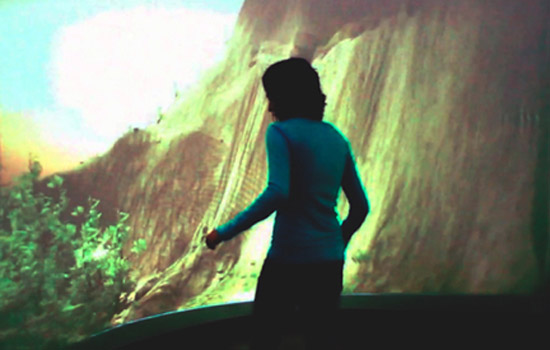 James Stallmeyer
Ever wonder what it would feel like to be inside your favorite video-game world, instead of just staring at a flat screen? Project Odyssey, the result of a collaboration between RIT's new media interactive development and new media design and imaging departments, as well as the Center for Student Innovation, aims to make that dream a reality.
The project, which will be on display Saturday in RIT's Innovation Center as part of Imagine RIT: Innovation and Creativity Festival, aims to turn traditional visual media on its head—swapping out a flat screen on, say, a TV or computer monitor, for a cylindrical display that effectively surrounds the user in full 360 degrees. Combined with surround sound and motion controls, the team at RIT has developed what it calls "a paradigm shift in the way we experience entertainment."
"Traditionally, you would watch a movie or play a game while staring at a flat-panel screen," says Mike DeVine, one of the team members behind Odyssey. "So it's like looking in through a window. Even with today's motion controls in games, they're still translating the movements you make to fit inside that same area. The closest we've seen to real immersive visualization would be multiple-monitor setups or Imax movie screens, which curve around partially to engage the viewer's peripheral vision—but only to a small extent.
"The end goal is to provide as many ways to take advantage of this setup as possible," DeVine says. "We're currently in the planning stages for establishing a business model to package Odyssey installations and license them out to clients nationwide—initially starting in the entertainment sector, then branching out to educational and industrial applications. We plan to grow an ecosystem of software designed for Odyssey along the way. There are an endless number of possibilities for this new platform, and we want to explore them all."
In addition to DeVine, team members include Adam Goldman, James Stallmeyer, Thomas Whalen-Bridge, Joe Pisanzio, Lauren Licherdell and Tony Mitton. For more information on the project, go to the RIT Odyssey Facebook page.
Topics