August 24, 2022
by Felícia Swartzenberg
New name, same curriculum: Humanities, computing, and design program
RIT's digital humanities and social sciences program has been renamed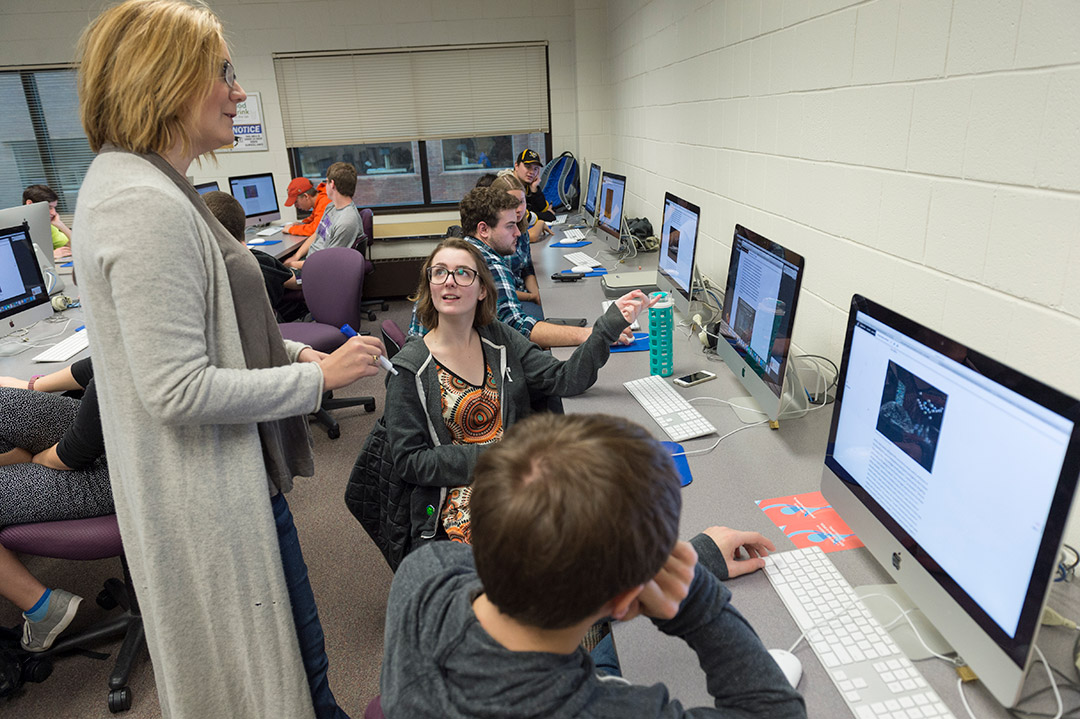 RIT's digital humanities and social sciences program has opted for a new name: humanities, computing, and design (HCD). The new name more accurately reflects the skillset graduates leave with, and it is more recognizable among prospective students, their families, and employers.
Housed within RIT's College of Liberal Arts, the HCD program is a highly collaborative and interdisciplinary New Economy Major. Students in the program work at the intersection of humanities and technology, while being informed by principles of design. The unique curriculum allows students to become proficient in computing programming, graphic design, project management, and more all within the same degree path.
"Embracing the humanities, computing, and design program is crucial as it prepares our students to assume leadership roles in a variety of careers and to succeed in an interdisciplinary world," said Anna Stenport, dean of the College of Liberal Arts. "With a diverse skill set that is human-centered and tech-infused, our graduates stand apart from their peers and can go on to make a positive impact on the world."
Jess Lieberman, chair of the HCD program, said that while digital humanities is a core part of the program, the former name could, at times, be interpreted as too narrow by professionals outside of the field.
"In many ways, we learned that our former name was not reflective of the reality that some of our students were living in. They were thriving in this major, but the major's name didn't fully include them," said Lieberman. "So, this is not so much a name change as it is a different approach to naming, where there is a broader umbrella that names the three larger tool kits that students will be sufficiently trained to work with."
There is no change to the program's curriculum, which has proven to be both attractive to students and fruitful for graduates, according to Lieberman. Instead, she and other faculty across the university worked to identify five sub-plans within the existing curriculum that reflect student interest and the career outcomes of graduates from the program. These sub-plans will be finalized later this fall.
Ian Mortimer, vice president of Enrollment Management and associate provost of RIT Certified, said that this name change serves an additional purpose: increasing transparency about potential career outcomes for current and prospective students.
"If you come to a place like RIT, you're interested in the intersection of technology, art and design (TAD) at some level. This program is our brand ambassador between RIT's DNA, academics, and the employment market. The name is important because we know employers are actively seeking individuals whose skills and knowledge can solve problems at this intersection. We need to recognize a student's investment in RIT and articulate what they've accomplished in language that the world can understand," said Mortimer. "If people are spending their precious resources on a program, it's important that employers and stakeholders of that decision understand what that individual has studied and accomplished."