New student-run club cares for cats on the RIT campus
Fundraiser this week helps students caring for stray, abandoned and feral cats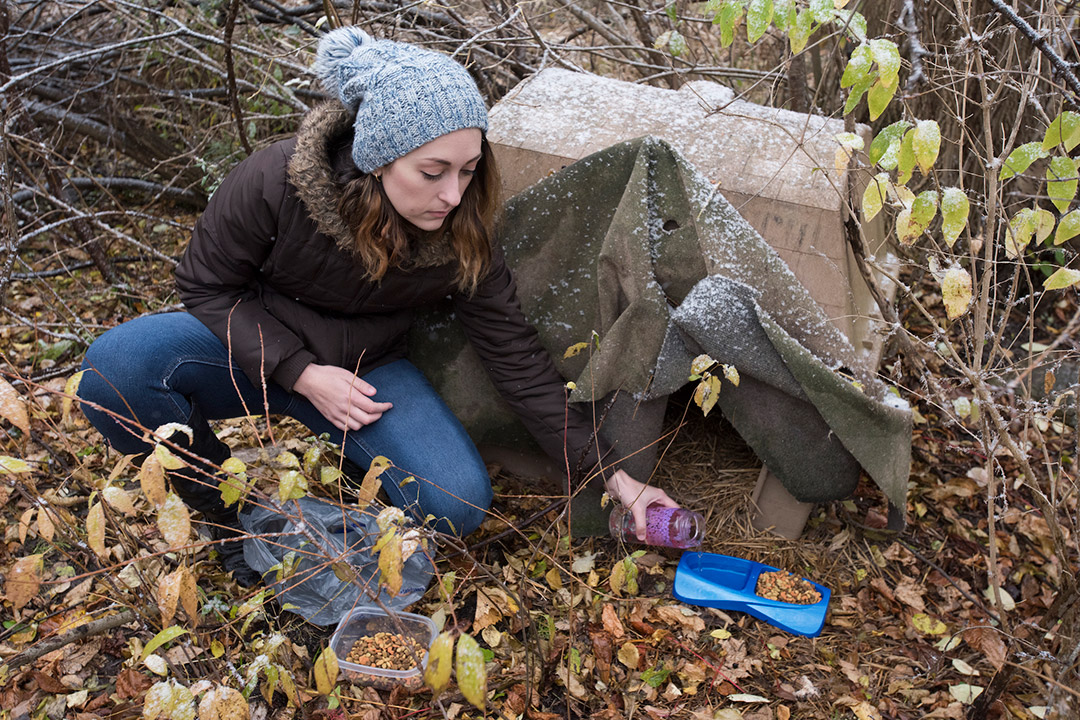 A. Sue Weisler
Feral cats living on the Rochester Institute of Technology campus are being cared for thanks to members of a new student-run club, Caring Hearts for RIT Cats.
About 120 students have joined Caring Hearts, which began as an independent club this semester. Members bring food and water each day to 10 shelters around campus where about a dozen feral cats are believed to live.
On frigid nights, students may put 18-hour hand warmers inside the shelters, usually covered with camouflaged tarps which also serve as wind and snow protectors.
Sometimes the cats will be nearby waiting for their food, but more often, they keep out of sight.
"Because they are feral, most of them avoid people as much as they can," said Kate Bobear, a fourth-year graphic design major from Schaghticoke, N.Y., and president of the club.
Bobear said RIT also sees its share of stray and abandoned cats on campus.
"We humanely trap them and sometimes can tell if they are feral or stray right away, but more often than not, it takes longer to tell because the animals are almost always scared," she said. If they are domesticated, the group tries to find a home for them. If they are feral, the cats will be neutered or spayed, then released.
A community-run group involving RIT staff and area residents started caring for feral cats on campus about 20 years ago when there were an estimated 70 cats at RIT. Three years ago, Caring Hearts was formed as a part of the RIT Rescue Shelter Club.
Feral cats aren't unique to college campuses, but not every college has a club that cares for them.
"These are living creatures; they have to be cared for around the year," said Carla Betlem, the club's advisor who has been feeding cats on campus for about seven years. "You can't throw a domesticated cat out and expect it to survive. We want to have a healthy colony."
Cats are not allowed at RIT as pets. RIT's Public Safety and Facilities Management Services works with the club when cats – including 18 kittens this fall – are discovered.
It costs about $10 a month to feed each cat, so fundraising is a big part of Caring Hearts. Shirts, with a design created by Bobear, as well as backpack pins and laptop decals, will be sold in the Student Alumni Union through Thursday, Nov. 14,  from 10 a.m. to 3 p.m.
And lovers of other animals can help, too. On Dec. 7, another fundraiser – Santa Claws – will be held 11 a.m.-2 p.m. in the Fireside Lounge with a therapy dog available for photos.
The fundraising efforts not only will pay for food, but the cats' medical expenses. The Rochester Community Clinic has provided neutering and shots for $65 – about a third of the normal charge – to the 15 cats brought in from RIT in the past three years.
Donations are welcome, especially dry or canned cat food.
To learn more or to donate, email Caring Hearts for RIT Cats at keb6067@rit.edu.