Newest RIT students urged to get involved, pursue their dreams and change the world
About 4,300 new students includes record high number of incoming Ph.D. students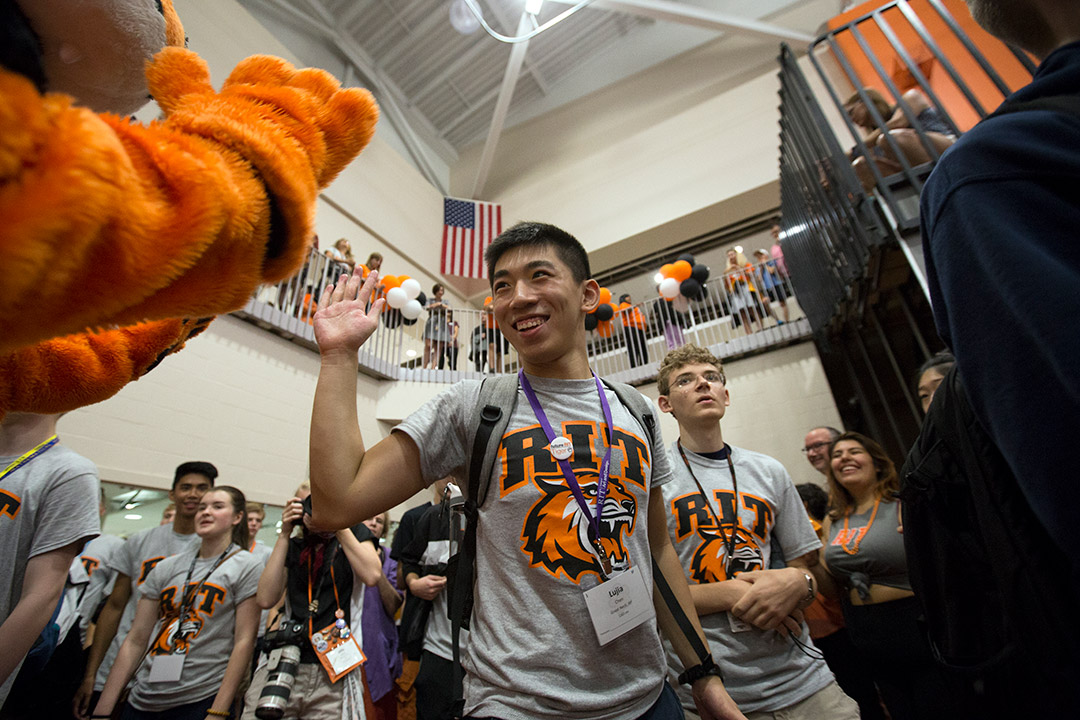 Matteo Bracco
Despite rainy weather that moved the annual Tiger Walk indoors, the newest students at Rochester Institute of Technology and their families today attended the fall convocation in the Gordon Field House, where they were told to welcome new experiences offered to them, pursue their dreams and change the world.
"By becoming an RIT Tiger, you have joined a university family that is like no other," RIT President David Munson said. "We do things in our own way by embracing the unconventional to be truly distinctive. That mentality of uniqueness is baked into our university, as we have no interest in the status quo. We are a university where technology, the arts and design intersect in ways that will improve our communities, our nation and our world. We have RIT Tigers all around the globe shaping and improving the world. Now it's your turn!"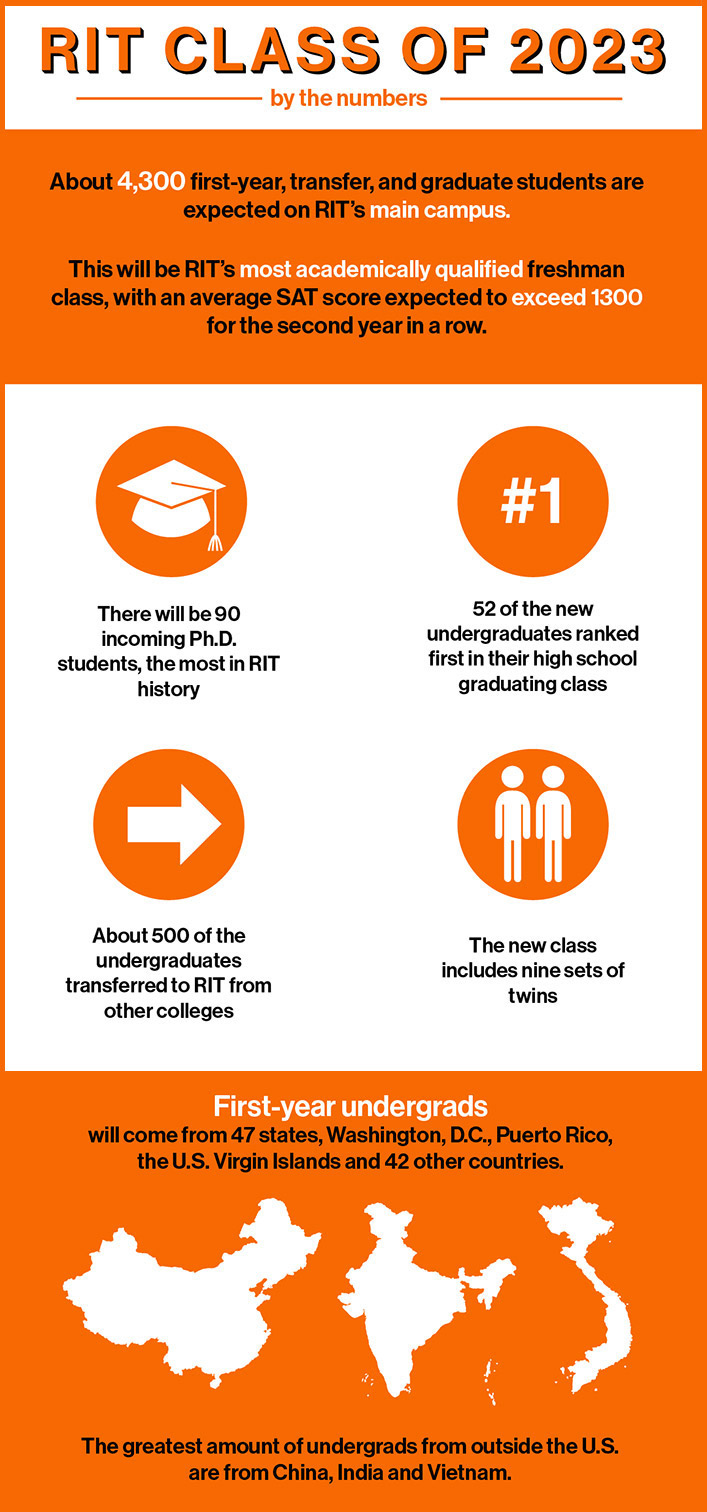 Although official enrollment figures won't be determined until mid-September, about 4,300 first-year, transfer and graduate students were expected on RIT's main campus.
The class is one of the most academically qualified freshman classes the university has had, with an average SAT score expected to exceed 1300 for the second year in a row.
Of the new undergraduate students, 52 were ranked first in their high school graduating class; 51 students had a perfect SAT math score; six new students had a perfect Evidence-Based Reading and Writing score; one student had a perfect total SAT score; and four students had a perfect ACT score.
About 500 of the undergraduates transferred to RIT from other colleges.
Undergraduate students come from 47 states; Washington, D.C.; Puerto Rico; and the U.S. Virgin Islands and represent 42 countries, with the most international undergraduate students coming from China, India and Vietnam.
New graduate students are coming from 53 countries, the most outside of the U.S. coming from India, China, Saudi Arabia and Nigeria.
Also on campus are 90 incoming Ph.D. students, the most in RIT history.
Speakers at the convocation, which was led by Ellen Granberg, RIT's provost and senior vice president for Academic Affairs, included administrators, students and keynote speaker Jennifer Connelly, lecturer in the School of Physics and Astronomy in the College of Science.
Munson told students they should learn, value and appreciate each other.
"You will meet people who are very similar to you and you will also meet people who are very different from you," Munson said. "Be open to learning and growing. Learn how to discuss sensitive topics honestly and respectfully. Learn how to disagree. Learn how to become involved in your communities to effect positive change. Here at RIT we will provide you with guidance and opportunities to actually engage. These and other experiences outside the classroom may be as important as your academic studies. Don't miss chances to develop your skills in communication, critical thinking, problem solving and leadership."
Sandra Johnson, senior vice president for Student Affairs, told the students to embrace their dreams and continually create new ones.
"Nurture those dreams in your classes, in late night conversations with your peers in the hallways of the residence halls, while attending a performing arts or cultural event on or off campus, participating in a club, organization or athletic team, or when learning about a new culture when you study abroad. Truly the opportunities at RIT are endless."
Johnson asked students to write one of their dreams on a piece of paper, fold it into an airplane and toss it into the air at the end of the ceremony.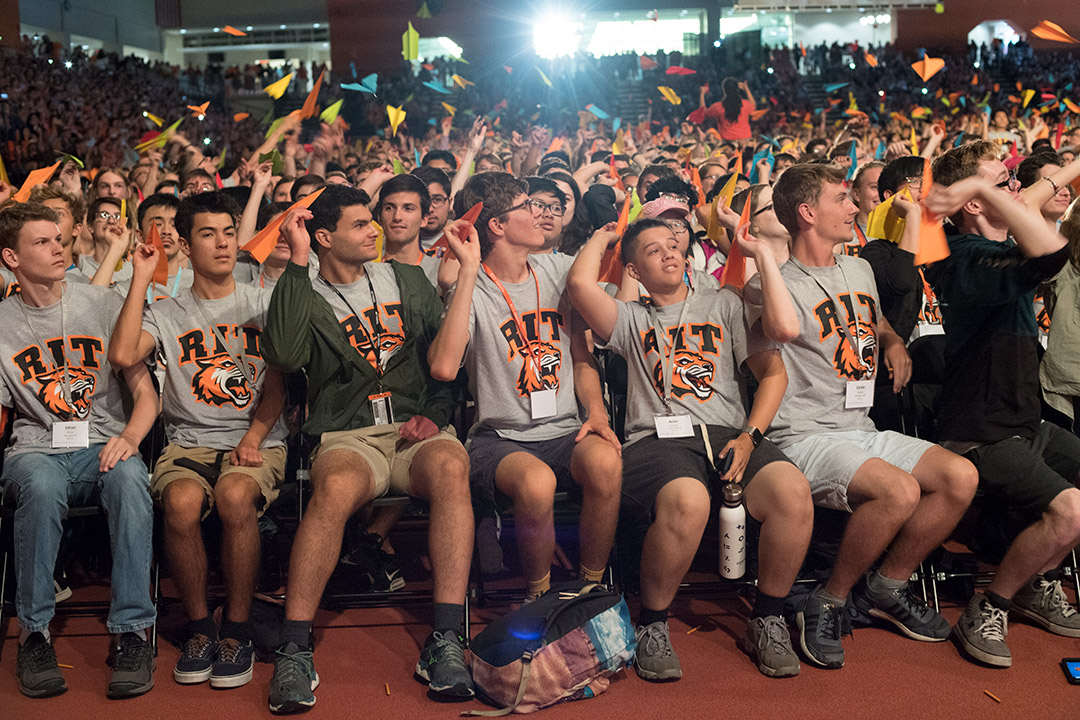 A. Sue Weisler
"What I love most about today is that it marks the beginning of your lifelong engagement – students and families – with this great university and with all of us," Johnson said.
Student Government President Anika Aftab told students to get involved and find things that make them excited and curious.
"I signed up for 20 clubs at the club fair my first year and although I'm part of none of them, I found incredible things and people along the way," she said. "This is where you find your people, your place and you'll find out who you are as a person."
She also talked about pursuing a major that makes you happy. She found happiness in college after she changed her major with support from RIT's School of Individualized Study.
"The RIT community provides numerous opportunities for trial and error, all in all, helping you grow," Aftab said. "I strongly encourage you to step out of your comfort zone by joining a new club or organization, trying to attain a new skill, like American Sign Language or a sport you've always wanted to try, or join Student Government and gain some leadership experience! At the end of the day, the easier it is taking the first step forward, the larger your comfort zone becomes."
Keynote speaker Connelly warned students that they would receive a lot of information during their orientation week.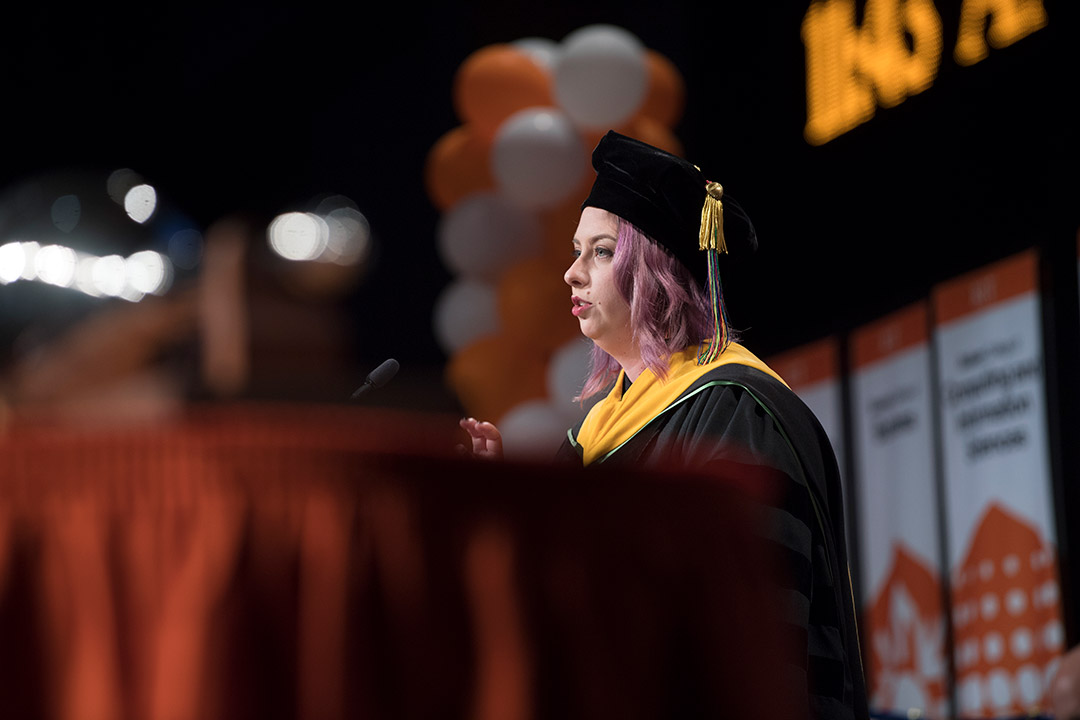 A. Sue Weisler
"When classes start, you'll begin to receive even more; years' worth of knowledge and insight, acquired inside and outside of the classroom," she said. "Some of that acquisition will feel like a slow and steady trickle. Other times, more like you are attempting to drink from a fire hose."
Connelly shared six tips of "collective wisdom" with students. She told them to read their class syllabus; talk to their faculty after class; use others including the Academic Success Center for help with classwork or life issues; find mentors; seek faculty that you relate to; and remember faculty are human beings, not robots without feelings or flaws.
Munson concluded the remarks by reminding students that they, and their futures, will help define RIT, and society.
"One can never underestimate the power of our students and their ideas, supported by outstanding faculty and staff, to do great things," Munson said. "As RIT continues to become more research-oriented, you, our students, will be at the forefront. We wish for RIT to be the most student-centered research university in the nation as we educate the future leaders of society. You will be positioned to lead lives of great purpose and consequence, far beyond your chosen field."
For more information, visit the RIT Orientation page.
Complete text of President Munson's remarks is available online.
Complete text of keynote speaker Jennifer Connelly's remarks is available online.