Nosebleed remedy tops Tiger Tank competition
Five teams in Simone Center event share nearly $5,000 in prizes to develop product ideas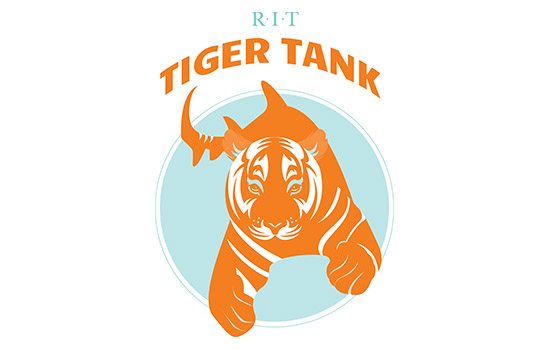 StaxPax, a product envisioned by Rochester Institute of Technology industrial design student Gino Santaguida, was awarded first prize and $2,000 in RIT's Tiger Tank competition on Wednesday. His product, if developed, would allow a person with a nosebleed to use one hand while applying common chemicals that would stop the bleeding.
The contest, hosted by the Simone Center for Student Innovation and Entrepreneurship, was held last night in Student Innovation Hall. Close to $5,000 in cash prizes was awarded to the contestants by Saunders College of Business, sponsor of the event. Five teams were selected from a field of 45 applicants for the competition.
"Each of the judges was pleased with all of these early-stage ideas," said Richard DeMartino, endowed chair and director of the Simone Center and assistant professor in Saunders College. "All of these ideas could be matured and advanced. Every team deserves to be congratulated."
Santaguida, a fourth-year student from Bridgetown, N.J., said he planned to file a formal patent for his invention in the spring, and the prize money could help with that, or help him with developing other inventions he's working on. He showed the four judges from Rochester's business community a non-working prototype that could be opened with one hand, placed to the nose and a small tissue would be inserted in the nostril, with standard chemicals that already are on the market to stop nosebleeds.
The other finalists were:
Second place and $1,250 to addem.io: Tim Kendrick, a fourth-year management information systems major from Syracuse, N.Y.; Louis Moskowitz, a fourth-year biotechnology major from Syracuse, N.Y.; and Joe Natalzia, a fourth-year new media interactive design major from Elma, N.Y. Their service would connect people who have ideas with people who have skills on a common website, which could include blogs, live chat and file sharing.
Third place and $750 to ThermoCheck: Justin Simmons, a third-year packaging science major from Pinkerington, Ohio, and Patrick Seypura, a second-year business administration major from South Windsor, Conn. ThermoCheck would produce small tags that could be placed in expensive clothing and change color if the tag was removed or exposed to body temperature after several minutes. This would discourage people from buying expensive clothes such as a prom dress, then returning it to the store after it was worn.
Fourth place and $500 to SecureStream: Samuel Nelson, a fifth-year software engineer major from Brunswick, Maine. His concept would offer a proxy address to people wanting to look up websites and wanting to keep their privacy. The contacted website would not be able to track the recipient or send advertising.
Fifth place and $250 to boopIT: Dmitry Liapitch, a Ph.D. student studying sustainability from Ithaca, N.Y; and Jessica Sanders, a fourth-year major in the American Sign Language-English Interpretation program at RIT's National Technical Institute for the Deaf, from Bakersfield, Calif. BoopIT would turn off electric appliances via Bluetooth technology as a convenience and to save energy.
DeMartino said the judges spent longer than expected deliberating the potential viability of the ideas and the strength of the presentations. He said the difference between first and fifth place was minor.
Many of the students said they planned to pursue these ideas with more cost analysis, defining their target market and manufacturing costs. Some plan to take advantage of an Innovation Challenge Grant opportunity or join the RIT Student Incubator Program, which could provide possible course credit while they pursued their ideas.