NYSP2I announces R&D competition finalists
Team finalists to exhibit their projects on Earth Day, April 22 at RPI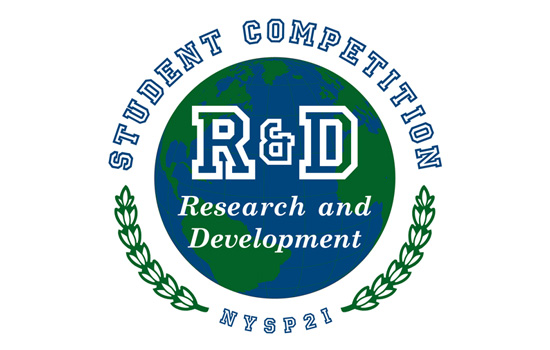 The New York State Pollution Prevention Institute (NYSP2I) at Rochester Institute of Technology has announced the awardees of its fourth annual NYSP2I Research and Development Student Competition, which will provide students across the state the opportunity to green their campuses or their local communities.
As part of its Research and Development Program, NYSP2I challenged teams of full-time students enrolled at any institute of higher education in New York state to identify a specific activity at their university or in their community with a large environmental footprint. Teams were then required to propose innovative solutions to reduce its impact. Schools are competing under the theme "Greenovate NYS" by undergraduate or graduate level.
"We're especially excited that this year's judging will take place for the first time at Rensselaer Polytechnic Institute (RPI), where we are looking forward to seeing how students develop proactive approaches to environmental challenges designed to benefit their campuses and communities," said Anahita Williamson, director of NYSP2I. "Seeing how budding engineers of the future tackle difficult problems of today is always an exciting experience."
In all, 12 student teams from eight schools—RIT, the State University of New York College at Brockport, Clarkson University, RPI, Siena College, Syracuse University, St. Lawrence University, and the University at Buffalo (UB)—will address the following issues for the R&D Student Competition:
Graduate teams
"Manufacturing Process of Mycelium-bound Biocomposite Sandwich Structures," a project that focuses on replacement of typical metal materials of construction with organic-based materials. (RPI)
"Using Computational Fluid Dynamics to Efficiently Reduce Thermal Stratification," which uses computer modeling to suggest the best way to use ceiling fans to more effectively maintain consistent temperature profiles in rooms with high ceilings—typically found in commercial/industrial buildings. (Syracuse)
"Retrieval of Precious Metal from Waste Effluent," a project focusing on replacement of the traditional chemical treatment process to remove metals by using microbe-based separation techniques where metal chelation is the main process to capture and recover metals. (UB)
Undergraduate teams
"Turning the Red Barn Green: Alternative Heating Method for RIT Indoor Climbing Gym," which will develop and propose alternative methods to heat a barn on campus used for indoor rock climbing. (RIT)
"Office Sustainability Certification," a project that will improve and increase participation by students, faculty and staff in the University's Office Sustainability Certification System. (Clarkson)
"Artificial Microbial Habitats," a project that will introduce an artificial habitat with the potential to prevent die-off of beneficial microbes in wastewater plants and anaerobic digesters. (RIT)
"Closing the Food Cycle," a project that aims to launch a pilot food composting project with the goal to reduce food waste as well as produce compost for the campus rain garden. (Siena College)
"A Comprehensive Energy Audit of Campus Living Spaces," which will investigate and quantify energy losses in apartments and dormitories on campus. (RIT)
"Eagle Diesel Goal for Sustainability," a project whose mission is to provide quality, affordable, locally produced biodiesel for Brockport. (SUNY College at Brockport)
"Restructuring Meals on the Run," which will design and implement a reusable "to go" container system to reduce the volume of plastics ending up in the waste stream from the university's dining hall. (St. Lawrence University)
"Diverting the Flow to Grow," which will use stormwater runoff from an impervious surface to water a demonstration urban roof garden. (Siena College)
"Developing a Sustainable Air Cooling Device," a project that will further develop the design of a cooling device that could result in a stronger cooling effect with energy cost savings. (RIT)
Teams will receive up to $1,000 for project materials and will compete at a culminating event where students will exhibit their projects and give an oral presentation to a panel of judges. Winners will be announced at the exhibition awards luncheon and will receive cash prizes.
The Earth Day Student Competition at the Center for Biotechnology and Interdisciplinary Studies (CBIS) on RPI's campus will take place on Earth Day, April 22, and is open to the public. This event will also feature NYSP2I's K-12 Student Poster Competition, split into three age groups: K-4th grade, 5th-8th grade and 9th-12th grade. Submissions are welcome from all New York State public, private and home schools.
For R&D Student Competition information, email nysp2istudentcomp@rit.edu or call 585-475-2512. For more information about the K-12 Student Poster Competition, email nysp2ik12@rit.edu or call 585-475-2512.
The New York State Pollution Prevention Institute is a partnership between the New York State Department of Environmental Conservation (DEC), Rochester Institute of Technology and its Golisano Institute for Sustainability, Rensselaer Polytechnic Institute, University at Buffalo and Clarkson University, with a statewide reach. NYSP2I's goal is to make the state more sustainable for workers, the public, the environment and the economy through pollution prevention. Pollution prevention is reducing or eliminating waste at the source by modifying production processes, promoting the use of non-toxic or less-toxic substances, implementing conservation techniques, and reusing materials rather than putting them into the waste stream.