Pandemic changes academics but standards remain the same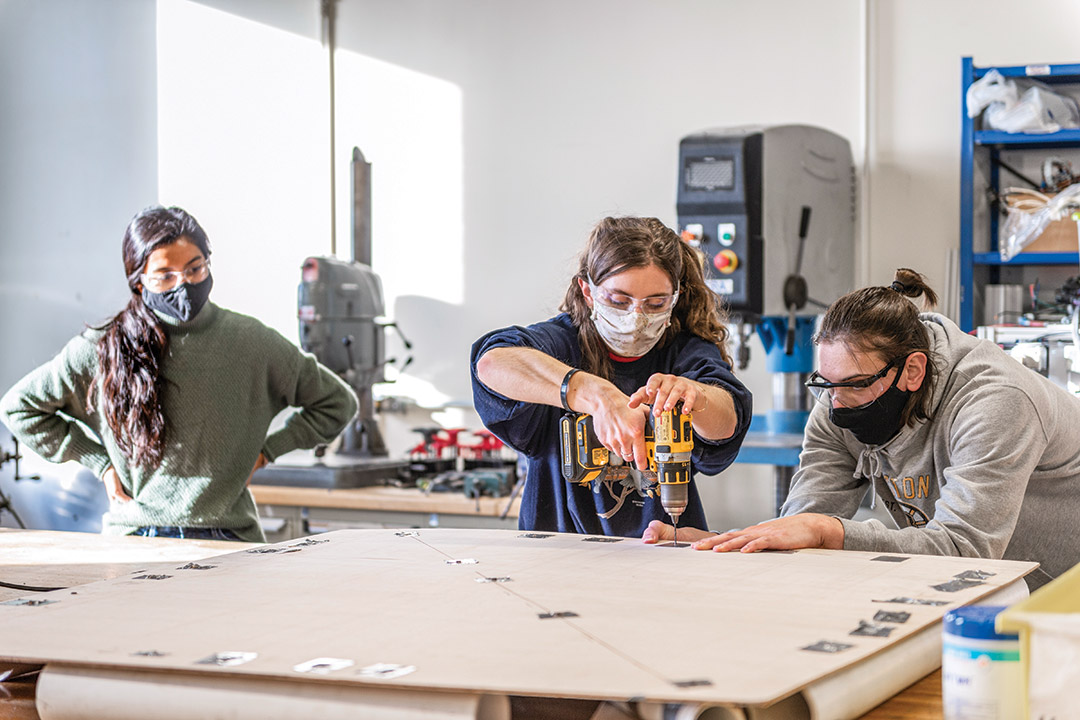 Elizabeth Lamark
First, RIT was forced to close campus operations in March and transition to alternative learning methods. Then, faculty and staff were tasked with developing a creative academic portfolio of online, blended, and in-person classes for the fall.
Now, RIT is preparing for the spring, which will be a mix of best practices from the last year aimed at maintaining the high academic standards for which the university is known.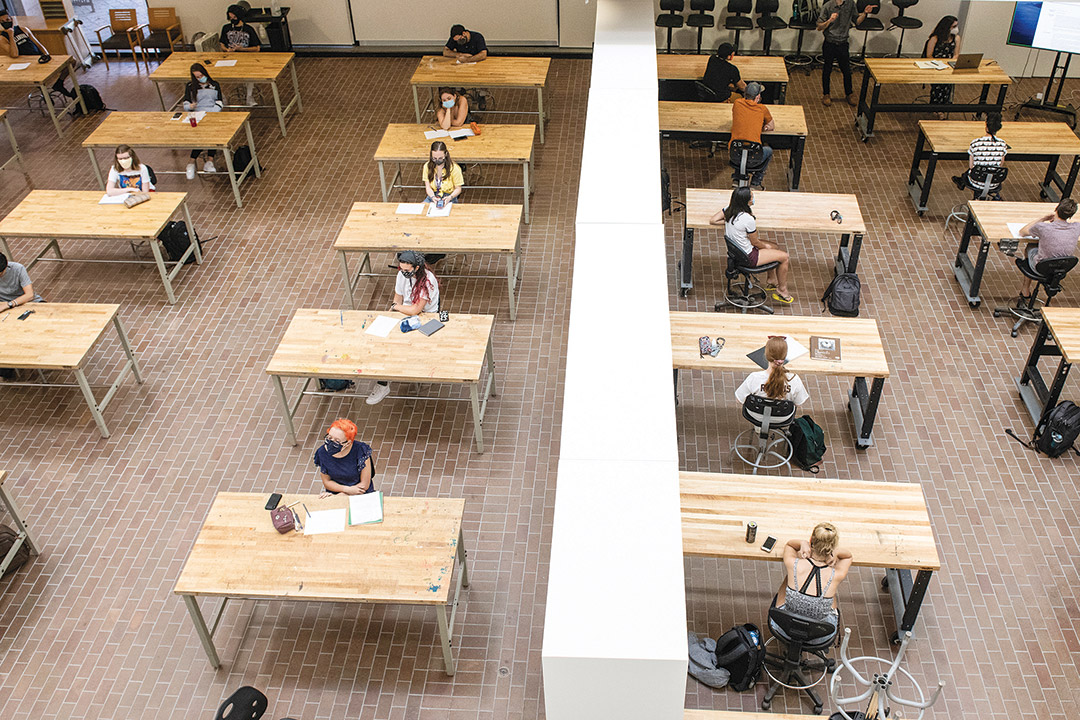 A. Sue Weisler
"The health and safety of our students, faculty, and staff are our most important considerations as we navigate through this very complicated academic year, and all have displayed enormous flexibility, creativity, and patience," said Ellen Granberg, RIT provost and senior vice president for Academic Affairs. "We will make it through this and emerge stronger. I could not be prouder of who we are and what we have done."
In all, more than 3,000 classes, including labs and studios, transitioned from in-person to alternative learning modes in the spring of 2020. How that monumental task would be accomplished kept staff members like Jeremiah Parry-Hill up at night.
"The best practice for transitioning an in-person course to fully online instruction is generally six months. Faculty had roughly two weeks. This was an emergency situation," said Parry-Hill, manager of instructional design for RIT Online.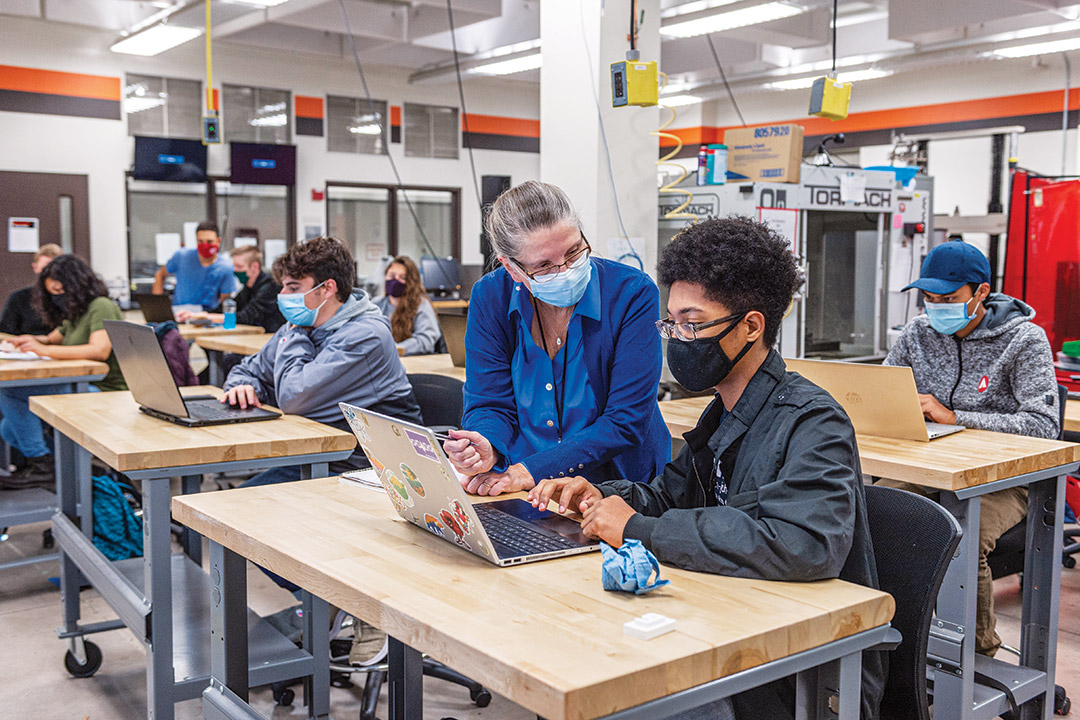 Elizabeth Lamark
Staff in the Innovative Learning Institute and RIT Online worked with faculty to bridge the gaps—meeting them where they were in the process of moving coursework online—and create sane and optimal paths to reaching their learning objectives. "What we learned is that RIT's faculty were happy to be 'in the game' for our students and really rolled with the punches."
After the successful completion of the spring 2020 semester, culminating with a virtual commencement celebration for graduating students, summer planning allowed several university departments to collaborate on a new look and feel in classroom spaces.
Last fall, new instruction modes, including in-person, blended, split classes, and online, enabled students and faculty to meet the six-foot physical distancing and reduced occupancy requirements for instructional spaces. Students also added flex options, blended or in-person courses noted by the faculty member as those where students can achieve learning outcomes by remote means.
To help mitigate the spread of the virus, the university completed instruction just prior to the Thanksgiving holiday and administered finals online to all students.
COVID-19 on campus
From the first day of classes on Aug. 19 through the last day of in-person instruction on Nov. 24 on the main campus:
RIT had 90 positive student COVID-19 cases out of a full-time student population of about 13,000.
RIT administered 12,500 COVID-19 tests and also implemented an early surveillance program that included wastewater testing twice a week.
In-person classes were never canceled.
Quarantine and isolation availability on campus was above 90 percent for most of the semester.
Sean Hansen, department chair of management information systems, marketing and digital business in Saunders College of Business, believes in RIT's approach, especially when he compared notes with colleagues at other universities.
"Coming into fall semester, I thought there was no way I would be able to teach the class in-person. But I have been very impressed by the university's efforts to safeguard our environment and create policies and procedures that maximize personal safety while still maintaining an in-person teaching element," he said. "I think the university's leadership developed a plan that effectively balanced the health concerns of the entire community with the educational needs of our students."
Looking ahead to spring, RIT plans to resume classes on Jan. 25 and will eliminate spring break to keep instruction on track and reduce potential spread of the virus caused by off-campus travel. While course modalities for spring will still include a mix of in-person, blended, and online courses, the number of in-person offerings from fall to spring is increasing by nearly 12 percent, or more than 200 courses.
"Our classrooms have proven to be safe spaces, and this is a credit to the students and faculty who have worn their masks and remained physically distant during in-person instruction," Granberg said.