Pollution Prevention Institute's Community Grants Program accepting 2020-21 applications
Up to $240,000 available for organizations statewide to improve communities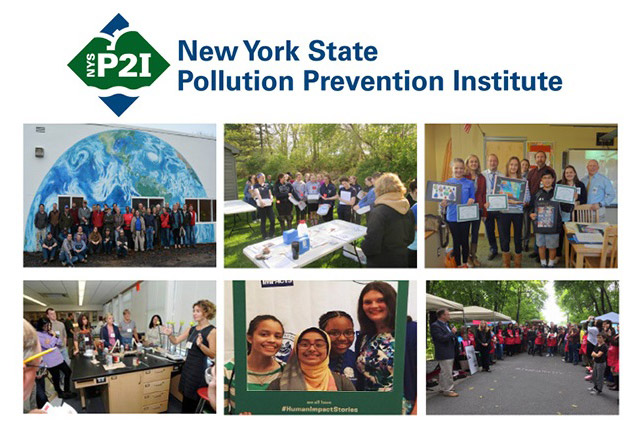 The New York State Pollution Prevention Institute (NYSP2I) is accepting funding applications for the 2020-21 Community Grants Program.
The Community Grants Program is part of the NYSP2I's ongoing efforts to continue improving the health and environmental quality of New York state. Eligible applicants—New York state-based community organizations and local governmental agencies—are invited to apply for funding to support community-based projects that promote public awareness, understanding and implementation of pollution-prevention practices. The application deadline is May 29, 2020.
"The Community Grants Program is designed to support local initiatives that raise public awareness and understanding of environmental issues, and that lead to adoption of sustainable practices," said Charles Ruffing, NYSP2I's director.
"The goal is to support communities at the grassroots level across the Empire State by providing much-needed financial and technical support for projects and initiatives, and to create a toolbox of resources that can be easily shared and replicated by other organizations," Ruffing added.
Driving impact through community empowerment
Competitive applications are those that utilize partnerships and collaborations with other organizations; demonstrate a broad community impact; address populations and communities that are affected by or susceptible to environmental harms and risk; can easily be replicated and used by other organizations; are located in Environmental Justice (EJ) communities; and can demonstrate an ability to source funding from additional sources.
The 2020-21 call for grants marks the 13th round of program funding. Since 2009, the program has funded 126 projects totaling more than $2 million to organizations all across New York state.
Further information
Examples of projects are available on the NYSP2I website.
The 2020 Community Grants application package is available on the NYSP2I website.  
All applications are due by 5 p.m. EDT on May 29, 2020. 
For more information on the Community Grants Program, contact Gillian Griffin at gaggis@rit.edu or 585-475-5677.
About the New York State Pollution Prevention Institute
Sponsored by the New York State Department of Environmental Conservation through the Environmental Protection Fund, NYSP2I is led by the Golisano Institute for Sustainability at Rochester Institute of Technology, and is a partnership between RIT, Binghamton University, Clarkson University, Cornell University and Rensselaer Polytechnic Institute. NYSP2I also works with the New York Manufacturing Extension Partnership to help disseminate data and strategy.
NYSP2I's goal is to make the state more sustainable for workers, the public, the environment and the economy through pollution prevention. Pollution prevention is reducing or eliminating waste at the source by modifying production processes, promoting the use of nontoxic or less-toxic substances, implementing conservation techniques, and reusing materials rather than putting them into the waste stream.
Topics