Program encourages NTID students to pursue Ph.D.s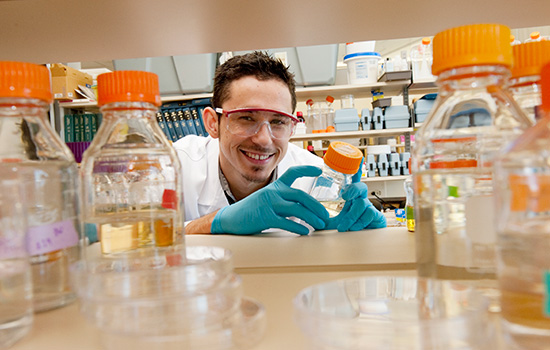 RIT alumnus Lorne Farovitch understands the difficulty that many deaf and hard-of-hearing students face when pursuing careers in scientific research. Perceived communication barriers, a shortage of qualified interpreters and the lack of networking opportunities with deaf and hard-of-hearing mentors in research roles can all be deterrents.
In fact, according to a report from the National Science Foundation, less than 1 percent of scientists in the world are deaf or hard of hearing.
But Farovitch is helping to change that. He was part of the Rochester Bridges to the Doctorate program, which helps eligible students enrolled in master's programs at RIT prepare and apply for doctoral programs in behavioral or biomedical science. The RIT/NTID program, in partnership with the University of Rochester, is funded by a $2.1 million grant from the National Institute for General Medical Science.
After earning dual undergraduate degrees in chemistry and biology from Gallaudet University, Farovitch, from Tucson, Ariz., considered taking a gap year to narrow his focus on a field of study before committing to a master's degree program. A chance encounter with NTID Professor Peter Hauser, himself an accomplished scientist who just happened to be visiting Gallaudet's Brain and Language Lab for his own research, altered Farovitch's plans.
"I immediately discouraged Lorne from taking time off," said Hauser, director of RIT/NTID Center on Cognition and Language. "He was a perfect candidate for the Bridges program."
Up to three graduate students are selected each year for entry into the Bridges program, which was created in 2013. Most of their tuition is paid, and they also gain experience—and earn a paycheck—working in laboratories at RIT and UR. Throughout the program, they meet regularly with mentors who help prepare them for the academic rigors of earning a doctorate, attend at least two professional conferences and complete three research rotations at UR laboratories. Currently, there are six students enrolled in the Bridges program, and potential students are encouraged to apply.
Farovitch used the program to hone his specialty. He worked with Professor Martin Zand at UR to study lymphocytes and their capability to migrate through the body and Professor Jeff Lodge at RIT to analyze water samples from Lake Ontario to determine pollution levels from medications that are distributed through open water. He also studied how pathogens in water help spread disease and impact our health and completed internships in polymer science, neuroscience and marine biology.
"I was able to find my passion for microbiology through the Bridges program," Farovitch said. "My eyes were opened to a variety of skills, all of my questions were answered, and I was able to determine the path that I wanted to take."
After two years at RIT, Farovitch graduated in 2016 with a master's degree in environmental science. This fall, he was accepted into a new integrated Ph.D. program at the University of Rochester that aligns science with public health. Farovitch explained that a roughly 10-year gap exists between scientific research, the release of findings and the impact of the research on public health and policy. He hopes his work will narrow that gap.
When he graduates from the University of Rochester with his doctoral degree in translational biomedical science, Farovitch will be part of the first cohort that demonstrates the success of the Bridges program.
"To date, this is the first educational program specifically tailored to deaf and hard-of-hearing scholars who want to pursue advanced degrees," explained Hauser, principal investigator for RIT and an internationally recognized expert in deaf cognition, sign-language research, psychosocial well-being and post-secondary science mentoring. "We are proud to have started this program in Rochester, a community characterized by a well-educated and large deaf population, with a unique and collaborative atmosphere."
In addition to the University of Rochester, Bridges scholars have been accepted into doctoral programs at the University of Connecticut and Indiana University-Purdue University Indianapolis.
Jessica Contreras '14, '16 (psychology, experimental psychology) began her doctoral studies in developmental psychology this fall at the University of Connecticut.
She said that many deaf and hard-of-hearing students grow up believing that significant accomplishments are out of reach or that they can't compete with hearing counterparts. But, in her words, Contreras said, "Deaf can."
"Equally as important as the lab work and mentoring opportunities is the way that the Bridges program helps students develop their own identities as deaf people and as scientists," said Contreras, from Anchorage, Alaska, who is interested in how the language experiences of deaf people, such as those who sign or are oral from birth, impact cognition.
"Bridges has given me the confidence to succeed in a research setting alongside hearing peers and establish myself as an equal. Without the Bridges program, I'm not sure that I would have been able to pursue my dream. I've grown to become a competent, intelligent and capable scientist."
To learn more
For more information got to the Rochester Bridges to the Doctorate program website.
Mark Benjamin
Topics