Registration now open for annual Let Freedom Ring
Alumna Krystle Ellis will be the keynote speaker for the event honoring Dr. Martin Luther King Jr.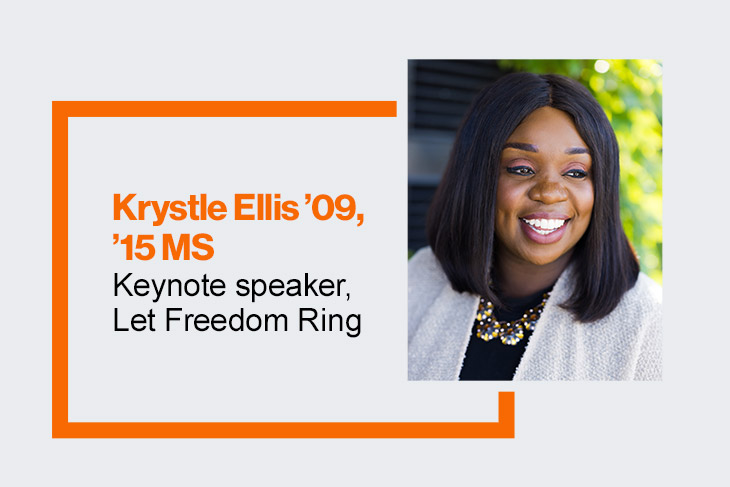 RIT's seventh annual Let Freedom Ring event will feature alumna Krystle Ellis '09, '15 MS as its keynote speaker on Jan. 15. The event honors the life and legacy of Dr. Martin Luther King Jr. by hosting speakers who challenge the RIT community to think deeper, to broaden horizons, and to express individuality.
The free event is open to all RIT students, faculty, and staff. The keynote address will be from 10:30 to 11:30 a.m. in Ingle Auditorium, with a reception following in the Fireside Lounge.
Ellis is the owner of Ellis K Consulting and interim executive director of the Women's Foundation of Genesee Valley. She sits on multiple boards and has been featured in national publications because of her work as a diversity, equity, and inclusion practitioner. Ellis is a founding member of RIT's Sentinel Society. She firmly advocates for the rights of women and for providing equitable access to healthcare for children. She believes in having transparent conversations that inspire people to soar higher, and she values the currency of transformational love and honor.
"We are excited to welcome a powerhouse alumna to campus to lead our annual event to honor Dr. King's life and work," said Keith Jenkins, vice president and associate provost for Diversity and Inclusion. "We encourage the entire RIT community to join us for this great opportunity to celebrate the holiday in a meaningful way."
Let Freedom Ring is the brainchild of President David Munson, who wanted a way for students, faculty, and staff to come together to honor Dr. King's legacy on the actual holiday, and to honor the campus's diversity.
ASL interpreters will be provided. To register for the event, go to the Division of Diversity and Inclusion's website.