Researchers using drones to detect noxious gas released by explosions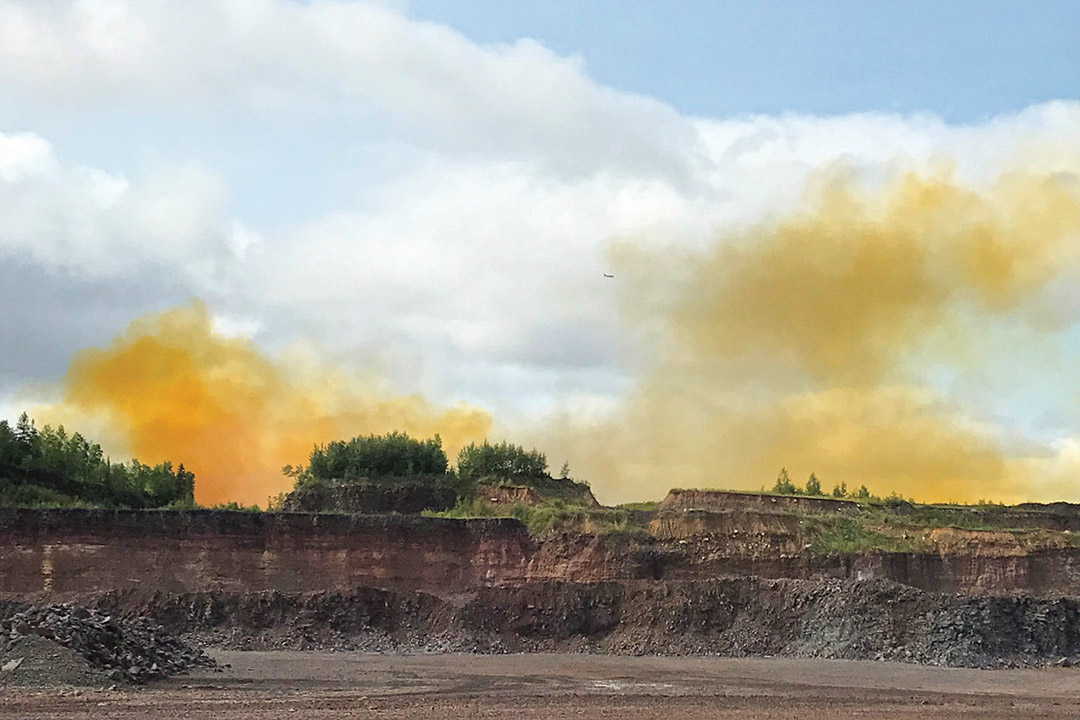 Austin Powder
An Ohio-based explosives company called Austin Powder has turned to RIT scientists for a creative approach to quantifying nitrogen oxide gases that on rare occasions are released during mining operations.
Austin Powder manufactures, distributes, and applies industrial explosives for industries including quarrying, mining, construction, and other applications. Some of their typical tasks involve detonating 400,000 pounds of explosives to unearth materials such as iron ore, limestone, or precious metals.
Although it's unusual, these massive explosions can release a foreboding yellowish-orange cloud that is often an indicator of nitrogen oxides—commonly abbreviated NOx.
These chemical compounds can cause serious damage to humans, wildlife, and the environment.
Researchers from RIT's Chester F. Carlson Center for Imaging Science and the School of Chemistry and Materials Science are developing ways to use drones to quantify how much NOx is produced by these explosions.
"Quantifying the amount of NOx that's being generated is a bit of a challenge on a moving cloud," said Martin Held, global director of emulsions at Austin Powder. "But if we could take this information and combine it with all the pre-blast data we already collect, then we should be able to draw conclusions on how to improve the blast design to minimize NOx and improve performance."
Figuring out how to accurately measure the cloud's volume and concentration given the challenging conditions requires a multidisciplinary approach.
The RIT team plans to capture the volume of the NOx cloud by positioning multiple drones with synced cameras around the blast.
"There's a concept that we're trying to capitalize on to apply to this problem called structure from motion," said Emmett Ientilucci, assistant professor in the Chester F. Carlson Center for Imaging Science and RIT's lead on the project. "This is the concept a lot of people are capitalizing on with still drone imagery. You collect lots of images of a stationary object from different angles and then you use photogrammetric techniques to reconstruct that as a 3D object."
As this happens, the team also plans to fly a drone directly into the cloud left by the explosion to measure gas concentrations using special equipment.
Robert Kremens, research faculty in the Chester F. Carlson Center for Imaging Science, and Nathan Eddingsaas, an associate professor in the School of Chemistry and Materials Science, are working to determine the right instrumentation for this part of the solution.
The faculty have pulled in undergraduate students to help with the project, giving the students invaluable applied research experience.
Members of the RIT team have already traveled to Ohio to do preliminary tests on small-scale blasts.
They have more on-site visits planned and are hoping to propose an initial solution by August.
Topics