RIT Action Plan for Race and Ethnicity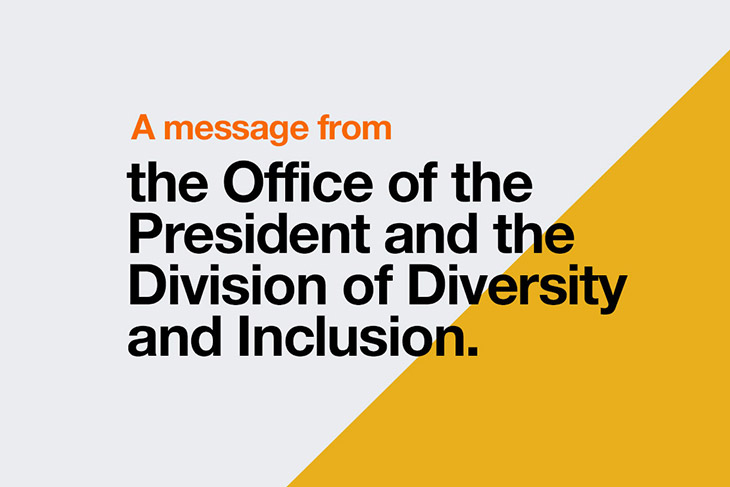 Dear RIT Community,
Early in 2020, a global pandemic became the canvas upon which the police killings of George Floyd, Breonna Taylor, Daniel Prude, and others would be forever painted. The distressing events of 2020 have exposed systemic racial inequity, racial injustice, and disparities in healthcare, as highlighted by countless national protests, demonstrations, vigils, and town hall meetings. As a leader in higher education, RIT is compelled to reexamine our own history, renew and refocus our existing commitments, and expand our reach and effort by leveraging our passion to create a more diverse, equitable, and inclusive society. 
During the months of June through September, a host of recommendations were put forward from students, faculty, staff, alumni, trustees, and community members in response to these events. An analysis of the recommendations identified three key areas of focus—student recruitment and success; faculty and staff recruitment, retention, and advancement; and culture, communication, and leadership. These areas will serve as pillars for an RIT Action Plan for Race and Ethnicity. Three separate working groups have been formed to construct the pillars, with each group charged to:
Propose a vision for the pillar;
Identify three to five broad strategies or initiatives that would substantially enhance RIT's ability to achieve this vision;
Identify potential resource needs and associated costs; and
Indicate timelines and measurements, some of which may come from the RIT Strategic Plan.
Each working group, with representatives from multiple divisions and colleges from across the university, is currently pursuing the task before them. 
Co-Conveners and Co-Writers for the working groups are:
Student Recruitment and Success: Kit Mayberry (DDI), Tomicka Wagstaff (DDI)
Faculty and Staff Recruitment, Retention, and Advancement: Donathan Brown (DDI), Jo Ellen Pinkham (HR)
Culture, Communication, and Leadership: Taj Smith (DDI), Vienna McGrain (M&C)
The university is proceeding diligently with the development of the RIT Action Plan for Race and Ethnicity, while arranging sufficient time for community-wide consultation and engagement. The resulting plan will be a "living document" that we expect will evolve and take new directions as the landscape changes and the future unfolds.
The October/November timeline has consisted of the following:
Week of Oct. 12-16

First meetings of working groups with the goals to propose and refine vision per group focus and identify three to five broad initiatives

Week of Oct. 19-23

Second meetings of working groups with goals to refine vision and three to five broad initiatives and explore potential resource needs and costs
Presented progress-to-date at President's Roundtable (Oct. 22) and RIT Alumni Association Board of Directors (Oct. 23)

Week of Oct. 26-30

Third meetings of working groups to receive additional feedback to refine vision, three to five broad initiatives, explore potential resource needs and costs, and identify potential timelines and measurements
Presented progress-to-date at RIT President's Cabinet meeting (Oct. 26), Dean's Council (Oct 28), and University Council (Oct. 29)
Other meetings during the week solicited feedback and ideas from the ALANA Collegiate Association (ACA) and guests (Black Awareness Coordinating Committee), Student Government, Global Union, and the Staff Council DEI Committee

Week of Nov. 2-6

AALANA Faculty Listening Session (Nov. 5)
AALANA Staff Listening Session (Nov. 5)
Meetings and presentations beyond Nov. 5 that are scheduled or being planned include AALANA Student Listening Sessions, RIT President's Cabinet, Academic Senate, Staff Council, Student Government, AALANA Collegiate Association Board of Directors, NTID Advisory Group, and the RIT Board of Trustees.
During December and January, we will focus attention on finalizing the draft report, and then present the draft at a Board of Trustees retreat in early February 2021. In parallel, we will be continuing the conversation with students, faculty, and staff. Feedback from all constituencies will be integrated into the draft to produce the final plan. Meanwhile, we already are beginning plans for implementation of some initiatives that we expect will be included as recommendations in the final report.
David Munson
President
Keith Jenkins
Vice President and Associate Provost for Diversity and Inclusion
A sign language interpreted translation of this message is available.