RIT advertising photography students win gold at Rochester ADDY awards
Students will now compete for a national American Advertising award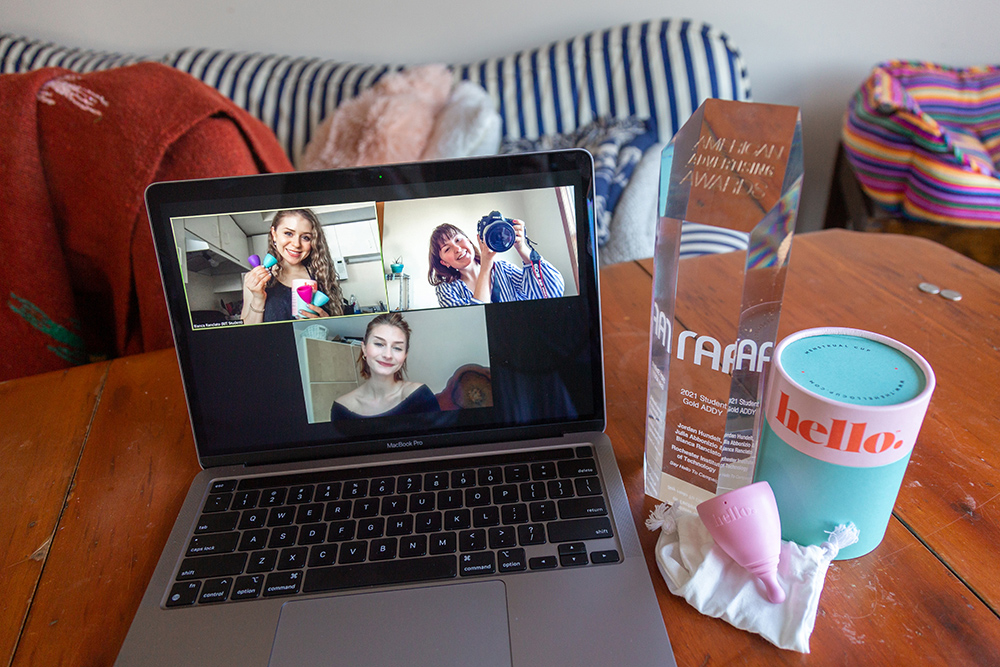 The American Advertising Awards, or ADDY awards, honor the best in local advertising and cultivate the highest creative standards in the industry. Three fourth-year advertising photography majors—Jordan Hundelt from Seattle, Julia Abbonizio from Downingtown, Pa., and Bianca Ranciato from Wallingford, Conn.—won gold in the Cross Platform Integrated Campaigns category at the 2021 Rochester ADDY awards, and the team received a scholarship for Best Student Work. In June, the students will compete for a national ADDY award.
This past spring, Hundelt, Abbonizio and Ranciato created an advertising campaign, a "rite of passage" for advertising photography students, according to Hundelt. Just as student teams formed, COVID-19 hit, the student body left campus, and the expectations for the project transitioned from production heavy, with in-person photo sessions, to conceptualization.
While on Zoom for a brainstorming meeting, the three students began discussing the topic of menstrual cups, an essential invention that they believed hasn't been talked about enough. When they started comparing the environmental impacts of disposal menstrual products against menstrual cups, the students discovered Hello, a New Zealand-based personal hygiene company. Hello's menstrual cups are manufactured from food-grade materials that are safe for the body. The students used this fact to debunk the myths surrounding the product and began conceptualizing by exploring the benefits of using menstrual cups.
The group tagged Hello on Instagram and the company posted the students' campaign on its Instagram page.
According to Abbonizio, the experience gave them the opportunity to interact with the brand one-on-one and provided insight into what a future in advertising might look like.
As a result of the project, Hundelt has secured an internship at Laundry Service, an advertising agency with offices in New York, Los Angeles, and Portland, Ore.
As far as winning an award in the national competition, Abbonizio says, "If we did this once, we can do it again."
Topics