RIT again recognized for diversity efforts
National recognition, given for the third year, highlights multiple campus diversity initiatives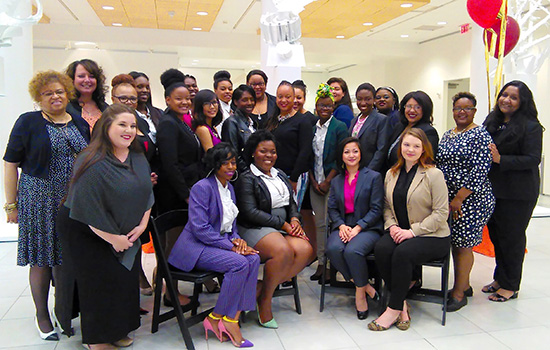 Michelle Cometa
Rochester Institute of Technology is receiving for the third time in as many years a Higher Education Excellence in Diversity Award from INSIGHT into Diversity magazine. The university is being recognized for its successful efforts in the area of campus diversity and inclusion. It will be featured, along with the other recipients, in the magazine's November 2016 issue.
Universities are judged on how historically under-represented students, faculty and staff are recruited and retained, how improvements to campus climate are addressed and on specific commitments to diversity through campus-wide programs, informal dialogues and campus resources.
Several campus programs in these areas were highlighted by INSIGHT, including:
The Louis Stokes Alliance for Minority Participation and Ronald E. McNair Post-Baccalaureate Achievement Programs. These programs serve more than 100 under-represented students on campus, including 70 majoring in STEM disciplines, helping to prepare them for entry into graduate programs and careers in needed STEM fields. The College Science and Technology Entry Program works to increase the number of historically underrepresented and/or economically disadvantaged undergraduate and graduate students from New York state pursuing careers in science, mathematics, technology or a licensed profession such as medicine/nursing, law or mental health. This program serves 150 campus students.
The Office of Faculty Recruitment's focuses on attracting scholars from underserved populations for faculty positions at RIT. One key recruitment strategy has been the Future Faculty Career Exploration Program, a national recruiting initiative to increase the number of diverse faculty being recruited, hired and retained at RIT; nearly 20 former participants hired into faculty positions where they have excelled in the areas of teaching and research, and as advocates/mentors for other diverse faculty.
"The award and recognition from INSIGHT into Diversity, now for the third time in as many years, is a wonderful recognition of RIT's commitment to inclusion and the accomplishments of our faculty, staff and students," said Keith Jenkins, interim vice president and associate provost for diversity and inclusion. RIT's diversity division includes the Office for Faculty Recruitment, the Multicultural Center for Academic Success, the McNair Scholars Program, the Louis Stokes Alliance for Minority Participation, the Native American Future Stewards Program, the Office for Diversity and Inclusion, I'm First and the Higher Education Opportunity Program.
"An inclusive campus community is built through thoughtful people, their innovative ideas and the belief that diversity can influence positive changes in the world," said Jenkins. "Our programs engage so many individuals on our campus, but we have seen clearly that we are also a part of the broader connection to Rochester and can partner in the city's success as well."
The proportion of historically underrepresented students—African American, Latino American and Native American—at RIT has increased from 10.1 percent to 15.3 percent over the past 10 years (2006 – 2015). As of Fall 2015, there were 1,938 AALANA students.
Other campus programs to encourage the recruitment and retention of under-represented students include MOCHA—Men of Color, Honor and Ambition—a yearlong personal, professional, academic and leadership development initiative for RIT's undergraduate male population. A similar program, WOCHA—Women of Color, Honor and Ambition— began one year ago for second- through fifth-year female RIT students, focusing on historically underrepresented women in a predominately technical university.
The Rochester City Scholars program was launched at RIT in 2010 and offers fully funded scholarships for high achieving students from the Rochester City School District. I'm FIRST strives to ensure success for students who are the first in their family to attend college. For six of the past seven years, RIT has also been recognized as a top school for Native Americans by Winds of Change Magazine, and students from American Indian tribes across the country enrolled at RIT are involved in a leadership organization on campus called the Future Stewards Program, now in its 10th year.
Additional community programs and faculty diversity initiatives include: the Global Leadership Certificate Program: a student networking and educational opportunity to attain leadership skills and an understanding of global connections, racial, cultural and social experiences; RIT's annual Expressions of King's Legacy event, a campus and community celebration of Rev. Martin Luther King's life; and The Minett Professorship, which brings distinguished area multicultural professionals to campus to share their knowledge and experience with RIT's students, faculty and staff for one academic year.
RIT won INSIGHT into Diversity's HEED award in 2014 and 2015. In 2015, the university was also named a Diversity Champion for its cumulative efforts in the area of diversity and inclusion throughout its campus communities, across academic programs and at the highest administrative levels. It was one of the first colleges and universities in the nation to receive the designation given by INSIGHT into Diversity. Later the same year, RIT President Bill Destler was awarded the Diversity Giving Back Award for his dedication to RIT's numerous student-centered programs, his leadership and participation in faculty and staff equity projects and for his contributions to the Greater Rochester community through the establishment of the Rochester City Scholars program.