RIT, alumni honor REDCOM milestone anniversary
More than 30 percent of REDCOM employees are RIT alumni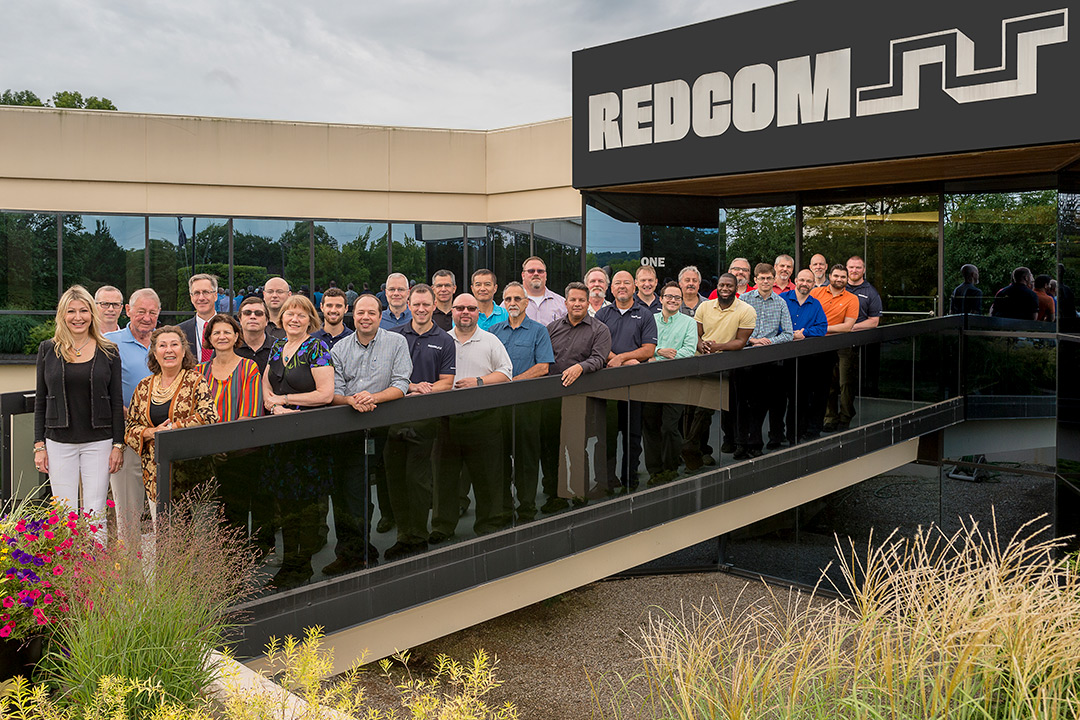 Rochester Institute of Technology's Saunders College of Business is honored to recognize the 40th anniversary of REDCOM Laboratories Inc., a local communications company with many ties to RIT. More than 30 percent of the employees at REDCOM—including the company's founders and several members of the leadership team—are graduates of RIT's business, software engineering and telecommunications programs.
"All of us at RIT's Saunders College of Business would like to congratulate REDCOM and its employees on this milestone anniversary," said Jacqueline Mozrall, Saunders College dean. "We greatly value the partnership that RIT and Saunders College of Business have forged with REDCOM. REDCOM's longevity is a resounding testament to their technical innovation and leadership, and we are proud that so many of our alumni are also part of the REDCOM family."
Mike Gates earned his bachelor's degree with concentrations in telecommunications and computer networking in 2010 from what is now RIT's School of Individualized Studies. He is now a senior sales engineer at REDCOM working with current and potential customers to develop solutions for their communication needs.
"I didn't complete my degree until later in life, and the education that I received helped to reinforce the practical experience I had received throughout my career," said Gates. "Brigitte Gueldenpfennig [company co-founder] was my biggest cheerleader, encouraging me to go back and finish my degree. Many thanks to her for giving me the push that I needed. While the world still relies on traditional telecommunications methods and protocols, the network is slowly migrating to IP. One of my concentrations was for IP and computer networking. That education has proven invaluable in learning telephony protocols in a packet-switched network."
Vincent Alese '18 (MBA) is a digital marketing program coordinator at REDCOM and believes his studies at Saunders College have enabled him to confidently tackle the projects he manages. He also said the industry experience of his professors, coupled with Saunders' small class sizes, were invaluable to his learning.
"In my position, I play a role in nearly all the digital marketing efforts at REDCOM," he said. "The courses I took at Saunders College have enabled me to implement new tools at REDCOM and positively influence the company's future direction."
REDCOM has longtime ties to RIT. Dinah Gueldenpfennig Weisberg, REDCOM's president and CEO, earned a master's degree in software development and management in 1997 and an Executive MBA from Saunders College in 2003.
The company's founders, Klaus and Brigitte Gueldenpfennig, have degrees from RIT, as well. Klaus Gueldenpfenning earned a master's degree in engineering in 1974 and an MBA from Saunders College of Business in 1977, while Brigitte Gueldenpfenning earned her MBA from RIT's Saunders College in 1981. The Gueldenpfennigs, who remain top executives at REDCOM, have been honored with the Distinguished Alumni Award from Saunders College, and, in 1990, received the college's Herbert W. Vanden Brul Entrepreneurial Award, given annually to successful individuals who developed a business that improved the Rochester economy or whose innovative management skills changed the course of an existing business. They were also presented with RIT's Nathaniel Rochester Award in 2014. Klaus Gueldenpfennig is also an RIT trustee emeritus and has served on several board committees. Brigitte Gueldenpfennig has been actively involved with Saunders College and has been a member of the Dean's Advisory Council since the early 1980s.
In addition, REDCOM has also been a financial contributor to RIT and its programs. The REDCOM Active Learning Collaboratory in Saunders College of Business provides an interactive learning experience with self-contained student pods for collaboration, supported by digital and traditional displays and video conferencing capability for distributed teamwork. The REDCOM Telecommunications System Lab in RIT's College of Engineering Technology is home to an extensive selection of equipment that is connected, configured and analyzed by students to help them understand the intricacies of the myriad telecommunications systems in use today.
About REDCOM Laboratories Inc.
REDCOM Laboratories Inc. is a woman-owned small business that specializes in the development of advanced communications solutions with a focus on security, reliability and interoperability. Located in Victor, N.Y., REDCOM's global customer base includes commercial telecom carriers, private networks, integrators, and government and defense agencies. For additional information, go to the REDCOM website at http://www.redcom.com.