June 1, 2022
by Luke Auburn
RIT anticipates welcoming its second largest incoming class ever this fall
Officials call this the most academically accomplished group of first-year students in school history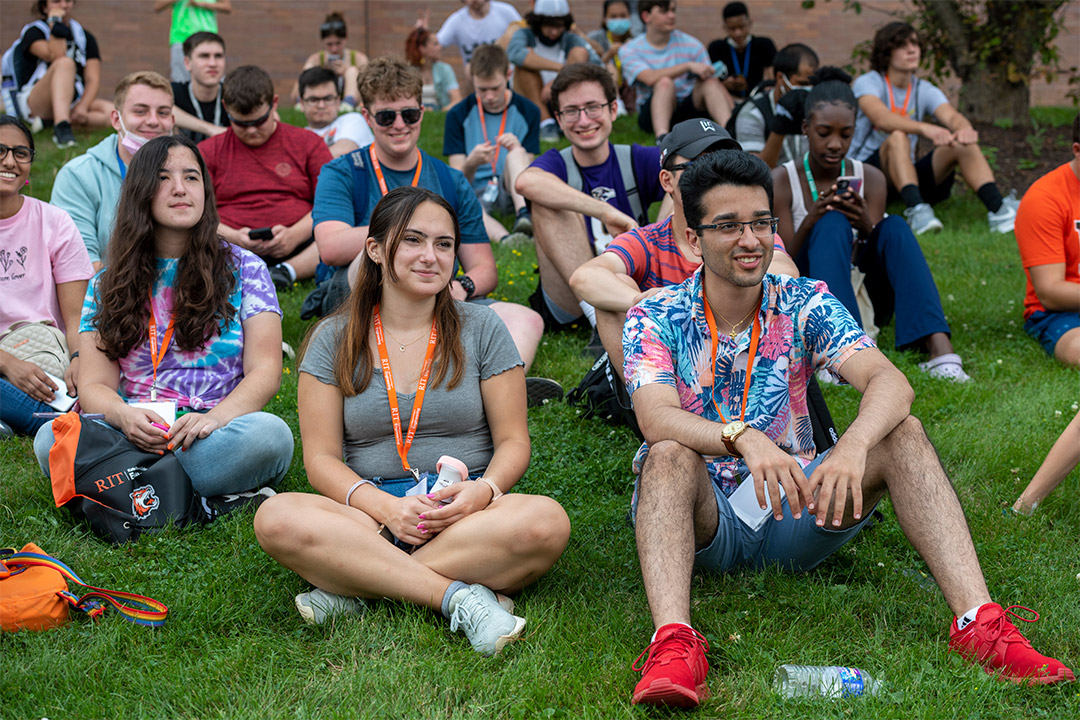 Rochester Institute of Technology's unique blend of education at the intersection of technology, the arts, and design is in demand. Officials expect RIT to welcome the second largest class ever this fall and call it the most selective group of first-year students in the university's history.
More than 3,200 first-year students submitted deposits to study at RIT's main campus in Henrietta, N.Y., as of May 1, which comes on the heels of the university's largest class ever in fall 2021. Assistant Vice President and Dean of Admissions Marian Nicoletti said this shows RIT is on a strong upward trajectory with its distinctive programs connected to emerging careers, which resonates with what people are looking for from higher education today.
"Prospective students and their families recognize making RIT their college choice is a terrific investment in their future and coming here can prepare them to make a real difference in the world," said Nicoletti. "We had a record-breaking number of applicants this year from a very competitive pool of applicants, signaling demand to come here is stronger than ever. We are excited to bring such a bright and talented group of new students to our community this fall."
The academic quality of incoming classes continues to rise. The incoming class's mean SAT score is 1353, mean ACT score is 30.8, and mean GPA is 93.4, all up from last year. Nicoletti noted that while RIT stopped requiring applicants to submit standardized test scores a few years ago, a majority of applicants asked for their scores to be considered because they performed well on them. She said 18 percent more applicants reported test scores than last year.
The incoming class will further diversify RIT's student population. Deposits from African American, Latino American, and Native American students were up 5.6 percent compared to last year.
The geographic regions RIT students hail from continue to shift. Nicoletti said that among the top 10 states that RIT students come from, admissions officials are seeing the largest increases from California, Massachusetts, and Illinois. Enrollment from outside the U.S. is up slightly, with the largest increases coming from India, Bangladesh, and Mexico.
Nicoletti said that RIT is seeing some of its largest growth in the College of Engineering Technology, and the College of Liberal Arts, as well as several programs within the Golisano College of Computing and Information Sciences and College of Art and Design.
Meanwhile at the graduate level, officials expect enrollment to remain similar to last year's more than 3,100 students. International graduate student applications rose 16 percent this year, with the largest increase coming from India.
"The needs of the world and employers seem to get more and more aligned with RIT," said Ian Mortimer, vice present of Enrollment Management and associate provost of RIT Certified. "Our admissions, financial aid, and enrollment teams continue to do amazing work in helping students see and plan for what can be a very promising future. When parents and students ask the right questions about how they fit into 2026 and beyond, RIT becomes one of a few institutions that match to the future."
Topics