RIT Awarded Grant to Increase Engineering Technology Students
Initiative will support underrepresented and low-income students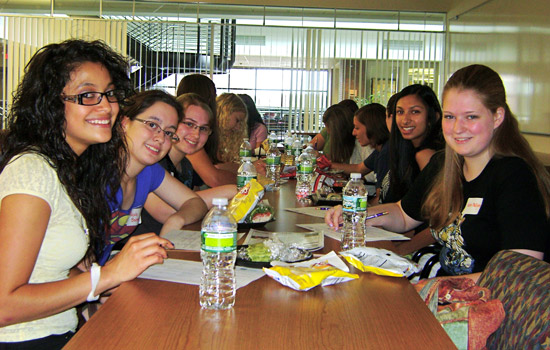 Michelle Cometa
Low-income students are underrepresented at both public and private four-year colleges and universities, according to a report by the Institute for Higher Education Policy. Low-income students account for only 15 percent of all students at public four-year institutions and just 6 percent of private four-year institutions.
The report also states that where these students enroll and having a "critical mass" of peers are key indicators of persistence toward graduation, especially in science, technology, engineering and mathematics, the STEM disciplines.
Rochester Institute of Technology was recently awarded funding from the National Science Foundation to improve participation of low-income, underrepresented students in its engineering technology programs. RIT's College of Applied Science and Technology received a grant for $582,152 for CoMETS: Critical Mass of Engineering Technology Scholars. It is a multi-faceted program to provide scholarships and support programs to underrepresented minorities and women, specifically academically talented and economically disadvantaged first-year students and third-year transfer students.
At RIT, female students account for just under 10 percent of the engineering technology enrollment, and its low-income student numbers are comparable to national averages, says Betsy Dell, assistant professor of mechanical engineering technology and principal investigator for the grant.
The number of women graduating from all engineering science programs in the U.S. is close to 20 percent, and female graduates of engineering technology programs specifically remains stable at 11.7 percent. At RIT, the number of women in engineering technology programs is below the national average, Dell adds.
The new scholarships and enhanced recruitment efforts combined with academic support systems already in place at the college and at RIT are expected to increase enrollment in the engineering technology programs by 25 percent and help to address the low numbers of underrepresented populations in STEM careers.
"This will also be an opportunity to build a sense of community with the students," says Dell. "We have found that once the students arrive, we are able to retain them. Our challenge, like other colleges nationally, has been to increase the number of students who are choosing STEM programs, especially from underserved populations."
The program being developed will include a one-credit course to enhance study skills, emphasize workforce readiness and to encourage the students to further their studies in graduate school. They will participate in community activities, have available peer and professional mentors and be involved in professional development activities sponsored by the Women in Technology Program and the college.
Recruitment for scholarship candidates will begin this academic year through K-12 outreach, open house events and through established relationships with area community colleges, says Dell. The first scholarships would be awarded in 2012.
Topics