RIT begins development of saliva testing for spring semester
Newest test expected to be added to campus protocols is being developed by faculty-researchers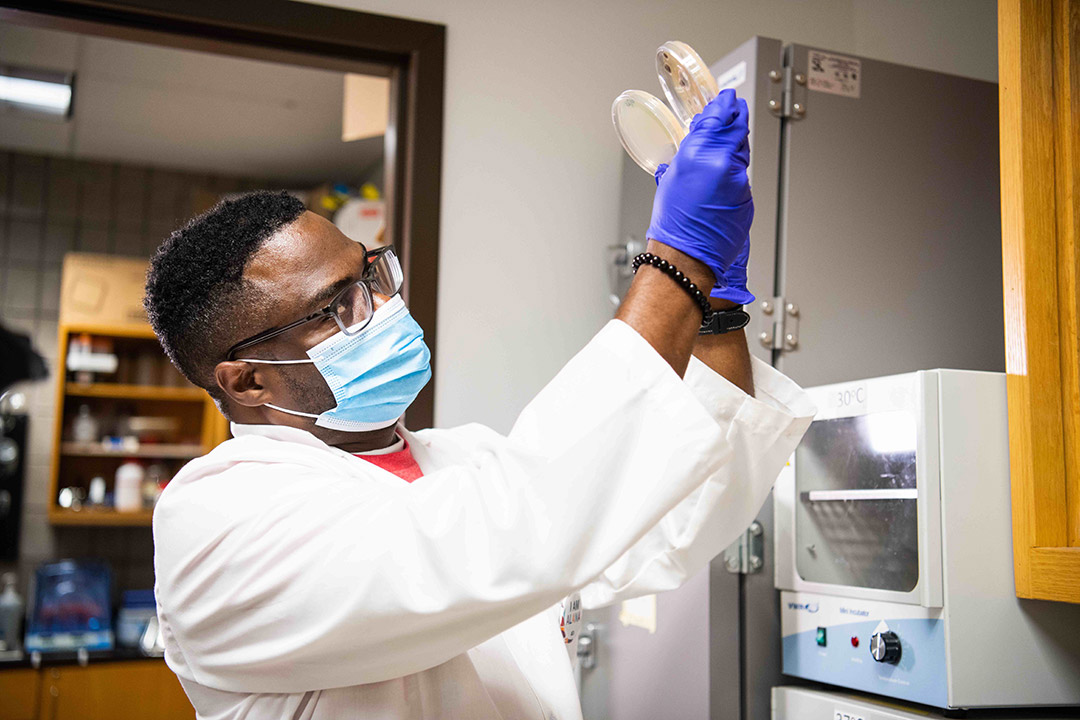 Rochester Institute of Technology is developing saliva testing protocols for campus as part of its plan to monitor the prevalence of the SARS-CoV2 virus, the causative agent of COVID-19.
Development of the testing process will be done by André Hudson and Julie Thomas, both faculty-researchers in the Thomas H. Gosnell School of Life Sciences in RIT's College of Science.
"One of the reasons we went with this method is that you can detect the coronavirus without the onset of signs and symptoms. There are viral particles in your saliva when you are asymptomatic," said Hudson, professor and head of the School of Life Sciences. "Individuals can be exposed to the virus and be asymptomatic. But the virus can be detected and this will indicate individuals who need to be quarantined or isolated before it gets too far along the infection cycle."
Since early fall, a campus task force made up of researchers, scientists, and healthcare professionals has assessed resource needs and worked with community partners to determine overall processes. The team has its resources for laboratories in place, and use of saliva testing for surveillance has begun. Saliva testing is expected to be fully operational in the spring semester.
The group has finalized process controls and training for those who will help with testing. According to the faculty-researchers, test results can be determined within the day. Current nasal swab tests are sent to an off-site lab for results, often taking days.
What is saliva testing?
Individuals release saliva into a test tube, which is then assessed for the genetic material from the coronavirus. It one of several methods used to determine if an individual has the virus (symptomatic) or is a carrier (asymptomatic.) It differs from the common nasal swab testing by its process, but both are being used successfully.
To date, the university employs wastewater testing. Saliva testing will become part of the university's comprehensive plan toward detection and prevention. It is also a cost-effective method of testing, compared to the current nasal swab tests being administered and sent to Broad Institute of MIT and Harvard. Preliminary testing of the overall process is taking place on campus.
"This is another type of surveillance testing that will supplement what we are already doing; this is not a diagnostic test, but will be used as an indicator of COVID-19," said Ryne Raffaelle, RIT vice president for research and associate provost. "If a saliva test comes back positive, then we will administer a follow-up Broad test which can be used for diagnosis."
Students in the School of Life Sciences are being trained to support the testing process under supervision of the faculty-researchers and members of RIT's student health teams. They will be selected from among those students with experience in biological research settings.
"Theoretically, with this assay, we could test up to 1,000 students a week. We want that capacity. We want to be able to screen the entire student body within a couple of weeks," said Thomas, an associate professor in the School of Life Sciences. "As far as student testing, you have to remember, the Student Health Center and volunteers have established a system for testing already, and many students have already experienced it. I'm hoping with this new testing process, we can build on that experience—and that the students will see this as helping all Tigers."
Hudson agreed. "The mission of science is not only to solve immediate problems, but to also train the next generation of scientists to be aware of, and address, big issues such as climate change, plastic pollution, antibiotic resistance, and other emerging infections and diseases. In order to solve those issues, we need the Dr. Faucis of the future."