RIT celebrates outstanding staff with university's Presidential Awards
Annual awards honor service excellence, citizenship, pluralism, and rising stars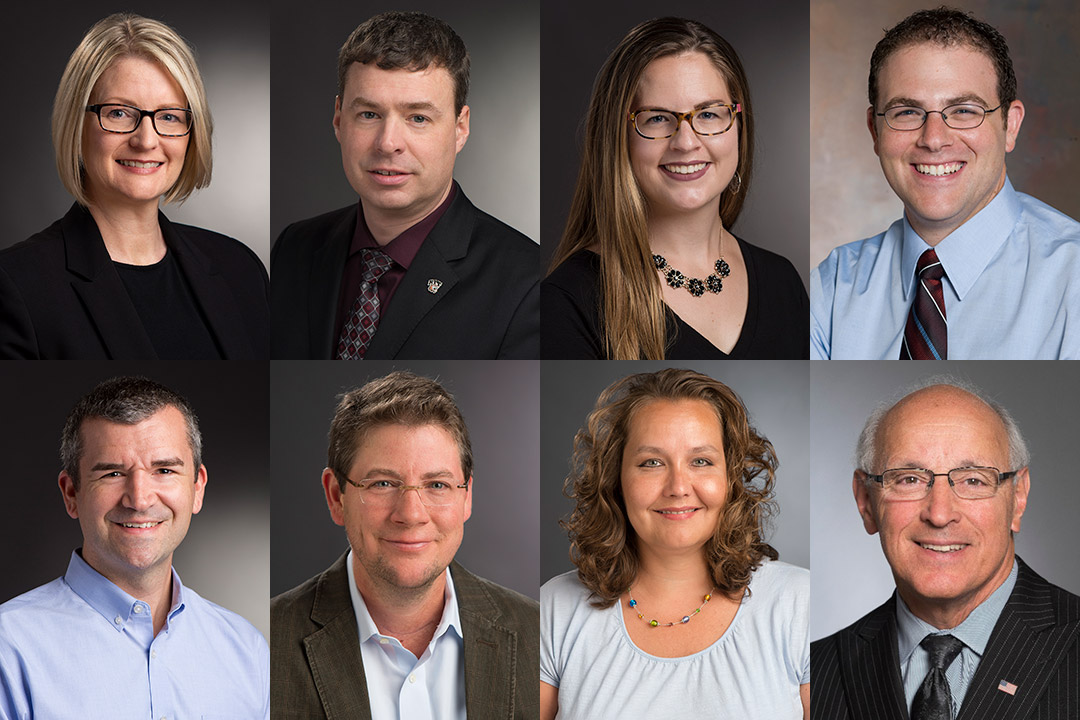 RIT honored the service and dedication of its employees with the Presidential Awards for Outstanding Staff ceremony Feb. 17. The annual awards, this year held as a webinar, are presented to staff members who exemplify outstanding service and dedication to the university and who exhibit a high degree of personal ethics and integrity while consistently demonstrating a strong commitment to student success.
The Rising Star Award recognizes a staff member with three years or fewer of service to the university who gives high-quality service, has demonstrated a willingness to collaborate with colleges and university constituents, and embodies the RIT spirit by showing imagination, creativity and innovation. This year's recipient is Michelle Teal, assistant director of customer relations for RIT Housing.
According to her nomination, Teal was instrumental in easing confusion, tension, and stress of students and parents as RIT worked to depopulate campus at the start of the pandemic last spring. During this time, Teal was in constant communication with the RIT Call Center and helped train staff. Teal spent nights and weekends scheduling appointments for students to move out of residence halls and coordinated connections with vendors to provide shipping and packing support. Throughout all of these efforts, nominators praised Teal's confidence in RIT's planning as she helped turn a difficult situation into a manageable experience for everyone involved.
Excellence Awards recognize staff members who excel in their duties, promote teamwork, and inspire excellence in others. Winners are:
Matt Campbell, ITS manager, Systems Support and Data Center Tech Services. During this past year, Campbell was the glue that connected all of the task force teams, and his contributions to their efforts were invaluable, according to his nomination. Campbell was involved in countless meetings listening to discussions, asking questions, and providing insight, guidance, and technical advice to each of the university's core teams. One nominator said, "He fostered collaboration, communication, and cooperation across and between many different RIT business units to ensure our solutions were innovative and comprehensive." Campbell also played a direct role in the development and release of the Daily Health Screen, Daily Supervisor Audit, and Contract Tracing tools. Another nominator said, "Matt's calm demeanor and can-do attitude were a perfect match for the crisis at hand and the role he played was critical to the success of the university."
Stephanie Haynes, supplemental instruction coordinator, Academic Success Center. According to nominators, Haynes has been successful in earning the respect of departments and faculty and highly effective in supporting her student leaders. "She continues to build upon a strong tradition of assessment in her program, and has been instrumental in the adoption of new technologies, such as utilizing Campus Groups, to better support and serve RIT students.
Stephanie has fostered a student team that is unmatched in other areas of the university and goes above and beyond to make training something that students enjoy." It has been said that many students have grown their friend groups and enjoyed the collaborative and community nature found in the Supplemental Instruction program.
Jeff Siegel, associate director, Intercollegiate Athletics. According to his nomination, it was most recently during the COVID-19 pandemic that Siegel stepped forward and became a true champion in safeguarding the health of the RIT community. Siegel was charged with learning about RIT's COVID-19 testing methods, conceiving the process to administer tests, and bringing it to life. Under Siegel's leadership, his team of volunteers modified and improved processes to handle more than 700 tests in half a day. Siegel has also been a champion in the Rochester community, leading fundraising efforts for needy families during the holidays, supporting student-athlete engagement with Special Olympics, and leading and winning the annual League "Change Wars," where RIT student-athletes gather change and contribute to charities through the Liberty League. 
Ben Willmott, operations manager, Performing Arts. As administrator of the music program, Willmott has met the needs of RIT's performing ensembles at a time when group music making has been difficult. For the past five months, Willmott has researched all of the possibilities for utilizing large spaces outside of the music department, kept exact capacity calculations, and answered faculty questions on Zoom meetings. He has communicated with the managers of other facilities to reserve spaces and managed schedules for all ensembles and private music lessons. One nominator said, "Whether it's hanging flyers across campus, finding a ladder when no one else can, moving pianos and sound boards, stuffing programs, or setting up audience seating, Ben works tirelessly on a day-to-day basis to make sure the many music and theatre arts events held by the Department of Performing Arts go off without a hitch."
The Isaac L. Jordan Sr. Staff Pluralism Award recognizes and affirms RIT's collective aspiration toward a community that celebrates differences and allows individuals to develop to their fullest potential. This year's recipient is Chris Hinesley, assistant director, Center for Campus Life, The Q Center, and co-director, Women's and Gender Studies Program. According to the nomination, Hinesley is an exceptionally committed member of the RIT community. Students find him to be a passionate and caring advisor, mentor, and advocate. Another said, "Colleagues will tell you that he is a professional who radiates, through positive role modeling, all of the ethical principles and moral values of an effective practitioner." The Q Center website states that RIT has an unusually high number of trans-spectrum (including non-binary) students compared to other universities. His nominators believe it's because of Hinesley's efforts. "He will say he cannot take credit for any of it because it is all collaborative. But, not everyone is effective in working with students, faculty, staff, and organizations with diverse perspectives, objectives, and competing priorities. Not everyone will push through roadblocks, delays, ignorance, and prejudice." Other recommendation letters sent in on behalf of Hinesley spoke to his dedication and commitment in creating a welcoming, thriving community for students, faculty and staff.
The Dancy Duffus Award for Outstanding Citizenship within the RIT Community recognizes a staff member who embodies the utmost integrity and who consistently shows imagination, creativity, and innovation, as well as a deep commitment to RIT. This year's award is presented to Sharon Kompalla-Porter, Residence Life representative to the Student Behavior Consultation Team. Five years ago, an idea was shared with Kompalla-Porter for a project on how to reduce food waste on campus. That project grew into RIT's FoodShare Program. According to her nomination, Kompalla-Porter was the champion who turned this idea into reality by making space available and finding a way to integrate the program into Residence Life operations. Through her leadership, the FoodShare Program has expanded its offerings to include a community garden and a home for Bern's Closet, a collaboration with the Division of Diversity and Inclusion to support students' access to professional attire. Kompalla-Porter has also cultivated partnerships with local businesses, community organizations, and RIT faculty and staff to increase the selection of non-perishable food items available at the FoodShare center, along with professional clothing items at Bern's Closet that are available to RIT students at no cost to them.
The Albert J. Simone Legacy Award recognizes and rewards a staff member whose long-term body of work is exemplary and who has contributed significantly to RIT in an ongoing manner over a number of years. This year's recipient is Louis Spiotti Jr., executive director of Intercollegiate Athletics. As an RIT employee for nearly 47 years, Spiotti has developed and sustained an environment and culture in the athletics program that contributes to the educational experience in a unique way. Highlights of Spiotti's career include three team national championships in men's and women's ice hockey; the addition of nine collegiate sports for men and women; the elevation of the men's and women's hockey programs to Division I status; and support and leadership for the construction of the Student Life Center, Gordon Field House and Activities Center, Tiger Stadium, Ritter expansion, and Gene Polisseni Center. Under Spiotti's leadership, RIT continues to recruit and maintain student-athletes who excel in the classroom. With a 41-year tenure, Spiotti is also the longest serving athletic director in the NCAA. According to his nomination, his exemplary character and exceptional leadership ability has been recognized at RIT and by his professional peers throughout the country. Spiotti recently announced his retirement from RIT.
More information on the awards is available on RIT Staff Council website.
Topics