RIT ecosystem strengthened StrongArm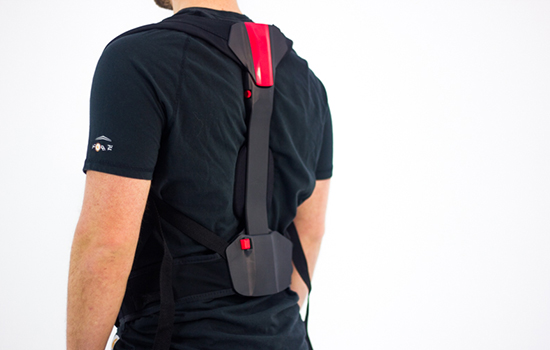 When 2013 graduates Sean Petterson and Justin Hillery started their industrial safety products company as students, they wrote in their business plan that they would one day partner with a large conglomerate.
Four years later, it happened: 3M, the Post-it note and packaging company with $32 billion in sales, invested in StrongArm Technologies Inc.
"It was really a long time of building relationships and building ground for something that we believed in," said Petterson about his now Brooklyn, N.Y.-based company with 11 employees. "Things couldn't have gone better."
Petterson (industrial design) and Hillery (multidisciplinary studies) thrived in RIT's innovation ecosystem, a multipart support system to foster entrepreneurship and new ideas. They credit much of their success to what they learned at RIT.
The two met as students in 2010 and they quickly learned they shared entrepreneurial interests. They noticed that construction workers building Global Village on campus were struggling to lift large stones and they wondered if there was a better way for industrial workers, which they now call industrial athletes, to do their jobs. They also watched their fathers get injured working manual labor jobs when they were growing up.
By the end of the school year, they had invented a vest that helps workers lift objects while lowering the risk of back injury. The students worked with the Simone Center for Student Innovation and Entrepreneurship, which helped connect them to experts, mentors and equipment.
StrongArm first got noticed in February 2011 when Petterson and Hillery placed second in the RIT Shark Tank Competition, now Tiger Tank, sponsored by Saunders College of Business and hosted by the Simone Center. Other business competitions followed and the students found themselves winning Rochester, regional and statewide events.
They moved into RIT's business incubator Venture Creations in 2012, the final step of RIT's innovation pipeline. Experts there helped them hone their business pitch and make connections.
Later that year, they were one of 16 companies out of 125 to win the startup competition in Boston called MassChallenge.
In total, StrongArm won more than a quarter of a million dollars in business competitions, Petterson said.
"Going to RIT has always given us an edge in every competition," Hillery said. "We were really given a foundation to go out and explore our ideas."
After Petterson and Hillery graduated, they moved to New York City and planted their roots in the Zahn Innovation Center, a startup incubator located at the City College of New York, where they could further develop their product for commercialization.
They hired their first full-time employee, who is now chief technology officer; nailed down the company's supply chain; and continued to build relationships with possible investors. The company continued to grow, reaching 11 employees. It moved to a larger entrepreneurial space in the Brooklyn Navy Yard called New Lab.
Last fall, 3M announced it was investing a minority equity stake in the company, which has two products on the market, including the V22 ErgoSkeleton, which is the one Petterson and Hillery began designing while they were at RIT. That product helps workers lift heavy items. They also introduced the FLx ErgoSkeleton, an ergonomic vest that corrects posture and reduces fatigue. 3M began selling the products in May.
More products are on the way in the coming year, Petterson said, and the company expects to continue to increase its staff. "We think we are going to be a brand on par with some of the major athletic brands today," he said.
Hillery is no longer with the company. He is now the chief marketing officer of Self.made, a Brooklyn company that provides a luxury brand of clothing to entrepreneurs that they can then sell to raise funds for their start-up businesses.
"At StrongArm we couldn't go on Kickstarter because we didn't have a consumer good to sell," he said. "We make consumer goods for the company, collaborate with them, sell all products on their behalf and they get the proceeds."
Hillery said Self.made (thisisourbusiness.com) will officially launch this fall and the goal is to help 15 start-ups in the next year.
"At RIT we had an ecosystem behind us that allowed us to learn how to be entrepreneurs," Hillery said. "We have created an ecosystem for the next generation of entrepreneurs."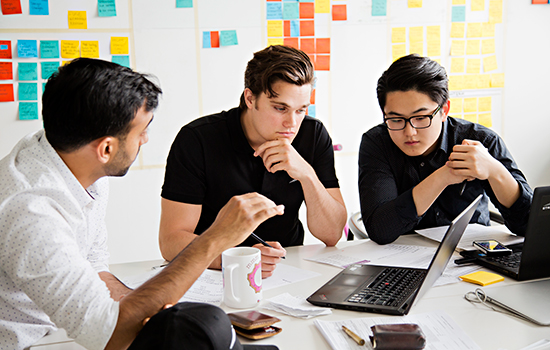 Shannon Taggart (1998)