RIT to establish public interest technologies group to collaborate with tribal communities
RIT Associate Professor Paul Shipman awarded PIT-UN Challenge grant to fund project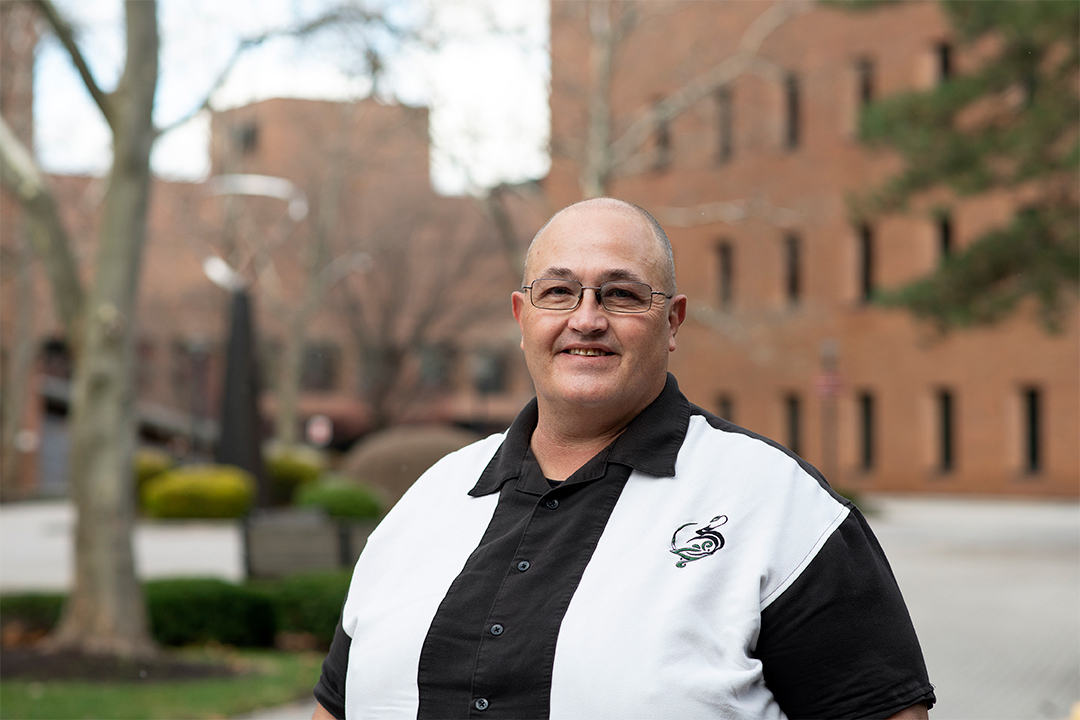 A. Sue Weisler
A Rochester Institute of Technology faculty member received a grant from the Public Interest Technology University Network (PIT-UN) Challenge grant to support the burgeoning field of public interest technology in tribal communities. Paul Shipman, associate professor in the Thomas H. Gosnell School of Life Sciences, is the principal investigator and will use the $45,000 grant to build a career placement/pipeline model and build a working group at RIT of students and faculty who desire to work in PIT within tribal communities.
Shipman is an enrolled member of the Cherokee Nation and began working with his tribe through involvement with the American Indian Science and Engineering Society. The idea for his proposal grew out of his work over the past 13 years offering STEM education workshops to K-12 students at the Cherokee Nation as well as his involvement in RIT's Native American Future Stewards Program (FSP). He said there is a great need for future tribal leaders to gain education, skills and tools in PIT.
"As tribes seek to maintain unique cultural identities and improve life for their citizens through economic development, there is a constant ebb and flow of challenges as tribes fight against intrusions and abuses against their sovereignty and make slow gains in maintaining and reestablishing control over their tribally owned lands and cultural and natural resources," said Shipman. "PIT offers vital tools for tribal communities to successfully overcome and deal with challenges and opportunities such as these, for economic and social development, and natural and cultural resource management."
The work will begin by identifying general areas of need for PIT among tribal communities that RIT already has ties to and offering three student fellowships and two faculty mini-grants to work on projects in these areas. Information sessions will be held early next year and once proposals have been evaluated and awarded, projects are slated to begin in May.
FSP Director Nicole Scott will help review proposals and said the new working group will be a great benefit to tribal communities. She sees the learning and research experiences offered through the initiative as an extension of the academic support, professional development, and cultural learning RIT provides Native scholars.
"This opportunity aligns with our mission to recruit, retain, and return our Native scholars, while recognizing our duty to help rebuild our tribal nation communities," said Scott. "We proudly support Dr. Shipman and share his commitment to increasing the representation of Native Americans in STEM education."
Sophia Maggelakis, dean of the College of Science, said Shipman's expertise in Native science and past experience applying public interest technology in tribal communities have prepared him well for this new initiative.
"Clearly, Dr. Shipman's passion is sharing biology from an indigenous perspective with both native and non-native students," said Maggelakis. "His work demonstrates how new technologies can be a natural extension of Native Science methodologies, and help to solve problems faced by tribes while still retaining their unique cultural worldviews."
RIT joined the Public Interest Technology Network (PIT-UN) in 2020. PIT-UN is a national partnership of universities and colleges convened by New America, the Ford Foundation, and the Hewlett Foundation to build the field of public interest technology and growing a new generation of civic-minded technologists. Through the development of curricula, research agendas, and experiential learning programs in the public interest technology space, universities such as RIT are developing innovative tactics to produce graduates with multiple fluencies at the intersection of technology and policy.
"Developing technology for the greater good is at the heart of so much of what we do at RIT," said Doreen Edwards, dean of the Kate Gleason College of Engineering and RIT's representative to the PIT-UN national group. "To do this effectively, we need to understand the impact of technology on society and the policies that govern its use. For this reason, we offer several accelerated dual degree programs that allow students to earn a BS in a STEM discipline along with an MS in science, technology and public policy."
For more information about PIT-UN Challenge winners, visit the New America website.
Topics