May 3, 2017
by Ellen Rosen
RIT featured among 'Colleges That Create Futures'
2nd edition Princeton Review book cites university among 50 that are 'outstanding'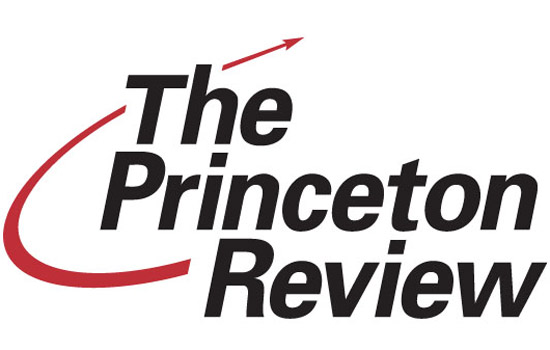 Rochester Institute of Technology is featured in the 2017 edition of The Princeton Review's Colleges That Create Futures: 50 Schools That Launch Careers by Going Beyond the Classroom.
Out of nearly 1,000 colleges that The Princeton Review considered for this book, the 50 schools that made the cut comprise only about 2 percent of the nation's approximately 3,000 four-year colleges. The Princeton Review said it chose the 50 schools based on data from its surveys of administrators and students at hundreds of universities between 2015 and 2017. Specifically, The Princeton Review editors weighed information about the colleges' career center services; internship, externship, cooperative learning and collaborative research opportunities; and student engagement in community service and study abroad programs.
"RIT and the other colleges showcased in this book offer superb academics," said the book's author, Robert Franek, Senior VP-Publisher at The Princeton Review. "But what makes them stand out are the programs and services they offer outside the classroom which offer their students real-world experience, collaborative opportunities with faculty and networking opportunities with alumni, allowing them to graduate with outstanding job opportunities or acceptance to post-graduate studies at first-rate institutions."
"RIT's reputation among employers has bloomed over the past few decades, especially in Silicon Valley," RIT alumnus Tad Hunt said in the book. "RIT graduates are known as something of a 'secret weapon.' I've been in Silicon Valley since 2000, and the reputation of RIT has grown immensely. When I first moved here, hardly [anybody] had heard of RIT. Now there is a huge number of alumni here working at all sizes of tech companies, and the RIT name is synonymous with folks that just 'Get Stuff Done.'"
In its profile on RIT, the book says, "With 90 undergraduate programs in areas such as engineering, computing, information technology, engineering technology, business, hospitality, art, design, science, psychology, public policy, game design, photography, film and animation, health sciences, and biomedical sciences, RIT is laser-focused on creating students that are more than prepared to enter the job force. In fact, the RIT Class of 2015 boasts an enviable 95 percent undergraduate outcomes rate—the percentage of graduates who have entered the workforce, enrolled in further study, or are pursuing alternative plans (like military or volunteer service)."
In the book, RIT is cited for:
Excellence in its cooperative education program: "Cooperative education ensures that grads have relevant work experience to bring with them into a job interview right out of college... But beyond the security of employment after college, the students we surveyed said that they ultimately chose RIT because job satisfaction and working in a field they found interesting was important to them."
Special interest housing: "If you are inspired by art, curious about computers, or passionate about photography, you may decide to live in one of RIT's special-interest houses. Designed for students with shared interests, these seven self-governing houses offer a specific academic focus to residence-hall life. Here you'll find programs and initiatives that range from the whimsical to the practical."
The Construct, a makerspace on the fourth floor of Institute Hall, that provides materials and machinery in a workshop setting that students can use at no cost: "Designed from student feedback, The Construct serves the needs of innovative students seeking to create new products, inventions and applications… The makerspace also seeks to gain the involvement of a larger group of technologists and designers who emphasize general product design and development."
Simone Center for Student Innovation and Entrepreneurship: "This program allows students to bring their entrepreneurial minds to the table and to potentially grow into something they can make a life on. Because the program enlists an equal number of technology, creative, and business students, participants can develop effective, well-rounded teams within their cohorts to develop and advance new business and technology ideas."
MAGIC Spell Studios: "As part of a historical, first-of-its-kind venture, RIT's MAGIC Spell Studios is a multi-disciplinary launchpad for digital products, including games, apps, animation, film and interactive art installations. RIT will be launching its new facility in 2018 in an effort to further link RIT's internationally ranked academic programs with high-tech facilities needed to commercialize computer gaming, film and animation, and digital media projects."
Leadership Institute and Community Service Center: "Understanding that students have busy schedules, the Center offers drop-in workshops, flexible programming and weekend retreats. It also offers certificate programs that can be completed in one to two years totally free of charge to RIT students…Coursework gives students a grounding in the theory and practice of leadership and a concrete vocabulary of experiences to share with potential employers during job interviews. It also gets students in touch with the practical concerns of the community through service work."
RIT Alumni Network: Because of its extensive co-op programs, RIT sits atop a vast professional network of friends, alumni, and corporate partners, together providing students with career development support, counsel, friendship, reinforcement and constructive examples. A number of different online mentoring networks make it easy for students to connect with someone in their field who can offer advice and support."
Schools included in the book are profiled in alphabetical order and are not ranked. Each college profile has general information about the school, plus sections on its distinctive programs and institutes, career center services, and unique hands-on, experiential learning opportunities.
Topics