RIT featured in Google's Year in Search 2014 video
Students and a researcher get a second of fame for creating 3D-printed prosthetic arms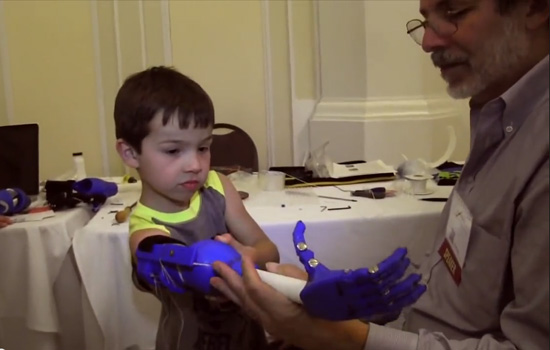 Some Rochester Institute of Technology research is about to go viral, thanks to Google's Year in Search 2014 video.
At the 1:10 mark of the video, released earlier this week, viewers get a flashing glimpse at the work of RIT research scientist Jon Schull and the e-NABLE community he founded.
The quick shot of Schull, working with a 6-year-old recipient of a 3D-printed arm, is among scores of scenes highlighting some of the world's major events, including the Ice Bucket Challenge, the Ebola epidemic, the Olympics and the landing of the Rosetta spacecraft.
"In 2014 we searched trillions of times," Google says in the introduction to the video. "What do these searches say about us?"
What the search says is that many people are interested in the work of e-NABLE, a group founded by Schull to advance the development of affordable prosthetic devices. The network, now including more than 3,000 volunteers, connects 3D-printing hobbyists and professionals with people around the world in need of hands and arms.
The Google video features Schull fitting Derek Black of Buffalo, N.Y., with an arm created and printed at RIT.
"The funny thing about working with Derek is that he opted for an extra-long arm so he could easily reach things that are far away," said Schull, a research scientist in RIT's Center for Media, Arts, Games, Interaction and Creativity (MAGIC).
To create a prosthetic device, students use computer-aided design programs and a 3D printer to build the fingers and palm out of layers and layers of plastic. The customized parts are then assembled using string, bolts and nuts from an everyday hardware store.
"A typical prosthetic hand from a company will run you more than $10,000, but materials for a 3D-printed hand can cost less than $50," said Schull.
To read more about RIT's work with e-NABLE and meet other kids that RIT has helped, read the RIT: The University Magazine story, "A new hand for Lucas." To see the whole video with Derek Black, watch the RIT News e-NABLE video.
Explore Google's Year in Search 2014 Website and follow the conversation on Twitter with the hashtag #YearInSearch.