RIT gets grant for nanofabrication equipment
Plasma reactive ion etching system to be integrated into RIT's clean room and used for photonics and nanoelectronic device research and development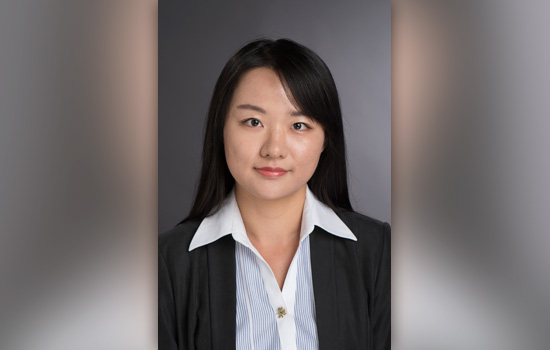 Elizabeth Lamark/RIT Production Services
Jing Zhang, engineering faculty member at Rochester Institute of Technology, received a $305,000 grant from the National Science Foundation to acquire a new etching system for photonic, electronic and bio-device fabrication. The system strengthens RIT's fabrication capability in its Semiconductor & Microsystems Fabrication Laboratory to support new and existing multidisciplinary research in science and engineering, to enable educational curriculum development, and be used for workforce development and training activities led by RIT's engineering college.
The ICP-RIE system—an inductively coupled plasma reactive ion etching system—is equipment used to create specific structural patterns, or to expose different conductive layers, on the integrated circuits found in electronic devices, said Zhang.
"If we want to fabricate a wafer into a device, we needed to have this type of etcher," said Zhang, the Kate Gleason Endowed Assistant Professor in the electrical and microelectronic engineering department in RIT's Kate Gleason College of Engineering. "There is no equipment like this close by so there was a huge need, and it will help with collaborations we have with other university and corporate researchers."
Traditional semiconductor research has focused on silicon-based materials. Zhang is working on compound semiconductors, and gallium nitride is an emerging material being applied. Gallium nitride-based semiconductors are being integrated into optoelectronics, such as LEDs, to power electronics for smart grid applications and power management for electric vehicles, solar applications to harvest solar energy and transfer it into electrical energy. New research in ultraviolet wavelength sensors is an emerging area, she explained.
"The instrument is essential to enable research and education on III-Nitride-based light emitting diodes and lasers, and other semiconductor devices. We are studying every aspect of this material, from understanding the physics to the realization of novel devices. This equipment will help with that process," said Zhang, who has been at RIT since 2014 and is part of a growing and accomplished group of semiconductor materials and photonics device researchers at the university. She has expertise in the area of ultraviolet and visible light emitting diodes, also referred to as LEDs, and in developing semiconductors for optoelectronic and electronic devices.
Plasma reactive-ion etching systems incorporate several steps to the integrated circuit fabrication process. Reactive plasm, deposited onto the wafer, removes and refines excess material to "etch" or form patterns into the layers of the integrated circuit. These etched micro-nanostructures are the foundation for complex semiconductor devices. The ICP-RIE system provides dry etching capability for various material systems such as compound semiconductors, dielectric materials and metals with fast etching rate, well-controlled selectivity and uniformity.
With the emphasis on workforce development in the area of photonics, having the new equipment also provides a key educational opportunity for training. RIT's microelectronic engineering department provides short courses in semiconductor fabrication for area high school and community college teachers and for regional company employees looking to advance knowledge in this area.
In the past year, RIT also acquired a metal organic vapor-phase epitaxy system, also referred to as an MOVPE, which grows III-V single crystal materials. The state-of-the-art tool gives researchers the ability to build high-performance optical and electronic devices and will be a key learning and training resource. This capability was once an outsourced to research laboratory partners such as NASA. Today, the in-house functionality provided by this equipment, combined with the ICP-RIE system, is available to RIT researchers as well as the regional Rochester photonics community, including partners in AIM Photonics, Zhang added.