RIT gets nearly $100,000 for fuel cell research
Funding to cover final phase of applications for prototype residential power system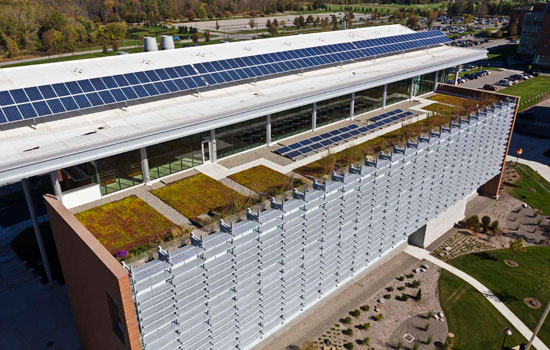 Craig W. Shaw, Stratus Imaging
Rochester Institute of Technology's Golisano Institute for Sustainability (GIS) has received nearly $100,000 from the Department of Commerce's National Institute of Standards and Technology (NIST) to fund the final phase of fuel cell research designed to create a prototype residential power system.
The $98,888 in NIST funding will leverage earlier work conducted in two earlier phases of the program by Thomas Trabold, associate professor at GIS, and a team of researchers at the institute.
The use of fuel cell technology for residential power applications is seen as environmentally beneficial to ultimately replace systems based on hydrocarbon combustion, according to Trabold.
"Thanks to this funding, we'll be able to build upon our earlier work to use this final stage to develop a prototype," Trabold said. "In addition to hardware design, we'll be integrating a propane fuel reformer and fuel cell stack before the assembly of a fuel cell-based system."
A lawn mower was selected for this latest research because it is a common device with many commercially available options, he noted.
"The expectation is that a successful demonstration on this platform will provide a solid foundation upon which a more versatile residential power system—with multiple applications—can be developed," Trabold said.
For this phase of the research and development activity, he noted, several existing pieces of test equipment will be employed in the fuel cell laboratory inside the GIS building, including full system test stands that can control blends of gases needed for prototypic evaluation of individual or combined system components.
Nabil Nasr, associate provost and director of GIS, said RIT and GIS "are delighted that our proposal was selected by NIST for funding. I would like to acknowledge the continued support of GIS's research programs in sustainable production and energy systems from Senators Schumer and Gillibrand and our Congresswoman Louise Slaughter."
"As we have already discovered in two earlier phases of this project, the use of fuel cell technology for residential power applications can help in reducing our carbon footprint," Nasr said. "We're excited to move onto this final stage of the program."
U.S. Rep. Slaughter, U.S. Sen. Chuck E. Schumer and U.S. Sen. Kirsten Gillibrand each recognized the impact and importance of such NIST funding.
"I want to congratulate the Golisano Institute for Sustainability at RIT for their groundbreaking work on these energy-saving fuel cells," Slaughter said. "Critical research projects like these help us develop innovative technology and create jobs, while reaping all the benefits that come along with energy efficiency: reducing our dependence on foreign oil, enhancing energy security, and reducing harmful air pollutants and greenhouse gas emissions. I'm so proud that this work is being done locally, with some of the best-trained workers at one of the best research facilities in this field."
"With this funding, the Rochester Institute of Technology will be able to continue the top-notch research they have conducted for many years. RIT will focus on its fuel cell research and designing innovative and energy efficient residential power systems," Schumer said. "This investment in RIT is an investment in New York state research and education that will boost our economy in the short- and long-term."
"By supporting world-class research institutions like RIT, we can drive innovation," added Gillibrand. "RIT is leading the way in clean energy research. Making smart investments in alternative energy exploration helps create a sustainable, clean energy sector in New York and fuels local economic growth."
GIS was established in 2007 with a $10 million gift from Paychex Inc. founder and philanthropist B. Thomas Golisano. RIT was awarded a $13.1 million grant by the NIST Construction Grant Program, and $15 million in funding from the state of New York that was used toward construction of the facility and equipment.
Partners and affiliates include Xerox Corp., Staples Inc., Caterpillar Inc., Eastman Kodak, and Rochester Midland Corp., with support from the Henry Luce Foundation, the Helen and Ritter Shumway Foundation, and the Chester F. and Dorris Carlson Charitable Trust.