RIT graduate on her way to Kosovo to teach English
Alessandra Santarosa joined the Peace Corps for two years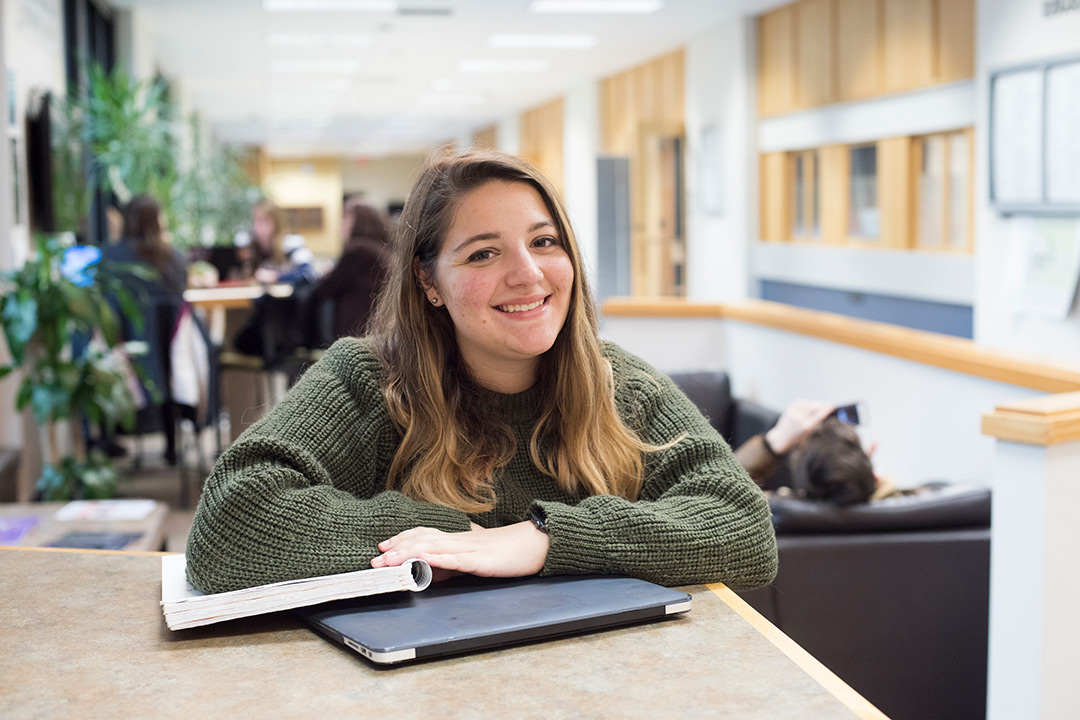 Commencement weekend kicks off with Academic Convocation on May 10. Read more about the Class of 2019 at rit.edu/news/commencement-news.
Growing up in Youngstown, N.Y., near Niagara Falls, Alessandra Santarosa always had the urge to explore. She's visited a dozen countries and was a high school exchange student, visiting France and Germany.
"Being near an international border sparked me to travel more," she said. "It wasn't too hard to get over to another country."
As she readies to graduate this month from Rochester Institute of Technology with a bachelor's degree in political science and minors in German, and sociology and anthropology, Santarosa is ready for more adventures: joining the Peace Corps and teaching English in Kosovo for two years.
"I joined the Peace Corps because I was looking for opportunities to teach English," she said. "The Peace Corps was just the perfect fit for me, and I liked the idea that I spend two years living with a host family and helping a community while being able to learn from them and their culture."
Santarosa spent the summer of 2017 studying abroad at RIT Kosovo, taking two peace and conflict studies courses, and spending a week traveling.
"It's a beautiful country," she said. "I went hiking in the mountains, saw natural fresh-water streams, and not too far from the RIT campus is a community pool the size of a lake. I wish I could have seen more of the country, but now I get to. I want to understand the culture more. There's so much more for me to learn."
She leaves May 24 for Pristina, Kosovo's capital, where she'll take a three-month course to learn Albanian. After that, she'll spend two years in Kosovo—she's not sure which town yet— to teach English to elementary or high school students with a local teacher.
"Kosovo is the youngest country in Europe, and they have a very young population," Santarosa said. "They're trying to grow. They love their country and want to be part of the international sphere. Going back and being a part of that as an outsider is awesome."
She expects to get many questions from her students about the United States.
"I'm going to try to avoid talking about politics as much as I can," she said. "I'm in a diplomatic position, but I'm also representing my country. We have to be very neutral. We're representing the United States and want to show the best face of the United States. They have this appreciation for Americans. They credit the United States for helping them gain their freedom. The last time I was there, people were excited because I was an American. Now, this is my way to give back and learn from them as well."
Although she's excited about moving to Kosovo, she'll miss seeing her family, checking out the music scene with her friends, and she'll miss her English bulldog, Porkchop, who she regularly visits with on FaceTime.
Santarosa plans to meet up with her sister who is studying in Italy, and they plan to explore Italy and Germany to see where their ancestors were from.
And she has several friends from Kosovo she made in 2017, and some who she met while they were studying on RIT's Rochester campus.
"I think having the experience at RIT Kosovo, and making that connection with students studying there, pushed me to apply to the Peace Corps there," she said. "And I'm happy to have that support network there."
Santarosa said her graduation from college is bittersweet.
"It's weird for school to be over now. I'm going to miss my academic department and my friends. But I'm definitely excited to start this new chapter and adventure in my life," she said.
Topics