RIT honors Tom Golisano's contributions to global health
Golisano Archives exhibit shares philanthropist's commitment to Special Olympics and empowering people with intellectual disabilities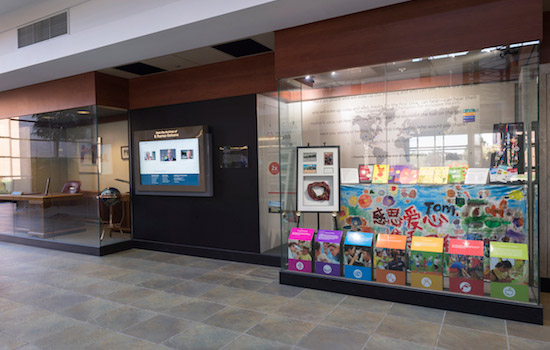 Tom Golisano was honored at RIT for his contributions to global health, specifically through Special Olympics, in a new Golisano Archives exhibit unveiled Oct. 20.
The new Champion for Global Health exhibit showcases the ways that Special Olympics' Healthy Communities initiative — made possible by significant gifts from Golisano — is opening doors for people with intellectual disabilities around the world.
The exhibit and multimedia display is available for public to see in the atrium of Golisano Hall, the home of the B. Thomas Golisano College of Computing and Information Sciences.
Golisano and Javier Vasquez, senior director of Health Systems at Special Olympics International, spoke at the unveiling celebration. The event also featured words from RIT President David Munson; Ann Costello, Golisano Foundation executive director; and Hannah Atkinson, Special Olympics Global Health Ambassador from Denver.
"Since 1985, Tom Golisano has been a true champion for the health rights of people with intellectual and developmental disabilities worldwide," said Tim Shriver, chairman of Special Olympics International, in a statement. "As a tireless advocate for the Special Olympics movement, Tom and the Golisano Foundation enable and empower communities of care, where the contributions of people with intellectual disabilities are better understood, encouraged and valued by all."
The new exhibit includes:
A world map showing where Healthy Communities programs have been established
Thank you cards from children around the world to Golisano
A framed handcrafted restraint that a woman used to keep her child "safe" before she was educated as to how to work with someone with intellectual disabilities
A hand painted batik thanking Golisano
Medals and lanyards from worldwide Special Olympics competitions, where the program holds many healthy athlete screenings
A quote from Shriver about Golisano's support
Descriptive cubes on the seven elements of health checks for healthy athletes
An electronic kiosk that has more information and interactive items about Healthy Communities
Healthy Communities is a model global health initiative launched by Special Olympics in 2012 to reduce the severe health disparities that exist for people with intellectual disabilities both in accessing essential health services and improving their health status. With philanthropic support of $37 million from Tom Golisano and the commitment of numerous global partners and volunteers, Healthy Communities is now opening doors to year-round access to healthcare in people's communities in 54 countries on six continents.
The program's success has been driven by creating sustainable systems and community level changes to existing healthcare infrastructure and environments where there is no wrong door to walk through and all people with intellectual disabilities can attain the same level of health and wellbeing as others.
"Tom's financial support to Special Olympics, which has exceeded any single contributor in the 50-year history of the organization, has served as a catalyst to grow this global movement as a force for positive social change and inclusion, improving over the years the health of countless athletes around the world," said Shriver. "His investments in both time and money to the cause of intellectual disabilities has no parallel, and we are immensely grateful for his continued support and partnership."
Golisano is the founder and chairman of the board of Paychex Inc., headquartered in Rochester, N.Y. With more than 12,000 employees and 100 office locations nationwide, Paychex is a leading national provider of payroll, human resource and benefit outsourcing solutions for more than a half-million small and medium-sized businesses. Golisano served as Paychex's president and chief executive officer from 1971, when he founded the company, until October 2004.
In 1985, he started the Golisano Foundation to support programs for people with intellectual and developmental disabilities so that they may achieve their maximum potentials by integrating independence, self-determination and productivity into all facets of their lives.
In 2014, RIT was selected as the home for Golisano's archives. The full Golisano Archive collection is housed with the RIT Archives Collection in The Wallace Center.
Two buildings on the RIT campus carry the Golisano name. In 2001, Golisano made a $14 million gift to RIT, enabling that university to launch the B. Thomas Golisano College of Computing and Information Sciences. The building opened in May 2003. In 2007, he donated $10 million to RIT to create the Golisano Institute for Sustainability, one of the first of its kind in the nation, focusing on research and education in sustainable design, pollution prevention, remanufacturing and alternative energy development.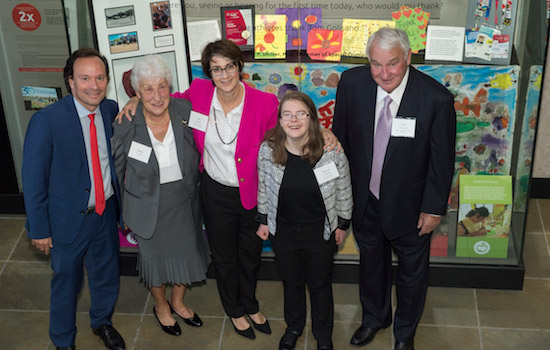 Elizabeth Lamark
Topics