RIT hosts all-women hackathon Feb. 27 and 28
WiC Hacks event supports young women interested in computing and STEM fields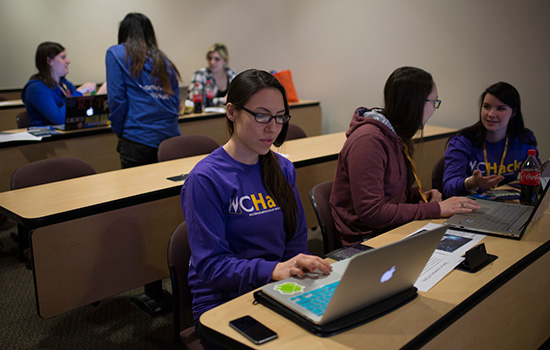 Rochester Institute of Technology is hosting a hackathon for women interested in creating new technology, making a difference and trying something new.
The free collaborative programming event, or hackathon, is aimed at creating an inviting and encouraging environment for young women to explore the world of technology and develop the confidence needed to thrive in a competitive tech industry.
The annual WiC Hacks event will be held Feb. 27 and 28 at RIT's B. Thomas Golisano College of Computing and Information Sciences.
For the two-day hackathon, teams will work together to create mobile apps, websites, games and other software that provide unique solutions to problems. The event is open to college and high school women of all skill levels—from those who have never programmed to coding experts.
"With this event, we hope to give women a sense of community in the technical field, a space where they are severely underrepresented," said Lana Verschage, director of RIT's Women in Computing student organization. "Our goal is for women to leave this event encouraged and inspired to pursue computing and other STEM disciplines."
The hackathon will include a Newbie Track for students who have no programming experience. Over the course of the hackathon, students will have the opportunity to learn how to code, acquire the basics of a programming language and produce a project. The Newbie Track will cover Web development featuring HTML and CSS.
More than 200 women are already signed up for the weekend hackathon. While the Newbie Track is full, spots are available for the traditional portion of the hackathon.
The event is free and open to female college students (including non-RIT) and high school students who are at least 16 years of age. Registration for individuals or teams can be done online.
For more information, go to wic-hacks.rit.edu.