RIT hosts all-women hackathon March 2-3
WiC Hacks event inspires and supports young women interested in computing and STEM fields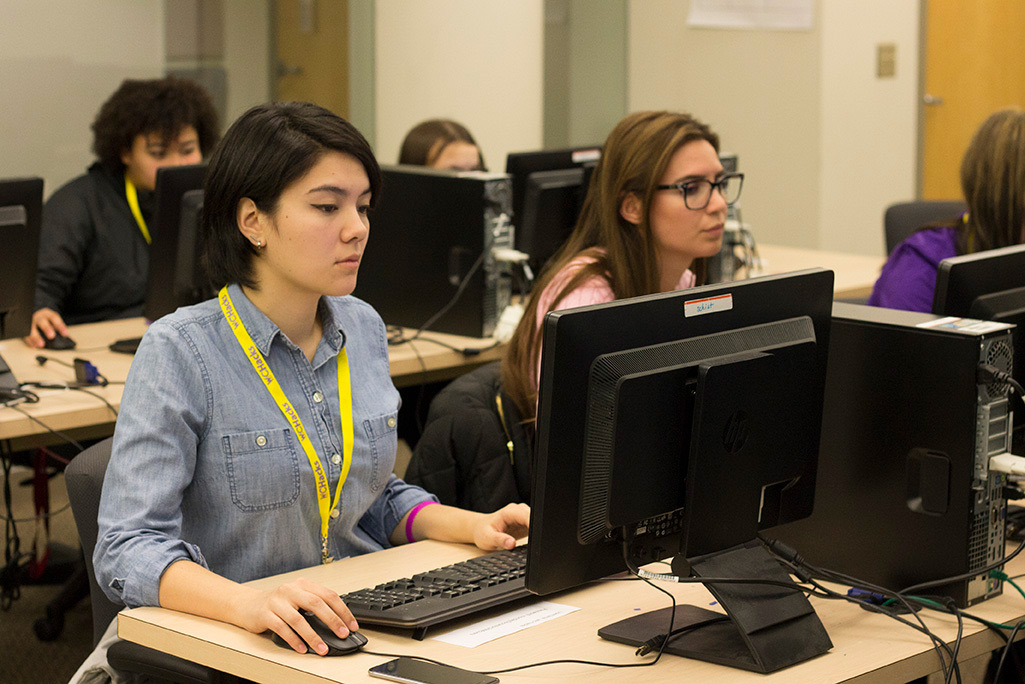 Rochester Institute of Technology's upcoming all-women hackathon will encourage young women to pursue computing careers, while helping participants form mentorship relationships, learn computing skills in a supportive environment and have fun.
The free collaborative programming event, called WiC Hacks, is open to all female college and high school students who are at least 18 years of age. It is for women of all skill levels—from those who have never programmed to coding experts.
The sixth-annual WiC Hacks event will be held March 2-3 at Louise Slaughter Hall, on the RIT campus. For the two-day hackathon, teams work together to create apps, websites, games and other software that provide unique solutions to problems.
More than 200 women are expected for the weekend event, including teams from RIT, Cornell University, Syracuse University, Le Moyne College, University of Waterloo Ithaca College, and SUNY Binghamton, Brockport and Oswego.
The event, run by RIT's Women in Computing group, creates an inviting and low-stress environment for young women to explore the world of technology, learn something new and develop the confidence needed to succeed in a competitive tech industry. Meals and snacks will be provided for participants. Registration for individuals or teams can be done online before March 1.
"By having events like this, not only are we raising public awareness about the presence of women in STEM, but also encouraging these women to work on a fun project or try some new, crazy idea in a completely supportive and encouraging environment," said Dominique Molee, a RIT second-year computing and information technology major from Kinnelon, N.J. and director of logistics for the hackathon. "It also gives many the chance to meet other women in STEM and see that, though they are a minority in the field, that they are not alone."
After more than 20 hours of project building and hacking, students will be able to showcase their work for judges and other participants. An awards ceremony will take place around 3 p.m. Sunday.
Participants will be able to enter their projects in categories, including Best Use of Wegmans API, JP Morgan – Best Hack for Social Good, Capital One – Best Financial Hack, Constant Contact – Best Technical Hack, Harris Corporation – Best User Interface Hack, and RIT's Simone Center for Innovation and Entrepreneurship – Most Commercially Viable Product.
In addition to the competition, students will get to take part in workshops, hear tech talks and meet with mentoring women in the technology industry. There will also be fun activities throughout, including yoga, movies, a photo booth and free snacks.
Keynote speaker Annette Warren will talk about how her determination and perspective allowed her to succeed in the fast-paced and ever evolving technical environment. Warren is president of iSECURE LLC, a cybersecurity company that is listed as one of the Top 100 Companies in Rochester. A lifelong entrepreneur, she helped pioneer an ISP and VoIP company when there were very few women visible in technical leadership roles.
For more information about WiCHacks 2019 and to register before March 1, go to wic-hacks.rit.edu.
Topics