RIT hosts Silicon Europe Alliance
Focus on future collaborations within New York state's 'innovation ecosystem' of semiconductor and nanoelectronic technologies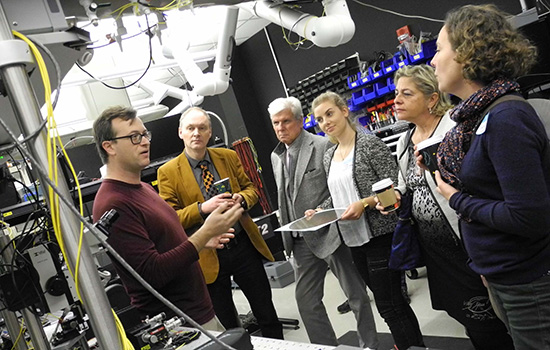 Michelle Cometa
Members of the Silicon Europe Alliance, Europe's leading micro- and nano-electronic business clusters, traveled to New York state to meet with representatives of economic development organizations, high tech companies and universities to discuss future collaborations in advanced nanoelectronic technologies. The group's final stop, on a trip that began in Albany in mid-November, was RIT, and hosted by the microelectonic engineering and microsystems engineering departments in the Kate Gleason College of Engineering.
"This was a fact-finding mission, and for us, it's all about connecting to global semiconductor ecosystems," said Veronique Pequignat, director, international actions and key technologies for France AEPI. "Our Alliance has done similar travels before in key areas targeting the United States and Taiwan. And after information gathering we'll determine an action plan for these priority markets."
The group met with Robert Pearson, director of RIT's microelectronic engineering program, faculty from the engineering college and representatives from companies and organizations such as Greater Rochester Enterprise, Design NY, Fuze Hub and Empire State Development Corp. about regional capabilities in advanced electronic technologies. Earlier in the week, the group had traveled to SUNY Polytechnic (Albany), Upstate Medical Biotech Accelerator, and the Marcy Nanocenter (Utica) for similar discussions. Universities, such as Cornell, Syracuse and RIT, were recognized for participation and leadership in several of the national manufacturing initiatives and were sites of the state's centers of advanced technology and excellence. All were viewed as viable opportunities to build a stronger trans-Atlantic partnership between small and medium-sized companies.
Members of the alliance were from Belgium, France, Greece, Italy and Germany, and represented consortia such as Belgium DSP, France Minalogic, Greece-Corallia, Silicon Saxony, Fondazione Distretto Green, High Tech Monza-Brianza and IMEC. Silicon Europe acts as an intermediary between all research, academic, public and industry partners within these groups.
RIT highlighted several semiconductor technology initiatives and international connections: Bruce Smith, professor and director of RIT's microsystems engineering doctoral program, taught at IMEC, an international semiconductor research organization in Belgium, and sends Ph.D. candidates in the program to IMEC, often for a year, as part of an intensive research-study initiative. Smith and Thomas Gaborski, assistant professor of biomedical engineering at RIT, presented information about current research projects underway and detailed the technological capabilities in RIT's Semiconductor and Microsystem Fabrication Laboratory. James Myers, associate provost of International Education and Global Programs, provided information about RIT's international connections in Europe, the Middle East and in China, as well as the many reciprocal relationships with universities around the globe for student-faculty educational and research exchanges.
A short tour through the engineering college followed formal morning presentations, and Alliance participants met briefly in the Nanophotonics Laboratory with Stefan Preble, associate professor of microsystems engineering, who discussed the educational and training contributions RIT would make to the AIM Photonics initiative as well as brief remarks about an electronics packaging facility plan that is in development.
Members of New York's regional and state-wide regional economic development programs outlined how the state, high tech companies and universities are involved in national projects related to the semiconductor and manufacturing industries, and how Silicon Europe can establish partnerships.
New York state is usually ranked first, second or third in the U.S. for international investments, said Ed Kowalewski, director of international investments for the Empire State Development Corp. His role is in fostering the business relationships of new companies to the state, including seeking affiliated companies in the supply chain that could support the new business and its growth. While international investments are predominately mergers and acquisitions, there is a growing amount of investment, support and incentives offered to new businesses, he explained, adding, "We want you here and we want you to be successful."
"The resources and capabilities in New York state are well-suited for collaborations with our international colleagues," said Pearson. "With our mutual focus on nanotechnology, especially with the advent of the Internet of Things and smart everything—from cars to communities—there are many benefits for them, and for us from student-learning to economic development in the context of an interconnected world."
Topics