RIT hosts Undergraduate Research Symposium Aug. 8
Event on Aug. 8 recognizes outstanding student achievements in scientific research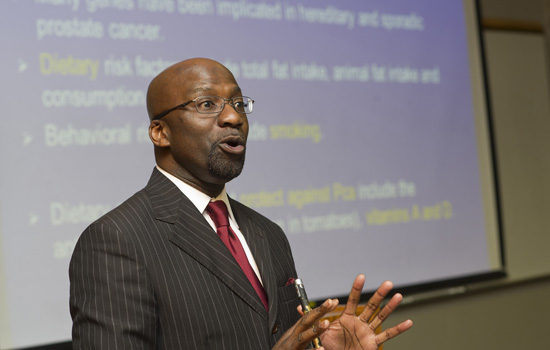 A. Sue Weisler
Sarah White wants a career at NASA—working on robotics to send to Mars.
In the meantime, the second-year electrical engineering student at Rochester Institute of Technology is researching an encoded directional system for MILPET (Machine Intelligence Lab Personal Electronic Transporter), an autonomous robot that offers congenial assistance to visitors while roaming the hallways of RIT.
"That's the robot's first job," explained White, who hails from Bay Village, Ohio. "In the second installation, the robot will collect feedback on the development of a user-assisted wheelchair to help physically-challenged patients navigate hallways with obstacle avoidance."
If encoding a robot like MILPET sounds intriguing, relevant and on the edge of discovery, it's "just one" of the emerging scientific research areas being developed on the RIT campus.
White will join more than 180 undergraduate students to showcase innovation at the 23rd annual RIT Undergraduate Research Symposium from 8 a.m. to 5 p.m. on Aug. 8 at the RIT Inn and Conference Center, 5257 W. Henrietta Road. The symposium is free and open to the public. In addition to students participating from RIT's main campus in Henrietta, three students will present remotely—two from the university's international branch campus, American University in Kosovo, and one student on co-op in Germany.
Structured as a professional research conference—where oral presentations and posters are broken up thematically—this year's research themes include biomedical and life sciences; energy and sustainability; chemistry and materials sciences; computer modeling, design and simulation; imaging and optics; and social sciences and humanities.
Hence, this year's presentations feature a gamut of far-reaching innovations—from orthokeratology research on how suction pressure from a contact lens deforms the cornea, to tracking the nutritional/sustenance values of wild local fruits for migratory birds.
Keynote speakers are Rick A. Kittles '89 (biology) and Erhardt Graeff '06, '07 (information technology, international studies). Kittles is a professor in the Department of Surgery, College of Medicine, at the University of Arizona. He is at the forefront of developing ancestry-informative genetic markers and how this information can be used to map genes for common traits and disease, especially among African-American populations. Graeff is a civic media researcher, technologist and entrepreneur who works and studies at the MIT Center for Civic Media and MIT Media Lab. He is a founding trustee of The Awesome Foundation, which gives small grants to awesome projects.
"This annual event is an opportunity for our undergraduate students to shine among their peers, mentors and members of the RIT community," said Ryne Raffaelle, RIT vice president for research and associate provost. "Our students are immersed in a wide variety of research pursuits and it's always impressive to hear about their work. RIT is also proud of its global outreach so we are excited that some of our international students will participate in the symposium."
Elizabeth Bondi, who is majoring in imaging science and plans to graduate in May 2016, is currently working at the Museo del Tesoro del Duomo in Vercelli, Italy, but plans to be back in time to present her project on processing images of historical documents.
"The Vercelli Book and the Codex Vercellensis (Codex A) have sustained damage through the centuries, so I am helping the Lazarus Project and processing these images using ENVI+IDL and Photoshop in hopes of recovering some of the damaged text," said Bondi, who hails from Dansville.
Working closer to home is Benjamin Eshleman, an illustration major (2016) from RIT's College of Imaging Arts and Sciences, who is documenting and doing archival research on the history of Rochester's transgender community.
"My research involves oral history interviews, recorded on digital audio tape and archived, with leading members of the transgender community—using their lives and memories as primary resources for research," said Eshleman, who hails from Manheim, Pa.
"My goal with this project is to document and preserve the history of a community that is all too often overlooked."
The symposium is organized by RIT's Office of the Vice President for Research and sponsored by RIT's Office of the Provost and Town & Country Travel Inc.
The event is free; breakfast and lunch will be provided. All attendees must pre-register; the last day to register is Aug. 1. For more information, contact Clare Lagiewski, operations manager for RIT's Albert J. Simone Center for Student Innovation and Entrepreneurship at cxlism@rit.edu, 585-475-2185.
Topics