RIT joins Pioneer University program
University becomes member of select group furthering global understanding of the circular economy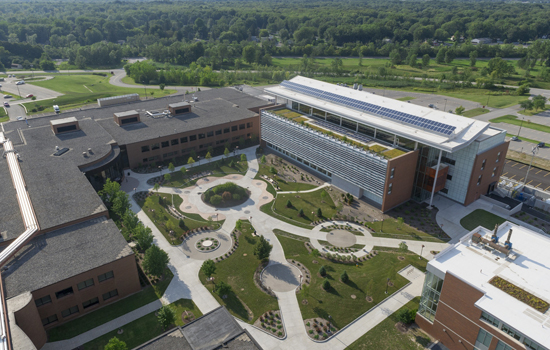 Rochester Institute of Technology has become a Pioneer University within the Ellen MacArthur Foundation's Higher Education program, joining a select group of universities worldwide dedicated to accelerating a global transition to a regenerative, circular economy.
RIT joins the program as a result of its pioneering research and teaching on the emerging concept of the circular economy—referring to an industrial economy that is restorative by intention and eliminates waste through thoughtful design. Remanufacturing, the process by which products are restored "as new" after reaching end of life and resold with warranty—and in which RIT's Golisano Institute for Sustainability (GIS) and Center for Integrated Manufacturing Studies (CIMS) have a longtime heritage of industry work and thought leadership—is a fundamental component of the circular economy. Remanufacturing provides both an economic opportunity and an approach for addressing the most serious challenge facing the future of manufacturing: resource scarcity.
Ellen MacArthur Foundation staff visited RIT May 19 to tour GIS and CIMS and meet with faculty, students and staff to formally complete the membership process.
"We are proud and honored to join the Pioneer University program developed by the Ellen MacArthur Foundation, the world's leading authority on the circular economy," said Nabil Nasr, associate provost and GIS director. "For RIT, this is tremendous recognition of our expanding global reputation on the circular economy and remanufacturing as well as our world-class facilities."
As a Pioneer University, RIT also becomes a member of the Ellen MacArthur Foundation's Circular Economy 100 (CE100), a global platform bringing together leading companies, emerging innovators and regions to accelerate the transition to a circular economy. According to the foundation, only higher-education institutions committed to truly pioneering research and/or teaching programs are eligible for membership. As part of its educational mission, the foundation works to bring together complementary schools of thought and create a coherent framework to give the concept wide exposure and appeal.
"We are thrilled to welcome Rochester Institute of Technology into our select group of globally Pioneering Universities," said Jules Hayward, Education Program Lead. "We look forward to working with RIT in developing new ideas—both from academic and industrial viewpoints—that will educate engineers and scientists in support of the circular economy."
RIT joins the University of Bradford, Cranfield University, Delft University of Technology, and University College London as a member of the exclusive group.
The foundation aims to work with a maximum of 10 Pioneer Universities. Institutions are chosen according to their commitment to furthering collective understanding of the circular economy through pioneering research and/or teaching programs. Many of these programs will be focused on target disciplines of business education, design and engineering.
About the Ellen MacArthur Foundation
The Ellen MacArthur Foundation was formed in 2010 to inspire a generation to rethink, redesign and build a positive future through the vision of a circular economy. A series of circular economy reports developed by the Foundation, with analysis by McKinsey & Company, established a clear framework and economic case for a transition to circular economy, which is rapidly gaining the attention of business and government.
The reports highlighted a combined annual trillion-dollar opportunity globally in net material cost savings for companies making the transition to circular economy, driven by factors such as increased design for re-use, new or enhanced recovery models and introduction of new business models, including access over ownership models that promote greater circularity.