RIT master's students learn lessons from Swedish health system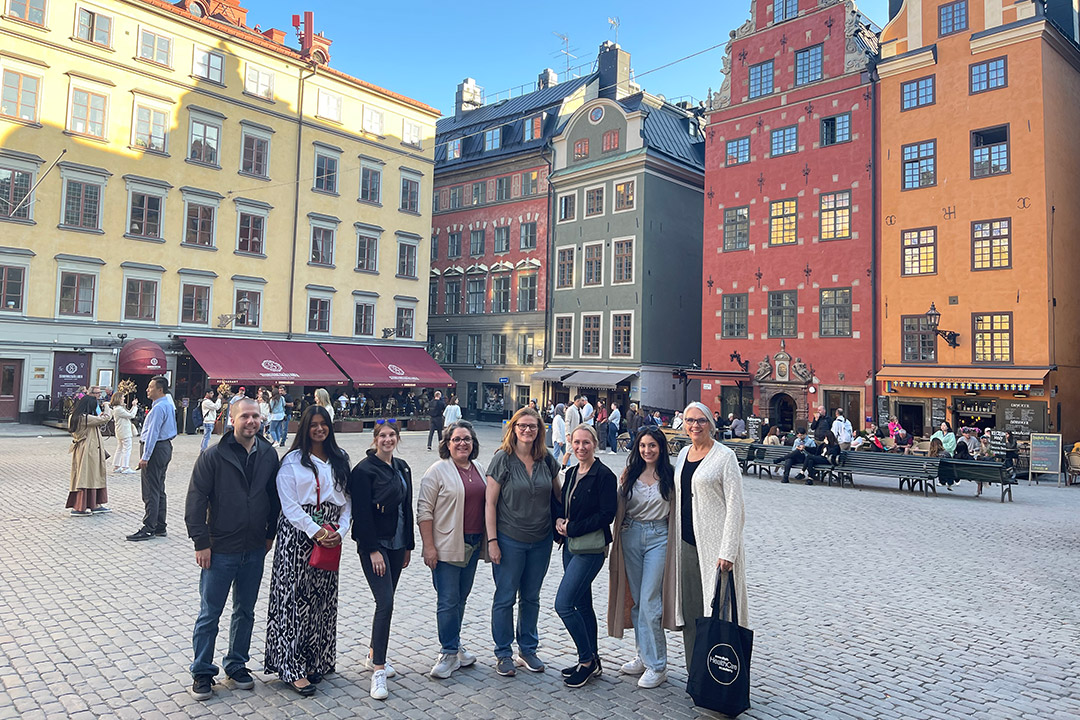 Graduate students in RIT's health systems management program are learning this week about how the industry works in Sweden from health care administrators and practitioners.
The eight-day study-abroad course, Health Systems Analysis and Innovation, gives students insights into a different health care model and the nuanced reasons it works well for the Swedish culture, from its population size to its national values.
RIT student James Conner is one of seven RIT students from his class who traveled to Sweden. He is curious about the culture and its national health system that is highly regarded worldwide.
"Their health care is different and I'm interested to learn about what they do and how they do it," said Conner, who lives in the Philadelphia region and is finishing the online/hybrid master's degree. He works as a clinical athletic trainer at Reconstructive Orthopedics in New Jersey and is interested in pursuing opportunities in management and administration.
"Most of the program is online, and that allowed me to have the flexibility to do it in the evenings and work full time," Conner said.
Carla Stebbins, director of RIT's health systems management master's program, redesigned the master's degree as an online hybrid program to educate health care leaders in the Rochester region and elsewhere.
She partnered with Swedish Health Care Academy to develop a travel component that would widen students' perspectives and encourage critical and creative thinking.
Stebbins said she focused on the Swedish health care system because the Swedish government designed and maintains the system, which is ranked much higher than the system in the U.S.
"Despite their achievement, they, like most of the world, still have room for improvement," Stebbins said. "They experience health disparity by ZIP code and average life expectancy varies based on where you live in the country, but their costs are dramatically different."
Topics